When I signed up for this slot, I was blissfully unaware that I would be in the middle of final exam preparations at this time. Hence, this is going to be short and sweet. Err..., short and savory. Actually, it'll be short, sweet AND savory! Fortunately, or unfortunately, I have recourse to some poor quality photos that ought at least to take up SOME space in this diary (and frustrate people with dial-up or ancient browsers). You're all invited to join me over the jump to jam down the main course, which - of course - is Spaghetti all'Amatriciana with Eggplant! I should warn you, however, that I am on the fritz!
Before going to the kitchen, I want to bring you to my garden, or my "yard" as we call it here in the Caribbean. Those familiar with my "yard" will no doubt mistaken it for a farm (without the animals), as I grow a diverse panoply of crops. Well, sort of.
This season, I have been blessed with a bumper crop of papaya. I have been eating about one a day. No constipation here. Oops!, sorry, I forgot my manners. We are supposed to be eating! As Wikipedia tells us:
The papaya (from Carib via Spanish), is the fruit of the plant Carica papaya, in the genus Carica. It is native to the tropics of the Americas, and was cultivated in Mexico several centuries before the emergence of the Mesoamerican classic cultures. It is sometimes called a "big melon" or a "paw paw" but the North American pawpaw is a different species, in the genus Asimina.
Mine are utterly delicious. Here are some nice samples from my yard, the first (yellow ripe) of which is situated next to one of my peppercorn trees.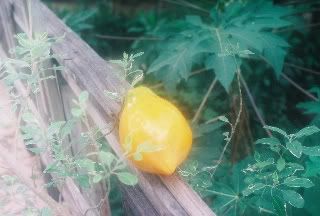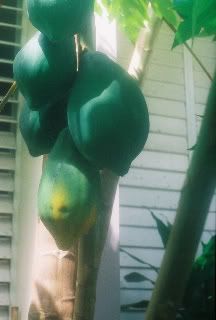 By the way, the papaya is a versatile plant. Did you know that:
The black [papaya] seeds are edible and have a sharp, spicy taste. They are sometimes ground up and used as a substitute for black pepper. In some parts of Asia the young leaves of papaya are steamed and eaten like spinach. In parts of the world papaya leaves are made into tea as a preventative for Malaria, though there is no real scientific evidence for the effectiveness of this treatment.
Actually, the leaves of the papaya plant are patently psychedelic. Might this be one of nature's little fractal specimens? (Little bit of seed-art on the side to highlight my creativity).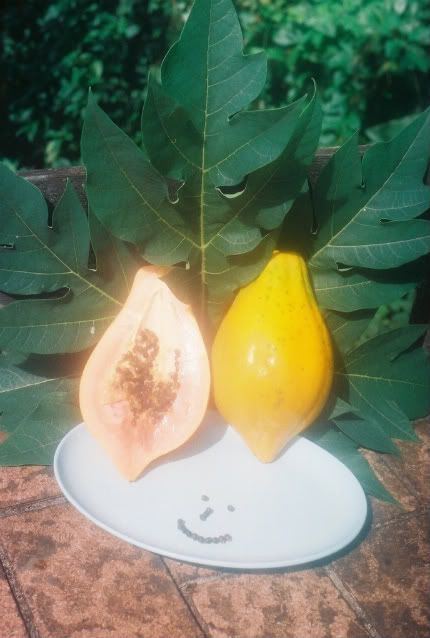 Well before I invite you in to the dinner table, I just wanted to mention that I anticipate a bumper crop of avocados this year. My tree (sorry, no photo) is pregnant at the moment with miniature avocaditos. While the wind has knocked several dozen (hundreds?) off prematurely, that is probably for the better since their weight would probably cause the tree to double over and collapse (not really). Anyway, there are enough remaining on it to assure me a nice fattening summer or an ocean of guacamole (or both)... and ensure I keep 'regular' after the papayas peter out. Oh dear, there I go again!
[Excuse my sardonic humor, folks! As I warned earlier, you caught me in the middle of final exams!]
Finally, we are seated at my "virtual" table (just pretend it's there, OK?). Here are some fruits we can use to make a fabulous beverage to accompany the meal (No, not the green lawn grass, although... who knows?).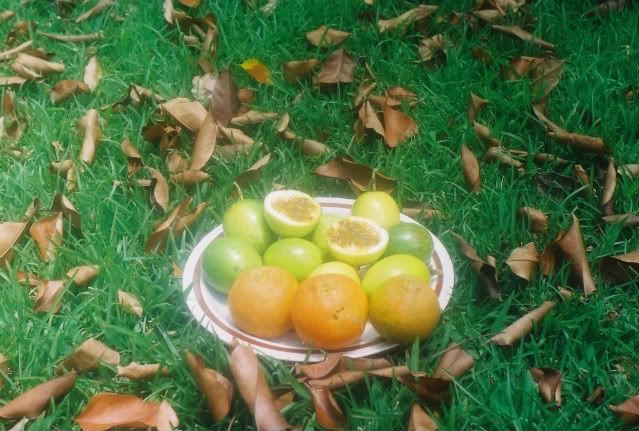 In the foreground of the plate pictured are three sour oranges (I have also heard them called sweet lemons). You can make a beverage that tastes like a mix between tangerine and lemonade. It can be a bit on the acid side, which is probably why people here tend to prefer using the fruit to rub down or marinate raw meats. Behind the sour oranges are a wonderful array of maracuya or passion fruit. That last term is a misnomer as 'passion' fruit will likely, ummm... drain you of your passion, if you know what I mean (I could elaborate, but it wouldn't be in good taste, plus we are about to eat). Oh heck, I'll just post a contraindication instead ...
Just as an aside, yesterday I prepared an incredibly tasty turkey shawarma. I said tasty, not testy!! Getting testy on me, are you!! Before rubbing it down in the spice mixture, I gave it a bath (literally) in the glorious elixir of two of those sour oranges. Heavenly! (by the way - just to fill up space with trivia - I find it intriguing that the "Sadaf Shawarma" facsimile in the link above is spelled "shAwarma", while the actual one that I bought and used - with an identically pictured "Sadaf" facsimile - is spelled without the first "a" - Shwarma - and it cost me TWICE AS MUCH!!). Well enough on that profound observation.
Now for the moment you have all been waiting for: Dinner! But first... (I'm terrible, aren't I?)
To keep myself out of an expensive lawsuit, I should probably tell you (heh, heh), that the recipe, below, is my slight adaptation of one authored by renown Mediterranean cooking celebrity Aglaia Kremezi. In her words:
This is a classic chili-flavored Italian spaghetti recipe, enriched with eggplant. Peperoncino, the Italian term for any red hot chili, plays an important role in this simple but delicious sauce.
Only one thing, folks.
The day I made this, I didn't have any chilies in my cupboard (and I WASN'T going to the blasted supermarket to do battle with the hordes of Emeril wannabes and frustrated housewives, pushing food carts as though they were Mario Andretti with a death wish, FOR A COUPLE OF CHILI PEPPERS!!!)
I said I was on the fritz, didn't I?
So I substituted half a dozen sweet Spanish peppers from my yard for the dish-defining not-to-be-omitted MAIN INGREDIENT! What a faux pas, if there ever was one! Well, if you're going to give me a rough time on that, then I hereby officially baptize the dish as "Espaguetis al'Boricua con berenjena, OK?
Settled!
OK, I see you all are not only hungry but salivating, so I shall not keep you waiting any more! First the ingredients:
1 medium eggplant, about a pound, peeled in strips and cut into one inch cubes.
Sea Salt
1/2 cup of all purpose flour
1/2 cup of olive oil or more as needed
1 cup of chopped onion
3 garlic cloves, sliced
half a dozen sweet Spanish peppers or 2-4 red chillies
[I also added chopped oregano and basil to further emasculate the hapless recipe]
1/2 cup of dry white wine [I had a whole bottle but it mysteriously evaporated and I was only left with barely 1/3 a cup - you know, hot tropical environments cause rapid evaporation :-D]
2 cups of grated tomatoes or good quality diced canned plum tomatoes
pinch of sugar
1 pound of spaghetti or bucantini
1/3 - 1/2 cup of grated pecorino cheese
shavings of Parmesan cheese (optional)
3 tablespoons chopped parsley
And here are the steps, amply illustrated by yours truly. squint squint
Sprinkle the eggplant generously with salt, toss well and place in a colander. Let it drain for at least 30 minutes (I actually used rock or large grain sea salt and let it drain overnight in my refrigerator). Squeeze to extract as much liquid as you can and spread over paper towels. Toss the eggplant pieces with the flour to coat well. Warm the olive oil in a large skillet, testing it with a piece of eggplant. If it sizzles, it is hot enough. Saute the eggplant, tossing until golden brown, about 4 minutes, adding a little more olive oil as needed. Remove with a slotted spoon and place in a colander placed in a bowl to collect the draining olive oil. Mediterranean Hot, by Aglaia Kremezi and Linda Frichtel, Artisan: New York, 1996
They should look like this. By the way, in the background on the plate you can see the shiny red and green Spanish sweet peppers I used in the recipe (they aren't hot).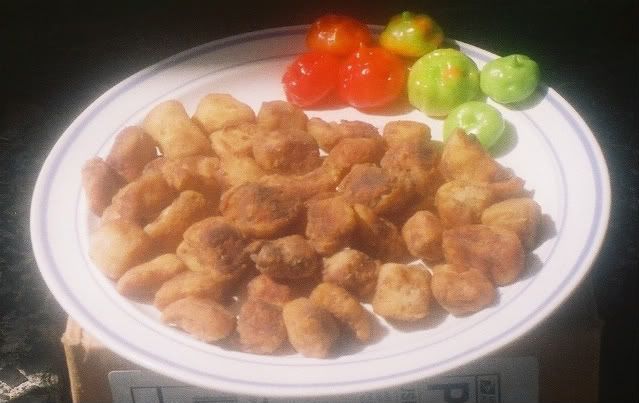 ...and in the following picture, you can see the chopped sweet peppers and garlic (as you can undoubtedly discern, I usually use 2 to 3 times the garlic required by the recipe). Also pictured are wild oregano and basil from my "yard" ... or farm.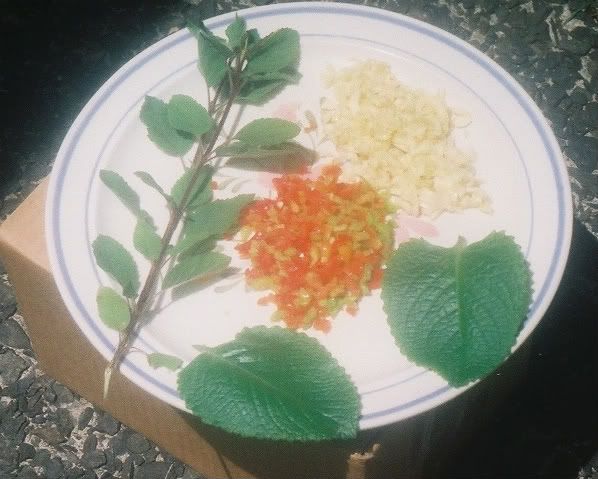 Now, if you put on your sunglasses, you can see how I chopped the onions, oregano and basil for my "Espaguetis al'Boricua con Berenjena".
Using the remaining olive oil or the oil that has drained from the eggplants, saute the onions (and sweet peppers, if you are making my far superior recipe) in the skillet for 2 to 3 minutes, until translucent. Add the garlic, chilies (if you are making the original recipe) and oregano, basil (if you are making my... yadda, yadda) and saute for one minute more. Pour the wine into the skillet and cook over high heat for 30 seconds. Add the tomatoes and sugar, lower the heat and simmer until most of the liquid has evaporated, about 20 minutes.
If you have done it correctly, it should look like the below: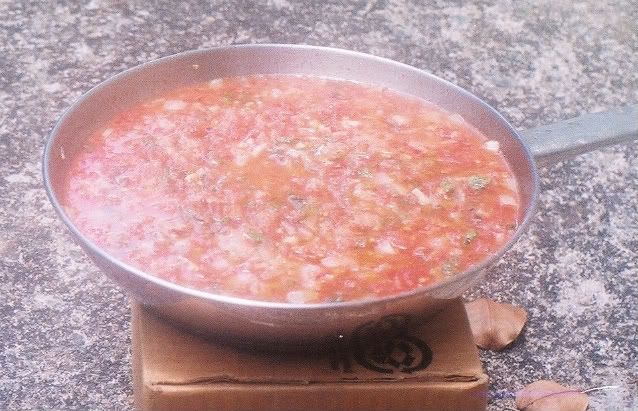 Ahhhhh, yes! Me pickney wan NYAM!! I bet right about now, you are wishing your internet provider had smell-a-net, eh?
Cook the pasta until al dente in plenty of salted water following the instructions on the package. Drain well, transfer to a warm bowl, pour the sauce over it, and add the fried eggplant pieces and grated cheese. Toss well and taste to adjust the seasoning. Serve with shavings of Parmesan and chopped parsley.
Too bad that by this time, I had finished all the wine. By the way, for some strange reason (you still don't believe I'm on the fritz, do you?), I placed two tannia in front of my plate. One is peeled (the white one) and the other is as it was just taken out of the ground. Good eats!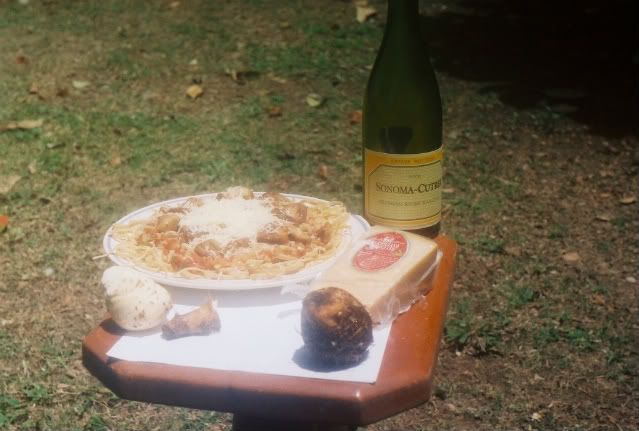 Well, if DK hasn't banned me by now, I shall be lurking in the comments section to ask what delicious denizens you all are devouring tonight.