And by Pony Up I'm not talking about Buhdy's ponies. It's time to start making donations. Let's start off with a bang, at least $10 from every diary recommender. This year your donations will be tax deductible, thanks to Netroots Nation and their partner Netroots Arts and Education Initiative, a California 501(c)3 corporation.

It's been a tough year for many but we still need to show our guys and gals in our Armed Forces that they are still on our minds and in our hearts. We hope to hear from some of our recipients from last year. So lets get a head start on showing them we don't just use the slogan "Support the Troops" we're actively doing it. Our goal is 300 Care Packages. Help us achieve this goal, DONATE NOW!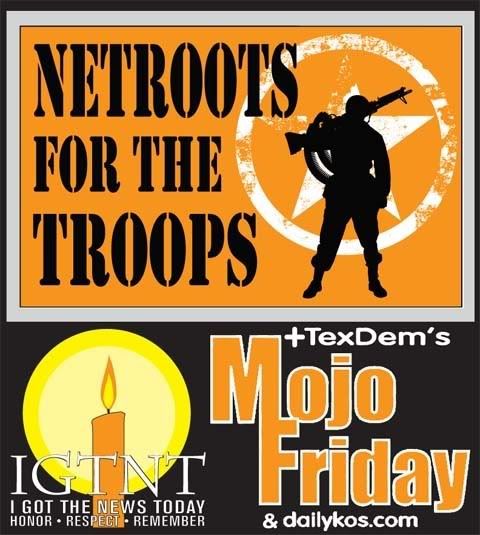 This year we have a new Co-sponsor from DailyKos, I'll let him make the announcement in his own way, so look for it.

Remember, Donate Now, it only takes a moment. A quick note, there is a comment section on the page, just write Netroots For The Troops or NFTT in the spot. It's not a requirement but it will make tracking a little easier.

Our goal this year is $50,000.00 in cash or in-kind donations. We are looking for only corporate in-kind donations this year. So if you know of corporate contact let us know. We won't be taking small in-kind donations due to the logistics nightmare it presents. Pittsburgh is not Austin and we have different house rules at the convention site.


Last year we touched an estimated 1000 souls through our efforts. This included the recipients, donors, volunteers, those that packaged in Austin and the friends family and others who put forth many of the names of the recipients. Thanks to everyone involved last year.

We'll breakdown the items for the packages in later diaries, most of it will be the same as last year, the major difference will be bulk quantities of some of the single items.


While participating in Mojo Friday today, don't forget to Donate!



On with the games and the donations.



Mojo Friday Guideline

If you comment you have to recommend all comments. (in order to receive mojo you have to give mojo. It's only good mojo manners.)

Everything you say may be taken as a joke (so if you ask a question, expect a silly answer)

You must recommend the diary (and pimp it unapologetically)

You don't have to comment to recommend.

You can't steal my idea (right, like that ain't goin' to happen)

Please, no pictures or YouTubes until after 300 comments. Now, after 300, use a little common courtesy and be responsible in the number.

Mojo mojo mojo mojo, mojo mojo mojo.

TexDem (that's me) is not bound by the guidelines. Heh


Mojo Friday Goals


A. At least 300 different commenters and 1000 comments by 1:30 PM EST and 1500 by 5:00 PM EST Friday Night that it's posted.

B. 100 recommends for each comment, at least.

C. Stay on Recommend List at least five hours (this requires some strategic planning by you guys, refer to guideline #3)

D. At least 200 diary recommends. 300 would be better, spread the word.

E. And always, fun fun fun.

F. Have at least 75% average participation rate as seen here in the Mojo Friday Postgame Show by Hedwig.

G. (New) Have at least 30 kossacks over 90% participation (see here for some tips).

H. Overload the servers with recommends, not to mention dominate Top Comments Mojo list. (we do tend to mess with the site with all of our recommends at one time)(also, to dominate the Top Comments Top Mojo we need at least 50 comments with over 200 recommends, see guideline B)

I. That's enough for now. (Have a suggestion? Post it.)


MKinTN posted a diary to help everyone achieve greater success called How to Succeed at Mojo Friday Without Really Trying.


For those of you new to MF (Mojo Friday) we have our own lingo about a few things. Thank's to MF'er Jez (the link will explain) go to this diary for a little more fun and explanation. Official Mojo Friday Snecktionary.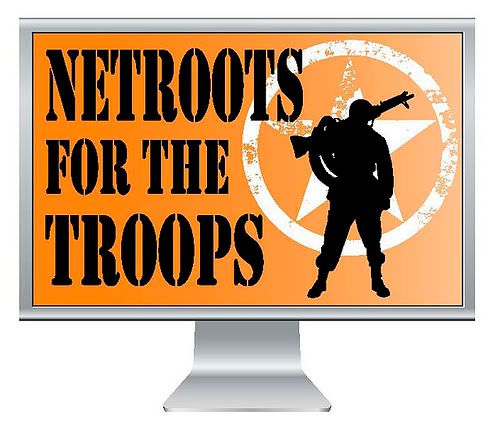 A SPECIAL NOTE ABOUT DONATIONS


Netroots For The Troops is raising money for our project through Netroots Arts and Education Initiative, a California 501(c)3 corporation, so your donations are tax deductible. NAEI partners with Netroots Nation to support its programming.


Special Thanks to Netroots Nation and Netroots Arts and Education Initiative for allowing us to collect funds through their organization.