Oh! I have slipped the surly bonds of Earth
And danced the skies on laughter-silvered wings;
Sunward I've climbed, and joined the tumbling mirth
Of sun-split clouds, — and done a hundred things
You have not dreamed of — wheeled and soared and swung
High in the sunlit silence. Hov'ring there,
I've chased the shouting wind along, and flung
My eager craft through footless halls of air. . . .
Up, up the long, delirious burning blue
I've topped the wind-swept heights with easy grace
Where never lark, or ever eagle flew —
And, while with silent, lifting mind I've trod
The high untrespassed sanctity of space,
Put out my hand, and touched the face of God.

~ High Flight by John Gillespie Magee, Jr.
American pilot who volunteered for the RCAF during the Battle of Britain
KIA, December 11, 1941 (age 19)
1st Lt. Roslyn L. Schulte, 25, of St. Louis, Missouri
1st Lt. Schulte died May 20 near Kabul, Afghanistan of wounds suffered from an improvised explosive device. She was assigned to the Headquarters, Pacific Air Forces Command, Hickam Air Force Base, Hawaii.

Roslyn Schulte had always wanted to fly.
As part of his series of portraits of America, the French journalist and philosopher Bernard-Henry Levi traveled to the United States Air Force Academy in 2005. He interviewed several of the cadets about their reasons for joining the military.
I know, of course, that in all countries in the world, and necessarily in America as well, an army has contradictory faces.

And I'm sure that the United States Air Force Academy, in Colorado Springs, which trains officers for one branch of the armed services, is not the ideal observation post from which to judge the recent evolution of the military as a whole.

But when you come down to it ...

These boys with chubby, sensible faces ...

This girl from St. Louis, Roslyn Schulte, long brown hair pulled back in a bun, beautiful, gentle, deep gaze, who went to one of the best high schools in the country ...

(snip)

Why did you enlist? I ask them. Why, at the beginning of the twenty-first century, does one decide to become an Air Force officer?

Some (whose decisions, they tell me, date from the shock of 9/11): To defend my country.

Others (who, obviously, are aware of all the major historical debates over whether the United States has the right or not to meddle in the affairs of other nations): To defend the Constitution.

Still others (supporters of a neo-conservative foreign policy—which is to say, plainly, a more active, more aggressive foreign policy): Beyond even our own Constitution, to defend the values of freedom on which it is based, and to defend them everywhere, yes, everywhere, wherever they're scorned.

And last is Roslyn Schulte, from St. Louis: "Do you really want to know what brought me here? I wanted to fly the most exciting airplanes—the small, fast jets they only fly in the military. I was thinking of flying; I was thinking of fun."
Source ~ In the Footsteps of Tocqueville (Part 3), The Atlantic July-August 2005
It was not the fast jets she piloted so expertly that killed her earlier this week; it was the horrid happenstance of a roadside bomb, which she hit while driving to an intelligence briefing.
She was named after her maternal grandmother, Roslyn Littman, who along with her husband, Ellis, was killed in a fire in 1980 at the MGM Grand Hotel in Las Vegas. Like the grandmother she never met, Lt. Schulte showed signs of being a natural leader early in life.

(snip)

At John Burroughs School, she captained the lacrosse team and became an all-American lacrosse player.

Her parents said that while on the field, any time one of Boeing's F15s flew overhead, she paused in admiration and spoke of how one day she would be a fighter pilot.

Family friends who gathered at the Schultes' home Wednesday remembered how some had questioned Roslyn Schulte about the idea of working in a group made up mostly of men.

"Do you think they are going to bully me?" she would defiantly respond.

(snip)

She went to the Air Force Academy after graduating from high school in 2002.

(snip)

At the . . . Academy, Roslyn Schulte majored in political science, interned for former Sen. Alan Allard, R-Colo., became a group commander — one of the academy's highest positions — and captained the lacrosse team, said her mother, Suzie Schulte.

(Her father) Robert Schulte said: "She would call me and say, 'Dad, all these guys might fly the planes, but they follow me.' She was a leader."
Source ~ St. Louis Post-Dispatch
Those who served with 1st Lt. Schulte at her home base in Hawaii said that she had become the leader she had aspired to be.
"She was great at what she did. She was so confident. She had no fear," said Air Force 1st Lt. Erin Caylor, of Hickam. Caylor said her friend volunteered for the Afghanistan assignment.

Schulte was stationed in Hawaii for two years, and "she went surfing all the time, and hiking all the time. She motivated people to go out with her," Caylor said. "She didn't take a second of her life for granted." Caylor recalled Schulte dressed as a clown when they shared a narrator job at the base Halloween Boo Fest for children, and remembered her making matzo ball soup for sick friends.

"Losing Lt. Schulte has been a tragedy felt by everyone here and across the Air Force. The airmen of the 613th Air and Space Operations Center will forever be proud of her," said Col. Terrence O'Shaughnessy, 613th commander, in a written statement.

(snip)

Military memorial services will be held, but Caylor said Schulte's friends are preparing a memorial of their own, gathering photographs "to create a time line of her life. We will send it to her parents to show them who she was in Hawaii and how she touched so many people."

Hickam Senior Airman Andrew Norton posted a comment on the St. Louis Post Dispatch Web page saying, "I can speak for several airmen by saying that we all respected her and would follow her anywhere. Her passing was not only a loss to the Air Force but to this country."
Source ~ Honolulu Star Bulletin
On the floor of the United States House of Representatives last Wednesday, Rep. Scott Murphy eulogized 1st Lt. Schulte, whose only sibling, Todd, is his chief of staff.
"Like so many patriotic Americans, Lt. Schulte was willing to give her life in service to all of us and to the country that she loved," Murphy said. "The expression of our gratitude to her is beyond words."
1st Lt. Schulte is also being mourned in Colorado Springs, home of the Air Force Academy. Her death marked a sad milestone: She was the first female graduate of the Academy to be killed in action.
Called Roz by family and friends, Schulte majored in political science at the academy and graduated with military and academic honors in 2006.

(snip)

Schulte was captain of the Air Force Academy's women's lacrosse team.

"The Air Force Academy is deeply saddened by this tragic loss," Lt. Gen. John Regni, the academy's superintendent, said.

"Our most heartfelt sympathies and condolences go out to the Schulte family. Our thoughts are with them during this very difficult time."

Schulte was deployed to Afghanistan in February and was scheduled to leave in August.
Back home in Missouri, her high school's lacrosse team observed a moment of silence in her honor Wednesday night.
The day before the John Burroughs School girls lacrosse team won the state championship, Roslyn Schulte was on the phone with her father, talking about the upcoming game.

She never learned that the team she once played for and continued to follow seven years after graduation brought home the state trophy Wednesday evening.

(snip)

John Burroughs students and staff remembered Schulte at a ceremony at the school Thursday morning.

Schulte played lacrosse and field hockey at John Burroughs and was the school's first all-league and All-American lacrosse player. She went on to captain the women's lacrosse team at the U.S. Air Force Academy, where she graduated with honors in 2006.

"Roslyn was a wonderful, happy girl, very vivacious and spirited, a very good athlete and student," Shahan said. "She did a lot of community service and was always very involved."

In 2002, Schulte was one of three John Burroughs graduates to choose careers in the military.

Schulte and another classmate went to the Air Force Academy, and another student attended the U.S. Military Academy at West Point.

It was unusual for that many graduates from the elite, private high school in Ladue to choose a military career. Normally, Shahan said, one student every other year will go on to attend a military academy or join a service branch.

But the terrorist attacks of Sept. 11, 2001 had marked the start of the 2002 graduating class's school year, and Shahan said more high school students then considered military careers.

Schulte, though, had other reasons for choosing an Air Force career.

"Roslyn joined the Air Force because she wanted to fly jet planes," Shahan said.

(snip)
Source ~ St. Louis Post-Dispatch
And, or course, 1st Lt. Schulte is deeply missed by those she served with in Aghanistan, where she had been since Valentine's Day, on loan to the Army, working on intelligence.
Ladies of Liberty, a special Soldier's Angels chapter that supports deployed female members of the military, posted this remembrance of 1st Lt. Schulte on their blog:
Yesterday, my closest friend for the last couple months, Roslyn Schulte, was killed in a roadside bombing halfway between here and Bagram. She is one of the most incredible people I have ever known, and I want to tell you about her. I had only known her about three months, but she was assigned to my unit, and so, she and I being the only two junior officers in the group, she had the unfortunate pleasure of having to hangout with me. I can probably count on one hand the number of times we did not eat at least one meal of the day together since she arrived here in early March.

Ros was truly an exceptional person. Usually when you hear that about someone who just died, it's almost always exaggeration, if not pure BS. With Ros, it's not. She passed up on the Ivy leagues to go to the Air Force Academy. She qualified for state in five different sports in high school, was an all-American in college, a qualified pilot. She was ALWAYS kind to others. She went out of her way to call her mom and dad two or three times a week every week she was here. Sorry I don't do that, Mom and Dad. No one did, except for Ros. She dreamed of getting out of the air force to settle down and start a family. She didn't drink. She didn't like the lifestyle of the military -- said it didn't work well for family. She wanted to be a successful business owner (like her mom), but worried that would interfere with raising a family.

(snip)

Ros and I usually travelled together on longer trips. We were almost always paired off together, in the same vehicle. That's how we wanted it, and how the mission planners did. Yesterday however I had to go somewhere else. We saw eachother briefly in the morning, just shy of 7am. She was walking from her room, my convoy was already staged and waiting. She saluted me, in typical jest. Junior officers usually don't salute other junior officers, especially when they know eachother. Without too much said, we each went our seperate ways -- I fully expected we would both be back having a meal together at Camp Eggers that evening. In fact, even though the day had just begun, I was already looking forward to that. She was my friend. My helicopter took off at 8am. By all accounts, Ros was killed halfway between Kabul and Bagram about 8:05.

(snip)

I'm writing this to you so you can know a little bit about this wonderful person, Ros Schulte. My friend.
~ A Navy Lt. serving in Afghanistan posting on Ladies of Liberty
The friend who wrote this heartbreaking remembrance is Lt. Shivan Sivalingam.
On Saturday, Lt. Sivalingam was making one of the longest trips of her life, and she was doing it alone. She was on her way back to the U.S. for the funeral of her friend, Roz Schulte, 25, the first female U.S. Air Force Academy graduate to be killed in action.

(snip)

Services for Lt. Schulte will be Memorial Day, the day set aside to remember and honor those who died in service to the nation.

(snip)

Her service "was an example of her moral conviction," said her brother, Todd Schulte, 28, who graduated from Harvard University and is now chief of staff to Rep. Scott Murphy, D-N.Y.

"Roz worked 14 hours a day and spent three more hours organizing a charity for Afghan refugees," Todd Schulte said. "It's a small solace that she was truly an inspiration. She was an incredibly impressive person, a brave soul and leader. She was the most fundamentally generous and kind person I knew."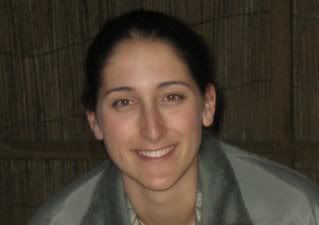 1st Lt. Roslyn Schulte is survived by her parents, Robert and Susie Schulte, by her older brother, Todd Schulte, and by her boyfriend, Capt. Bruce Cohn, an Air Force pilot.
Visitation will be from 10 a.m. to 11 a.m., with services beginning at 11 a.m., Monday, at Congregation Temple Israel, 1 Rabbi Alvan D. Rubin Drive, St Louis, Mo. 63141. Burial will be at New Mount Sinai Cemetery, 8430 Gravois Rd., St. Louis, Mo. 63123.
The Schulte family is planning to establish a memorial at the Air Force Academy in Lt. Schulte's honor.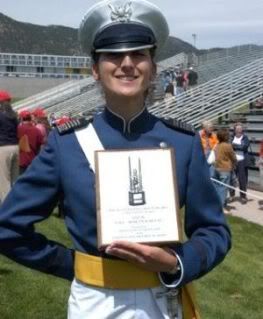 Thank you, 1st Lt. Schulte. Godspeed. Your mission is done.
From the comments: In honor of First Lt. Roslyn L. Schulte (h/t Greg in TN)
____________________________________________________________________
Remember them. Honor their sacrifice.
To date, 4300 members of the United States military have lost their lives in Iraq. The death toll thus far in 2009 is already 79. More than 31,000 members of the military have been wounded, many grievously. The Department of Defense Press Releases, from which the information at the start of this diary was drawn, can be seen here. The death toll among Iraqis is unknown, but is at least 200,000 and quite probably many times that number.
To date, 687 members of the United States military have lost their lives in Afghanistan. The death toll thus far for 2009 is 57. 467 members of the military from other countries have also lost their lives.
Other sites have stories, video, pictures and remembrances, including: Honor the Fallen. A group of runners is crossing the United States, dedicating a mile to each fallen soldier, sailor, Marine, Airman and National Guardsman. You can read about ~ and see photos and video of ~ Run for the Fallen here.
Assisting our military: Supporting our troops is the RIGHT THING to do.

You can send a care package. Please consider brightening the day of a soldier with a care package.

You can write letters.

You can send a cup of organic coffee.

You can find other ways to give at anysoldier.com or Fisher House. If you have frequent flyer miles you would like to donate to hospitalized veterans or their families, please see Fisher House's Hero Miles program.

You can help the left-behind animal companions of our troops. See how here.

And don't forget them when they get home! Read welcomebackveterans.org to learn what you can do. Visit VoteVets and IAVA.
About the IGTNT series:

(Our beautiful logo was created by kossack Timroff. Thank you, Timroff.)

The purpose of the I Got the News Today series is to honor service members who have died as a result of the wars in Iraq and Afghanistan; its title is a reminder that almost every day a military family gets the terrible news about a loved one.

Click here to see the series, which was begun by i dunno, and is currently maintained by Sandy on Signal, monkeybiz, greenies, blue jersey mom, Chacounne, twilight falling, joyful, roses, SisTwo, SpamNunn, a girl in MI, JeNoCo, mediaprof, and me, noweasels.

If you would like to contribute to the series, even once a month, please contact Sandy on Signal, monkeybiz, or me, noweasels.

As you read this diary, please consider that the families and friends of those profiled here also may read it and that many members of our community have served in Iraq or Afghanistan or have loved ones currently serving in Iraq and Afghanistan. As the very proud daughter of a Navy pilot, and the granddaughter of a Marine pilot and a submariner ~ all of whom rest beneath our nation's flag ~ I hope that the comments tonight will demonstrate our respect for the sacrifices of our fallen military and our compassion for their families. Please reserve your political comments for appropriate diaries; this is not one of them.