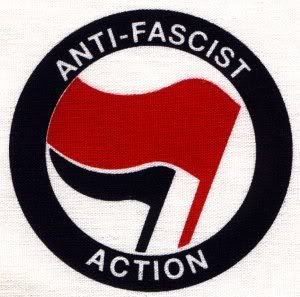 The facts are clear and recent events point towards a rise in a "lone wolf" culture that is feeling "powerless" and therefore "rising up" and engaging in Domestic Terrorism.
It isn't going to stop and the police can only do so much.
So I ask for a different kind of "See Something, Say Something" campaign. One that identifies pro-life and anti-immigrant groups as potential domestic terrorists and to be considered as such.
I promised myself a long time ago when I read in my History books about the Rise of the Third Reich that if I ever saw the signs of such a movement taking place in my country that I would fight to the death to make sure that it doesn't happen here.
"Never again."
Here we have a G.O.P. that is "purifying" the party and trying to put all the blame on the Democrats. Their rhetoric was laughable before recent events but now they have my attention, and not the good kind.
A "purified" party who has mindless automatons listening to Rush Limbaugh, Sean Hannity, and Bill O'Reilly religiously. All people who go right up to the line Hal Turner crosses, stops before that line, and then says "We'll be right back." Sure we laugh, but when does it stop being cute and laughable?
Well...
A new Department of Homeland Security report is warning law enforcement officials of a growing threat of "right-wing extremist groups."

"The consequences of a prolonged economic downturn — including real estate foreclosures, unemployment, and an inability to obtain credit — could create a fertile recruiting environment for right-wing extremists and even result in confrontations between such groups and government authorities," the report warns.

The report explains that threats so far have been "largely rhetorical," but points to the April 4 shooting of three police officers in Pittsburgh as a "recent example of potential violence associated with right-wing extremism."

The document points to both the economic downturn and election of President Barack Obama as potential recruitment tools for militant groups.

"Many right-wing extremists are antagonistic toward the new presidential administration and its perceived stance on a range of issues, including immigration and citizenship, the expansion of social programs to minorities, and restrictions on firearms ownership and use," it reads.

The report also highlights anger directed at illegal immigrants and perceived threats from foreign countries as potential recruiting pitches from the groups.
Pro-Life Movement:
2002 Intelligence Report from The Southern Poverty Law Center

The 57-year-old Georgian, who warns that "domestic terrorism heralds the shape of things to come," also has become the most public face of anti-abortion extremism in America.

It was Horsley who Clayton Waagner, a self-described anti-abortion "terrorist" on the Ten Most Wanted List, chose to drop in on shortly before being arrested last November. It was Horsley who propelled his notorious website — featuring home addresses and other detailed information about hundreds of abortion providers — into the national limelight after a physician was murdered by a sniper in 1998.
White Supremacists:
The Mouthpiece and Enablers:
This is no longer "cute" and requires our immediate attention.
How "far out" is it to believe that such a "purified" party here can rally enough support to have a solid rise to power out of people's discontent with the economy under our new President?
According to its constitution, the BNP is "committed to stemming and reversing the tide of non-white immigration and to restoring, by legal changes, negotiation and consent the overwhelmingly white makeup of the British population that existed in Britain prior to 1948". The BNP also proposes "firm but voluntary incentives for immigrants and their descendants to return home".

It advocates the repeal of all anti-discrimination legislation, and restricts party membership to "indigenous British ethnic groups deriving from the class of 'Indigenous Caucasian'". The BNP also accepts white immigrants that are assimilated into one of those ethnicities.

The BNP asserts that there are biological racial differences that determine the behaviour and character of individuals of different races, although it also claims that it does not regard whites as superior to other ethnic groups. The party claims that preference for one's own ethnicity is a part of human nature.
What I propose is a fierce resistance to all right-wing activities in the U.S. until proper legislation is passed to deem the Pro-Life movement, and others that hide (falsely!) behind their religion that they claim makes them opposed to abortion, a terrorist organization. Also, increased surveillance of right-wing extremist groups is an absolute must in order to insure safety of minorities, immigrants, gays, and jews inside America
If you see this as an "overreaction" I understand why you may think that. i too would question a diary such as this on face value. However, given recent events and the desperate state of white-rural Americans who feel "their country" has been hijacked by those demonized by pundits in the right-wing media circuit I would rather apologize for this diary after posting it then regret never saying anything before the wind shifted in a dangerous direction.