Dear Kossacks:
The first ever Daily Kos Chess Tournament is almost upon us!
The match-ups for Round 1 will be announced tomorrow afternoon. Round 1 will start on Saturday and will end in one week or less. Place your bets, everyone!
Because several users were split in their preference of online chess server, we will be using as many as four different websites to host our matches: Chess.com, Chess Cube, FICS, and Yahoo! Games. Since not every entrant in the tournament is familiar with the interface of each website, I have taken the time to write some detailed instructions for how you can register for them, find your opponent, set up your matches, and start playing.
Please see the Roll Call lists at the end of the diary to find out if you are fully entered into the tournament.
For complete Rules & Regulations of the tournament, please see this diary.

MUSIC: "Puzzle" by The Seedy Arkhestra
***********************************
INSTRUCTIONS FOR USING EACH CHESS WEBSITE
***********************************
Let me first add a disclaimer that none of the websites used for this tournament are absolutely perfect. You need to be aware that certain bugs and technical problems can occur while playing chess online. Users can be unexpectedly disconnected from their games and the server might have trouble logging people in for long stretches of time.
Some users will strongly prefer one website. Others will strongly prefer another. The most important thing is that you should have a fun, enjoyable, smooth, and fair experience playing chess in the DKos tournament. That is why I strongly recommend that you register for more than one of these chess websites. Each pair of opponents is expected to agree on a host website before they play their match, but technical problems happen. You should have a backup plan in case they do.
IMPORTANT NOTE #1: Most of these websites use Flash animation for running chess online. It is highly recommended that you run your chess server from a fast, dependable connection like Firefox, Safari, and Chrome. Old versions of web browsers like Internet Explorer 6 may not perform very well when trying to run the chess programs. If you can't use the latest internet browser or don't have a particularly fast connection, I'd suggest that you use FICS for the tournament.
IMPORTANT NOTE #2: If you are experiencing technical difficulties with any of these websites, please contact me to let me know. You will NOT be charged with a loss in the tournament just for being disconnected. Send me screenshots or other information if you feel it would be useful.
With that, let's get to each website one-by-one.
***********************************
DIARIST'S NOTE: Chess.com is the website that I would prefer to use over any other for the tournament. It isn't required to use it for your games if you'd rather use Chess Cube, FICS, or Yahoo! Games. But, this is the one for which I think everyone should register an account, if not as the first choice then as a back-up plan.
First, click on this link to register for Chess.com. Follow the instructions as appropriate. Pick a username.
When you get to the home page, notice the green tab near the top of the page. Under the "Members" tab, click on "Search Members". Here, you can see if your opponent is also a member of Chess.com. If so, then you can add this player as a friend on the website. If you can't find the user you're looking for, you can invite the player by rolling over the "Members" tab and clicking "Invite Friends." Then, just type your friend's e-mail address into the text box and hit Submit.
NOTE: A Kossack's username on Chess.com may not necessarily be the same as it is on Daily Kos.
Now, go to the tab marked Play and click on "Live Chess." This is the page where you'll have the option of playing live, timed-limit matches. Click on the big green box marked "Play Live Chess." It will open up a new window where you'll see three menus: The Chessboard, the Main Hall, and the Control Panel. The chessboard is shown in the screenshot below.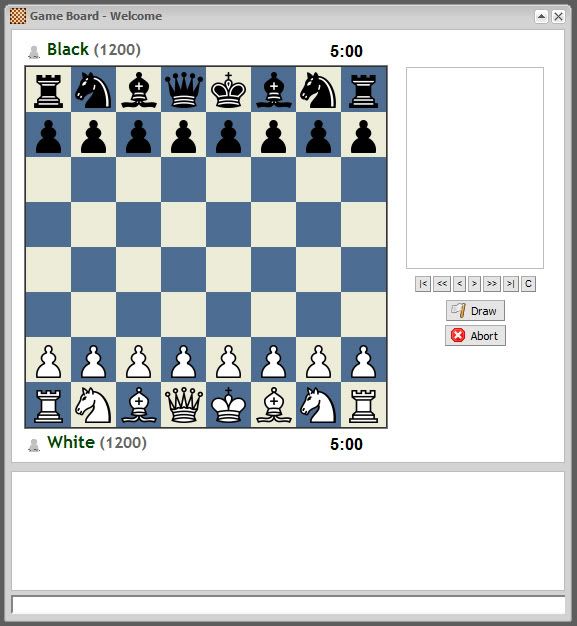 Notice the box to the right of the board. That's where the move list is recorded. The time limit for each player is shown above and below the right side of the board. A text box is shown beneath the board so you can chat with your opponent.
You can use the Main Hall window for joining timed matches with other opponents, ranging from 1 minute per player (lightning speed) to 2 hours. However, if you want to find your opponent, you both need to be in the Live Chess module at the same time. If you invited your opponent as a friend or added them as a friend earlier, you can find him or her under the "Friends" tab of the Main Hall. When you have found your opponent, click on his or her username, and then click "Challenge to a Game." The Create Challenge menu will open. In the screenshot below, I have challenged a user named Shine123. Set your match to the settings shown in the screenshot: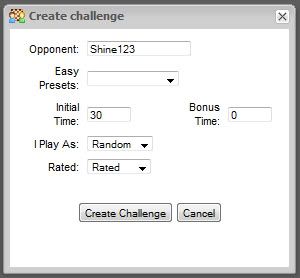 Set an initial time of 30 minutes and 0 bonus time. For the first round, make sure that the "I Play As" drop box is switched to Random. In subsequent rounds, players will get a chance to play both sides of the board. If you want your game rated, then your approximate USCF rating will be affected by the match's outcome. Leaving the game unrated in this tournament is fine, since newcomers to the website are all given a default USCF rating of 1200 anyway, even if they're ranked masters.
When you're ready, hit "Create Challenge." Your opponent will see a brief pop-up window detailing who sent the challenge, the game's time limit, and type (rated or unrated). It will ask if he/she wants to accept your challenge. The challenge will also appear in the Control Panel menu in bold green letters shortly after the challenge is issued.
And with that, you should be good to go!
DISCLAIMER: The powers that be at Chess.com have written the following statement (emphasis mine) about using the Live Chess module.
PLEASE READ! DO NOT USE LIVE CHESS unless you understand that it is still a work-in-progress. You MAY be disconnected randomly. You MAY experience lag. You WILL be disappointed if you expect anything else. For the BEST EXPERIENCE on Live Chess we recommend that you use Firefox 3, Safari 3, or Chrome. Internet Explorer browser does not perform well in Live Chess. Seriously, try Firefox 3!

We are working really hard on making Live Chess as fast, stable, and amazing as possible. In the mean time, please be patient - thanks!
So, don't use Internet Explorer if you want the Live Chess on Chess.com to run properly.
***********************************
First, click on the registration link to sign up. Validate all confirmation e-mails as necessary.
Notice the settings menu on the left. Here, you can adjust the type of chess game of you would like to play, and the preferred ratings of your opponent (shown in the screenshot below).
If you hit the Seek button, Chess Cube will turn up with a list of about 10 active players with similar preferences. For our purposes, don't worry about the Seek button. You also don't have to pay attention to the list of players on the right side of the screen of the "Cube Cafe" -- even though it shows 101 different opponents, you may not find the one you want there.
Instead, roll over the Friends tab at the top of the screenshot. You can invite your opponent via e-mail. When your opponent has registered for Chess Cube, add them as a friend.
Unfortunately, for administrative and logistical reasons, we will most likely not be able to make use of a private Daily Kos room for this tournament on Chess Cube. The site admins have generously created one for us, but in order to use it, EVERY Kossack who uses this website for the tournament will need to provide me with their Chess Cube username. However, the admins have recommended that for anyone who plans to use Chess Cube for the tournament, you should do the following:
Exchange usernames with your scheduled opponent.
Add your scheduled opponent to your friends list. You don't have to do this for everyone, just for each of your respective opponents.
Challenge your opponent from the friends list. You can do this from a private chat screen which you can send out to your Chess Cube friends, without needing to send out a "Seek" (which turns up random users).
When you are ready to play your game, just make sure that you set your game to 30 minutes, 0 bonus time.
***********************************
Here is the registration link for the FICS.
When you log in to FICS, it runs as what is called a Jin applet. It will then take you to a text-based console where you will need to type in commands to be able to play the opponent you're looking for. You can set up the parameters of the game without having to use the console, but in order to actually challenge a player to a game, you need to use it. For example, if I wanted to play Abelian, and we were both online, I would type "match Abelian" into the console. He would then be alerted of the challenge, and would need to type either "accept" or "decline."
Since FICS has been around for quite a while, I will not go into all of the details of how to use the Jin applet. In fact, although most FICS users know the system pretty well, they often don't use the Jin applet anyway for setting up games.
Instead, if you'd rather not spend any time learning about the console and its text-based commands, what you can do is download a graphical interface which will allow you to use a more windows-based version of FICS. You can find an appropriate interface for your operating system on this webpage. The one I prefer to use is BabasChess.
Once you've downloaded an interface that works, what you want to do first is connect to the FICS. Go to File, then click on Connect. It will ask you for your username and password. Your initial password is a generic password chosen by FICS, which it sends you in your confirmation e-mail. You can log in with this password, or change it in the appropriate menu. In BabasChess, you would go to File, then Preferences -- and you can change both your password AND your username if you wish.
Now, you want to find your opponent. You can simultaneously search for your opponent to see if he/she is online AND set up the game parameters. In BabasChess, you would go to the Actions menu and click "Match" (or simply CTRL+M). Then, you'll see the "propose a match" window pop up. Again, let's say I wanted to challenge Abelian to a game. The window should look like this: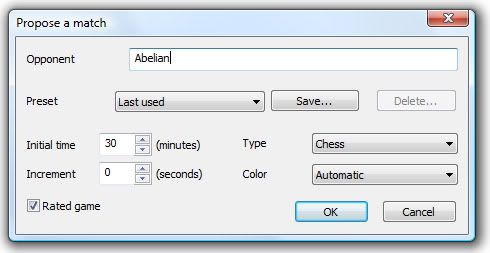 Hit OK. Now, if Abelian is online, he will receive an alert from the FICS that he has been challenged to a match. He can accept or decline it, but he doesn't have to use the console for it. Instead, he can simply click on the pop-up window that says "Accept" and "Decline." If Abelian is not online, then the console window will say so after you hit OK. Then, it's a matter of just getting in touch with Abelian to find out where he is.
So much for worrying about using a complicated system!
***********************************
Yahoo! Games, to be perfectly honest, is my least favorite choice of these four websites, mostly because of various server crashes I've suffered while trying to use it over the years. But, I have to admit it is a very simple online chess website to use.
First, the registration link.
When you've logged into the main Yahoo! Games page, click on the tab near the top that says "Board," then click on Chess. Then, click on the Go Now button.
You'll be taken to a page that will allow you to use a newer version of Yahoo! Chess with improved graphics (called the All-New Yahoo! Chess) -- or you can use the old system (the standard chess version). Let's use the all-new variety. It sounds fun! Click on Play Now.
In the window that pops up, you'll notice that there are a lot of rooms in four different "lounges": The Social, Beginner, Intermediate, and Advanced lounges. In order to play your specific opponent, you will need to be in the same room in the same lounge.
So, if I wanted to play USArmyParatrooper, he and I would need to agree to be in the same place at the same time. Let's say we decided on the Room called "Adequate" in the Intermediate lounge. Now, it's very easy to find each other. The active users are listed alphabetically!
Go to Create Table. You want to set your game up so that you're running a private 30-minute match, with 0 bonus increments. Uncheck the box that says "At most 10 min. per move." The box should look like this: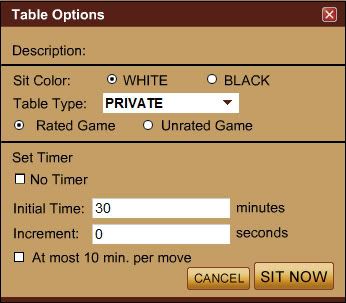 Please note that the person who creates the table must be the one to choose a color. Yahoo! Games does not randomize it like the other three websites do.
Once you have created the table, go to Invite Player on the right side of the window. There, you should be able to find the user you're looking for by searching from the dropdown list (conveniently listed alphabetically). Click Invite. Then, that user will need to confirm the invitation to join your game.
After you have set up the table and your opponent has joined, both players should immediately go to Options on the right side of the window. Check the box that says "Decline All Invitations." You REALLY don't want to be getting tons of invitations from other users when you're playing in the tournament -- of course, if you had both done this before setting up the table, then your opponent wouldn't be able to receive the invite!
NOTE: The person who creates a private or protected table in Yahoo! Games has the ability to invite or boot from the table any player who joins it.
***********************************
Hopefully, these are enough detailed instructions to help you get by in the tournament. I'd suggest hot-listing this diary so that you can refer back to it later.
And with that, onto the Roll Call!
***********************************
***********************************
DKOS CHESS TOURNAMENT 2009 ROLL CALL
***********************************
The following users (listed in alphabetical order) are signed up for the tournament and are ready to go.
aaraujo
Abelian
ActivistGuy
Adept2u
AfroPonix
ajsuited
Albanius
Anderson Republican
Andrew Lazarus
AndrewMC
BaxKen
ben masel
bgblcklab1
Bill White
black2thefuture
Blue Intrigue
Blue Wind
brainwave
brendanm98
cartwrightdale
cavebird
Celtic Merlin
Chicagoa
cmorrison
Cobbler
Crawdaddy
cschess
cskendrick
Dan Morris
Davis X Machina
DeadB0y
debedb
dissonantharmony
dmet
dnta
DoomsdayShark
dopealope
Doughnutman
dov12348
dpinzow
drache
Dvd Avins
DynamicUno
eddiem86
Elvis Vader
ericledford
evilstorm
eztempo
ferrisbueller
FightingRegistrar
filmgeek83
foodmetaphors
Free Radical
FWIW
Gangster Octopus
GayIthacan
Geenius at Wrok
greeseyparrot
Grey Paladin
Guy Fawkes
hanswall
hekebolos
high5
hurburble
i know
Ignacio Magaloni
JeffLieber
jerseycorn
Jimdotz
Joffan
JugOPunch
Jumpin J
Keith Pickering
kentuckydave
Kevin in Long Beach
Kimball
KStreetProjector
kto9
LaughingPlanet
lexington1
liberte
lostboyjim
M31
MakeChessNotWar
Marcion
matador
mattc129
mconvente
Melanchthon
mnguy66
Mo
montrealdan
Morus
mos1133
mquander
MV Kid
nargel
neilliebus
neonineten
papicek
pasadena beggar
Patch Adam
PedsNeuro
PinkFreud
PsiFighter37
Pym
RageKage
rhutcheson
RickMassimo
rmonroe
Robert Naiman
rteeter
Sharkmeister
sharris0512
sjohntucson
snacksandpop
Something the Dog Said
stlbucket
SuperBowlXX
TeacherRyan
the fan man
TheCid
thereisnospoon
Thutmose V
ThyrsiodB
Twin Planets
Uncle Cosmo
Unlabled
USArmyParatrooper
valislav stein
vescis
vets74
wmorriss
writerkirk
ZaBlanc
zamrzla
The following users have NOT provided me with their e-mail address.
Boxer7
jewbulawguy
logsol
Nylawstudent
Obama Amabo
ohcanada
Pierro Sraffa
Remain calm

If I do not receive e-mail addresses from these users by TOMORROW AT 1 PM (Friday, June 12), they will be removed from the list and replaced with alternate players.
***********************************
Thanks for your support, and happy chessing.