Good Morning! Lineatus is taking several weeks off from her Dawn Chorus host duties, but will hopefully be dropping by for a visit today. I am filling in with a diary about Orioles, or as my son calls them, Oreos or Cookie Birds.
Living in New Mexico all my life, I always thought Orioles were 'Somewhere Else." I had never seen one, and never expected to see one. It turned out they were all around me, I just never looked in the right places.
Then five years ago I saw my first oriole. He was a brilliant orange and absolutely gorgeous male Bullock's. He was trying to drink from a hummingbird feeder, but the holes were too small.
I was hooked. I went out the next day and bought an oriole nectar feeder.
Since I saw that first Oriole, I've seen five different types, and discovered that there are Orioles in almost every part of the country. We don't see them often, because as a general rule, they spend their time at the top of tall trees.
That first summer I was thrilled to be able to watch six Bullock's Orioles all summer. They nested here and by the middle of summer I was watching them teach their babies how to drink from the nectar feeder. The feeder was getting pretty crowded and adult orioles aren't fond of sharing, so I bought two more oriole feeders.
Bullock's Oriole and Baltimore x Bullock's Hybrid bickering over a nectar feeder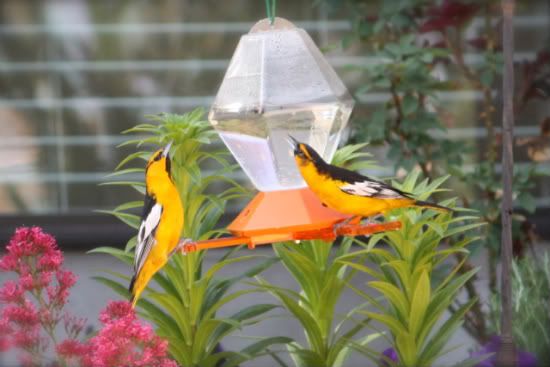 Oriole Fact: Oriole nests are woven with thousands of stitches and the tying of thousands of knots, all done solely with its beak. Orioles take as many as 15 days to weave their nests and the results are engineering masterpieces – woven hanging-basket nests made of plant fiber, grasses, vine and tree bark. Nests are hung on small branches six to 45 feet in the air, keeping them safe from predators. You can help to supply them with additional nesting materials by providing natural fiber yarn, twine or string pieces in lengths of less than six inches.
Each year more Bullock's Orioles showed up, nested, raised their babies, and I bought more feeders.
Bullock's Oriole Fact: The Bullock's Oriole is one of the few bird species that will puncture and eject parasitic Brown-headed Cowbirds' eggs. They sometimes damage their own eggs in the process, but the benefit of this behavior far outweighs the cost.
I even had an elusive Hooded Oriole stop by for a few days.
Hooded Oriole Facts: Named for the orange hood on the male, this slender oriole is at home in suburban areas of the southwestern United States. It originally nested in the trees of desert oases, but finds ornamental trees suitable.
Last spring the Bullock's Orioles showed up as usual, there were about two dozen. A few days later I looked out the window and saw an oriole I had never seen before, a Scott's Oriole.
Scott's Oriole Facts: The brilliant yellow and black Scott's Oriole is a bird of desert hillsides, found in the arid Southwest and into Mexico. The Scott's Oriole is one of the first birds to start singing each day, starting before sunrise. It is a persistent singer too, and can be heard at all times of the day and throughout most of the summer. It even has been heard singing on its wintering grounds. The female will sing from the nest in response to the male's song.
I watched for a few minutes and realized that there wasn't just one Scott's Oriole, there were dozens. For about a month I had orioles queued up 9 or more per feeder, and I had eight Oriole feeders. It was amazing, but at the same time kind of horrible. Those birds were hungry! They were so desperate for food they ate all my Mardi Gras roses and every other orange flower they could find. I started putting out orange halves and was finally able to provide enough food for all the Orioles. Finally, after about a month, the Scott's Orioles left to continue their journey.
Scott's Oriole on top and three Bullock's Orioles

I had the privilege of seeing a vagrant Baltimore Oriole for several days, as well. They almost never venture into New Mexico.
Oriole Facts: The "orioles" of the Americas were named after similarly-appearing birds in the Old World. The American orioles are not closely related to the true orioles in the family Oriolidae. They are more closely related to blackbirds and meadowlarks. Both New and Old world orioles are brightly colored with red, yellow, and black; have long tails and long pointed bills; build hanging, woven nests; and prefer tall trees around open areas.
This spring I was ready for hordes of Orioles. I put out ten Oriole feeders, stocked up on sugar, oranges, and grape jelly, and waited. In late April the Orioles started arriving, at the peak there were 70 of them, including a rare (in New Mexico) Baltimore x Bullock's Hybrid. (Maybe the offspring of the Baltimore Oriole that passed through last year?) It was great. I had enough food and feeders for them, so I could relax and enjoy my Oriole visitors.
Baltimore x Bullock's Hybrid and Scott's Oriole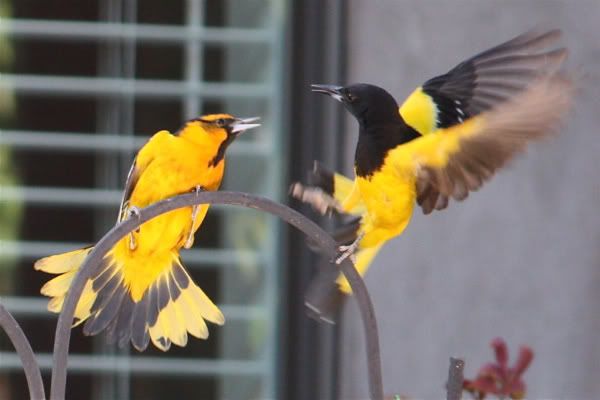 Oriole Facts: The Baltimore Oriole hybridizes extensively with the Bullock's Oriole where their ranges overlap in the Great Plains. The two species were considered the same for a while and called the Northern Oriole, but recently, they were separated again. Molecular studies of the oriole genus indicate that the two species are not very closely related.
All the Scott's and about half the Bullock's Orioles left last week to continue their journey, leaving behind 20 or so Bullock's Orioles. Soon I'll be able to see them escort their babies to the feeders, teach them how to drink the nectar, and eat the oranges and grape jelly.
Bullock's Oriole on an orange half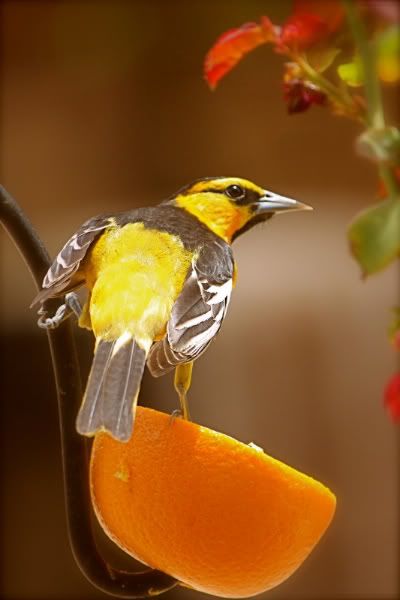 Tips for enticing Orioles to your yard:

Orioles are found in almost every part of the U.S. If you put out an Oriole feeder in an open space visible to them, you will very likely have Oriole visitors.
Orioles will come to nectar Oriole feeders. The nectar is the same as that used for hummingbird feeders, 4 parts water to one part sugar. The water doesn't need to be boiled unless you have well water with microbes, etc. An added bonus is that hummingbirds can drink from Oriole feeders too. Orioles will also eat orange halves and grape jelly. They're drawn to the color orange, so if you put out grape jelly, try to put it in an orange bowl or dish. (I wait until they've hollowed out an orange half, then fill it with jelly.) Orioles spend most of their time in tall trees, so you need to place your feeders in an open space where they are visible from the tree tops, but close enough to trees or large shrubs so they can escape from predators.
Note: I'm located in the middle of a desert, near a river bosque and directly between two wildlife refuges. Most people won't get the 70+ orioles I've been getting. My yard seems to have become an oasis stopping point for most of them, so they can rest and refuel for the remainder of their migration.
If you didn't catch it last week, desertguy did a Dawn Chorus: Birds in a Desert Oasis filled with spectacular must-see photographs. Be sure to check it out, and if he posts here give him tons of mojo for his amazing diary and photos.
Do you participate in Citizen Science?
Do you eBird?
Do you participate in Project Budburst?