Health Care for America Now lists members of Congress that have endorsed a set of core principles supporting a viable public option in crafting legislation for National Health Care Reform. To date, 20 Senators and 174 Representatives (along with two former Senators named Obama and Biden) are signatories.
Daily Kos diarist mcjoan has provided excellent reporting and commentary on the National Health Care Legislation issue and is highly recommended by this humble diarist.
It's time to change the number of Congressional Representatives signing onto the HCAN principles thanks to North Carolina's Rep. David Price of our 4th Congressional District.
More below the fold.
Health Care For America Now (HCAN) sponsored a Town Hall meeting this morning in a downtown Durham church for Representative Price. Co-sponsored by local groups including, Durham Acorn, Durham Chapter of NAACP, Durham For Obama, Orange County Campaign for Change, and the People's Alliance, more than 250 people showed up and filled the sanctuary to participate.
Passionate is perhaps too mild a word to describe the feelings expressed by panelists and members of the audience supporting both a single payer system and a public option in crafting health care legislation. Everybody choked up and/or shed tears when panelist Rhonda Robinson shared her story and her feelings about having to ration her medications because of a lack of funds to purchase them. It was clear that Representative Price was deeply moved as well.
After a discussion of political realities and what we can do locally to create change, Representative Price signed the HCAN principles of reform to the applause of the audience. Your intrepid diarist was not going to let that moment pass without capturing it. (Click to enlarge)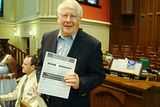 A planning meeting ensued after the Town Hall meeting at a nearby coffee shop. We all agreed to ask our Senator Hagan to sign on to the HCAN principles as well as assist efforts with other representatives in North Carolina.
Perhaps others reading this will be likewise inspired.
Thanks for reading this and please share with others if you are so inclined.
Peace.