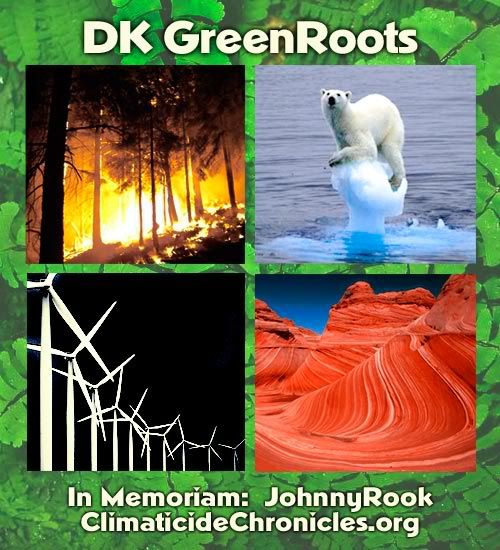 If you are interested in environmental issues, please join DK GreenRoots, a new environmental advocacy group created by Meteor Blades. DK GreenRoots is comprised of bloggers at Daily Kos and eco-advocates from other sites. We focus on a broad range of issues. We alert each other to important eco-stories in the mainstream media and on the Internet, promote bloggers at one site to readers at other sites and discuss crucial eco-issues. We are in exciting times now because for the first time in years, significant environmental legislation will be passed by Congress. DK GreenRoots can also be used to apprise members of discussions and strategy sessions happening in Meteor Blade's Green Diary Rescue thread, which is also our workroom.
h/t to Land of Enchantment for the awesome image.
Mississippi River Protection
The Mississippi River provides drinking water for over 18 million people. It is an important cultural, recreational, economic, and wildlife resource. Each summer, however, a "Dead Zone" roughly the size of the state of Massachusetts forms in the Gulf of Mexico at the river's south end. In 2005, ELPC joined the Water Quality Collaborative, a diverse group of regional and national non-profit organizations devoted to improving the health of our nation's largest river.
Several factors impede the health of the Mississippi River. Inadequate government oversight, lack of coordination among non-profit organizations, and lack of federal protection from agricultural runoff makes restoring the river very difficult. Agricultural runoff is the primary source of excess sediments and nutrients in the Mississippi River. Fertilizers accumulating in the Gulf of Mexico allow plants to grow to excess, starving the waters of oxygen and killing fish and wildlife. Each summer, this creates a "Dead Zone" roughly the size of Massachusetts in the Gulf.
Mississippi River Endangered Resources
Prior to European settlement the Coulee Region and the Mississippi River corridor supported a mosaic of prairie, oak savanna, oak forest, and maple-basswood forest on the upland with floodplain forest and marshes along the large rivers of the region. Today a large number of the Endangered and Threatened Species of the Western Coulees and Ridges Region and the Mississippi River corridor consist of plants and animals that depend on the remnants of these natural communities. Efforts have been made to protect and preserve some of these special habitats in Wisconsin through the Endangered Resources and Natural Areas programs. In addition, other sites have been identified through the Land Legacy Program.
US Geological Survey Identifies Top Gulf Dead Zone Polluting Watersheds
Louisville, KY – For the first time, the U.S. Geological Survey has identified the top 150 polluting watersheds in the Mississippi River Basin that cause the annual 8,000 square-mile "Dead Zone" in the Gulf of Mexico. Based on the USGS report released this week, members of the Mississippi River Water Quality Collaborative urge the Environmental Protection Agency, the U.S. Department of Agriculture, and state policy makers to use the report to solve water quality problems both within the states and downstream in the Gulf.

What is the Dead Zone?
Gulf Restoration Network

The Dead Zone is an area in the Gulf of Mexico where oxygen levels in the water are too low to support life. The Dead Zone forms seasonally off the coast of Louisiana and Texas. Those fish, crabs, and shrimp that can swim away from the Dead Zone do so, while others simply die. Since 1993, the size of the Dead Zone has averaged 16,000 square kilometers, though its size varies every year.1 The lack of oxygen in the Dead Zone poses a serious threat to species diversity in the Gulf and to the $2.8 billion commercial and recreational fishing industry.2 For example, the amount of brown shrimp caught declines in years when the Dead Zone is its largest, and shrimpers must look elsewhere for their catch.3
The Creation of the Dead Zone

When the Mississippi River reaches the Gulf of Mexico, it is loaded with nitrogen and phosphorus pollution. The polluted water acts as a fertilizer of algae, resulting in large algal blooms. When the algae die, they sink to the saltier water below and decompose, depleting already low oxygen in the deeper water. Because the salty bottom waters do not mix well with the lighter, fresh water from the Mississippi River, oxygen in the water is not replenished, resulting in a large dead zone in bottom waters.

Project Will Monitor Gulf Pollution From Farm Runoff
redorbit.com

Bill Deutsch, of Auburn University, has launched a new project that is aimed at reducing farm runoff that has become a driving force behind water pollution in the Gulf of Mexico.

The $300,000 project, funded by the US Environmental Protection Agency, will combine the efforts of colleagues in Veracruz, Mexico as a part of a three-year project to monitor pollution levels of water flowing into the Gulf.

As a result of the study, Deutsch and colleagues hope to determine new methods that will halt the rate of pollution driven by livestock producers in Alabama and Veracruz.


Turtles alter nesting dates due to temperature change says ISU researcher
AMES, Iowa -- Turtles nesting along the Mississippi River and other areas are altering their nesting dates in response to rising temperatures, says a researcher from Iowa State University.

Fred Janzen, a professor in ecology, evolution and organismal biology, has studied turtle nesting habits and also accumulated research going back decades in order to track the habits of the turtles to find out when they make nests and lay eggs.
Missouri River
The Missouri River, prior to its modification by man, was known for its shifting channels, high turbidity , and periodic floods. This river, commonly referred to as the "Big Muddy," served as a travelway and thread of life for people and wildlife, alike.

Missouri River Cultural and Sacred Sites
Crossing both the Dakotas and Montana, the upper Missouri River basin has been called home by Native American tribes since the last ice age, 12,500 years ago. Filled with important archeological sites and cultural resources, the 1,515-mile area includes ancestral villages, sacred sites, old homesteads and structures from the fur trading era. However, this land of great historic and spiritual significance is being destroyed by federal government reservoir and dam projects, which have altered water levels on the river, eroded the land and exposed the remains of tribal ancestors.


Endangered pallid sturgeon stocked in Missouri River
By Chad Day | The Kansas City Star

The Missouri River took on about 550 more endangered pallid sturgeon Wednesday, and hundreds more will be added later this summer as conservation officials work to bring the primitive fish's population back from near extinction.

The pallid sturgeon, which can measure up to 72 inches long and weigh nearly 100 pounds, has been on the federal endangered species list since 1990. Overfishing, damming and habitat loss caused the primitive fish's population to decline to near extinction in the 1980s.
Zebra Mussels found on Big Muddy
In the past several months, Missouri Dept. of Conservation biologists have zebras confirmed two sightings of zebra mussels on the lower Missouri River within the state of Missouri. The two sightings were in Kansas City and Chamois, MO.
What are Zebra Mussels?
A small freshwater mollusk called the zebra mussel (Dreissena polymorpha), has been steadily invading America's rivers and lakes. Zebra mussels originated in the Balkans, Poland, and the former Soviet Union. They first appeared in North America in 1988 in Lake St. Clair, a small water body connecting Lake Huron and Lake Erie. Biologists believe the zebra mussels were picked up in a freshwater European port in the ballast water of a ship and were later discharged into the Canadian side of Lake St. Clair.
...........Zebra mussels upset ecosystems, threaten native wildlife, damage structures, and cause other serious problems. Millions of dollars are spent each year in attempting to control these small but numerous mollusks.
Bonus eco article:

The Quiet Evolution of Trees
Long before trees appeared on Earth, animals and other land plants were scattered among the land masses. And before land plants came the land animals. How did it all happen, and where did they all come from?
News Here And Around The World

Army overthrows Honduras president, protests erupt
By Mica Rosenberg
TEGUCIGALPA (Reuters) - The Honduran army ousted and exiled leftist President Manuel Zelaya on Sunday in Central America's first military coup since the Cold War. Angry Zelaya supporters took to the streets and set up barricades.
The dawn coup was strongly condemned by Zelaya's regional ally Venezuelan President Hugo Chavez -- who has long championed the left in Latin America. Chavez put his military on alert in case Honduran troops moved against his embassy or envoy there.
Hundreds 'still missing' in Iran: rights group
PARIS (AFP) – More than 2,000 people are still in detention and hundreds more are missing in Iran since a government crackdown on protests over a disputed presidential election, the FIDH human rights group said on Sunday.
"According to the latest information we have, more than 2,000 people have been arrested and are currently in detention," said Karim Lahidji, vice president of the Paris-based International Federation for Human Rights (FIDH).


New clashes in Iran as standoff worsens with West
By WILLIAM J. KOLE, Associated Press Writer

EDITOR'S NOTE: Iranian authorities have barred journalists for international news organizations from reporting on the streets and ordered them to stay in their offices. This report is based on the accounts of witnesses reached in Iran and official statements carried on Iranian media.

Several thousand protesters — some chanting "Where is my vote?" — clashed with riot police in Tehran on Sunday as Iran detained local employees of the British Embassy, escalating the regime's standoff with the West and earning it a stinging rebuke from the European Union.

Witnesses said riot police used tear gas and clubs to break up a crowd of up to 3,000 protesters who had gathered near north Tehran's Ghoba Mosque in the country's first major post-election unrest in four days.

Iran arrests UK embassy staff for 'role in riots'
By Jay Deshmukh

TEHRAN (AFP) – Iran has arrested eight local British embassy staff, triggering London's fury and further exacerbating tensions with the West over the post-election turmoil in the Islamic republic.

The latest backlash against what Iranian leaders have branded as foreign "meddling" came as opposition leaders continued to defy the regime, rejecting a panel set up to hold a partial recount in the hotly-disputed presidential vote.

Japan, S.Korea in united stance against N.Korea
By Kyoko Hasegawa

TOKYO (AFP) – South Korea and Japan "will never tolerate" a nuclear-armed North Korea, South Korean President Lee Myung-Bak said on Sunday after talks with Japanese Prime Minister Taro Aso.

Lee and Aso agreed to press North Korea to abandon its nuclear programme amid Pyongyang's continued sabre-rattling, and called for China to play a greater role in persuading its ally to disarm, they said in a news conference.
TV footage of Mumbai suspect interview released
LONDON (AFP) – A British news outlet has released footage of a police interview with a Pakistani man on trial over last year's Mumbai attacks, in which he admitted working for militant group Laskhar-e-Taiba (LeT).
Mohammed Ajmal Kasab is accused of being the sole survivor among a 10-member Islamist militant commando group that stormed the city last November, killing 166 people during a 60-hour bloodbath.

Indian gay rights march calls to legalize gay sex
By SAM DOLNICK, Associated Press Writer
NEW DELHI – Hundreds of gay rights supporters waved flags and danced past traffic during marches through three Indian cities Sunday to celebrate gay pride and call for the decriminalization of homosexuality in this deeply conservative country.
The New Delhi parade passed near the Delhi High Court, which is reviewing a law that prohibits gay sex — and can punish it with up to 10 years in prison.
Obama opposes energy bill trade penalties: reports
WASHINGTON (Reuters) – President Barack Obama on Sunday called a House-passed climate change bill "an extraordinary first step," but spoke out against a provision that would impose trade penalties on countries that fail to cut greenhouse gas emissions.
"At a time when the economy worldwide is still deep in recession and we've seen a significant drop in global trade, I think we have to be very careful about sending any protectionist signals," Obama said in an Oval Office interview reported by The New York Times, the Los Angeles Times and The Washington Post.

Obama could mull second stimulus if needed: adviser
WASHINGTON (Reuters) – President Barack Obama could discuss a second stimulus package to boost the economy if needed, but at the moment no more new money looks necessary, a top White House adviser said on Sunday.
"Much of the stimulus is yet to come, and let's see how this works before talking about next steps," senior adviser David Axelrod told NBC Television's Meet the Press program.
Iran spars with U.S. and Britain over election
By Fredrik Dahl
TEHRAN (Reuters) - Iran accused the United States of trying to destabilize it and sparked a new row with Britain on Sunday, underscoring the hardline leadership's efforts to blame post-election unrest on foreign powers rather than popular anger.
(Editors' note: Reuters and other foreign media are subject to restrictions on their ability to report, film or take pictures in Tehran.)


Gale Storm, perky star of 1950s TV, dies at 87
By BOB THOMAS, Associated Press Writer

LOS ANGELES – Gale Storm, whose wholesome appearance and perky personality made her one of early television's biggest stars on "My Little Margie" and "The Gale Storm Show," has died at age 87.

Storm, who had been in failing health in recent years, died Saturday at a convalescent hospital in Danville, said her son, Peter Bonnell.

Arizona moves to allow concealed guns in bars
By AMANDA LEE MYERS, Associated Press Writer

PHOENIX – There was a time in the Wild West that cowboys had to check their guns before they could pull up a bar stool for a drink — rules that protected against the saloon gunfights that came to define the frontier era in places like Arizona.

But a bill moving through the Arizona Legislature has some bar owners fearful that the state is turning back the clock to the Old West. Lawmakers are considering a bill that would allow anyone with a concealed-weapons permit to bring a handgun into bars and restaurants serving alcoho

U.S. beef recall expanded, 18 illnesses suspected
CHICAGO (Reuters) - A Colorado meat company is expanding a recall of beef due to possible contamination by E.coli O157:H7 bacteria after an investigation found 18 illnesses may be linked to the meat, the company and the U.S. Agriculture Department said on Sunday.
Greeley, Colorado-based JBS-Swift Beef Co is voluntarily expanding its June 24 recall to include about 380,000 lbs of assorted beef products, for a total recall of about 421,000 lbs, USDA and the company said.
U.S. gasoline prices hover around $2.66/gallon: survey
NEW YORK (Reuters) - The average price of a gallon of gasoline in the United States remained virtually unchanged from two weeks ago as crude oil prices hovered at about $70 per barrel, according to an industry analyst.
The national average for self-serve, regular unleaded gas was nearly $2.6613 a gallon on June 26, while two weeks ago it cost $2.6607, according to the nationwide Lundberg survey of gas stations.

'Do The Right Thing' still asks burning questions
By JESSE WASHINGTON, AP National Writer

NEW YORK – Twenty years later, the trash can is still crashing through America's window. At the climax of Spike Lee's 1989 drama "Do The Right Thing," the eternal battle between love and hate teeters on a razor's edge.

The young black man Radio Raheem has been choked to death by white police after a fight with a Brooklyn pizzeria owner. A seething crowd gathers in front of the shop.


Politics bars Dead Sea from World Wonders contest
By Douglas Hamilton and Ali Sawafta

JERICHO, West Bank (Reuters) - The Dead Sea will be eliminated next week from a contest to choose the seven natural wonders of the world, because of a Palestinian boycott over the participation of an Israeli settler council.

Its almost certain exclusion from a competition which it had good chances of winning underline how the bitter politics of the Middle East conflict permeates every aspect of Palestinian life, no matter how harmless or even beneficial it may seem.

Venice gets its first woman gondolier
VENICE (Reuters) - Nine centuries of male monopoly on the canals of Venice came to an end Friday when the first woman passed the grueling test to become a trainee gondolier.

Giorgia Boscolo, the 23-year-old daughter of a gondolier, got the lowest points for one of the 22 places available, while two other women candidates failed to gain admission at all. She is now authorized to take passengers on her gondola while completing her training.
"One, two, three...": Queen orders count of swans
LONDON (Reuters Life!) - Quiet please -- Queen Elizabeth is preparing to have her swans counted.
Buckingham Palace has announced that the annual Swan Upping, a tradition dating back to the 12th century which involves a census of the swan population on the River Thames, will be conducted by the queen's official Swan Marker from July 20-24.