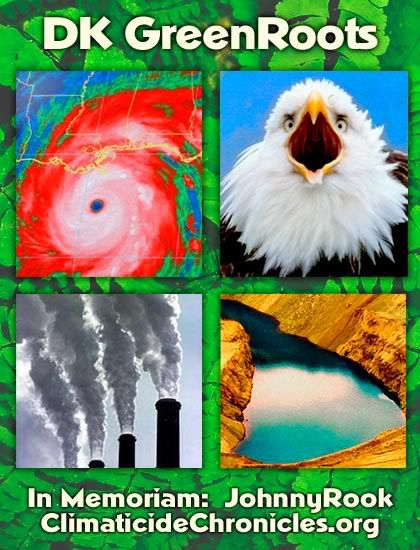 One thing I hear rather frequently in my meanderings around Daily Kos is that some days there just aren't any good diaries to read. Since I skim them all, and thoroughly read at least 100 every day, I have to take issue with that. It's EASY to find good diaries. Lots of them. And this week, even more than usual of those diaries will have a green theme thanks to the inventiveness and hard work of Patriot Daily News Clearinghouse, whose idea it was, and Land of Enchantment, whose photo collages are part of the Eco-Week schedule.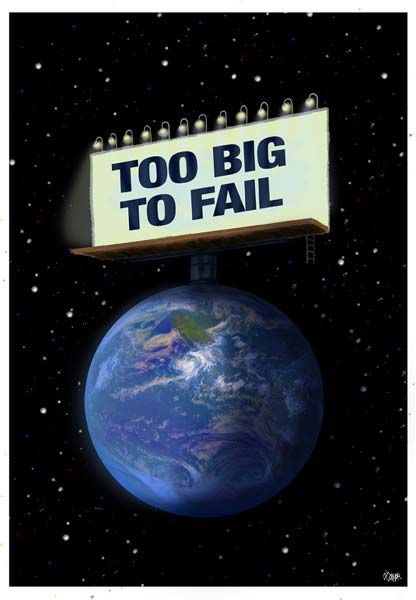 Patriot Daily and I are also using this week to introduce a new Google Group, DK GreenRoots. Sixty-nine people have already joined. Here's what it's about:
We are bloggers at Daily Kos and other sites who are eco-advocates. We focus on a broad range of issues. We alert each other to important eco-stories in the mainstream media and on the Internet, promote bloggers at one site to readers at other sites and discuss crucial eco-issues.
Over the next few weeks, DK Greenroots will initiate a variety of environmental projects, some having to do with pushing legislation in Washington and various state capitals, and some having nothing directly to do with politics at all. Come help us put these projects together. Bring ideas of your own. If you're already a member of the long-established DailyKos Environmentalists, don't let that stop you from joining DK GreenRoots. We won't be working at cross-purposes.
= = =
The rescue begins below and continues in the jump.
= = =
Assisted by some spiffy maps, johnnygunn asked What Chance Does ACES Have in the Senate?: "Eight Democratic senators are almost certain to oppose ACES: West Virginia – Robert Byrd;
West Virginia – Jay Rockefeller; Alaska – Mark Begich; Louisiana – Mary Landrieu; Montana – Max Baucus; Montana – Jon Tester; North Dakota – Kent Conrad; North Dakota – Byron Dorgan. These senators all come from states that produce coal, oil, and/or natural gas. None of these states has voted Democratic in the past three presidential elections. Both of West Virginia's Democratic representatives voted against ACES as well as Louisiana's lone Democratic representative. Correct – Louisiana only has one Democratic Congressman, despite the national Democratic sweep. Begich only barely defeated a severely-tarnished Ted Stevens. Baucus, Tester, Conrad, and Dorgan also represent agricultural interests that are skeptical of ACES, as well."
Patriot Daily News Clearinghouse wrote DK GreenRoots: Obama Wants Green Bottom-Up Politics: "Now, new laws are needed to address issues long neglected and reverse damaging Bush policies. This includes laws on climate change, endangered species, polluted air & water, contaminated food chains, energy, and mountaintop removal mining. Even state lawmakers now use a 'full steam' approach to enact laws after years of neglect. Bloggers play a key role by analyzing and writing about proposed legislation, but we can also be part of the DC debate by submitting our own proposals before DC minds are cemented in some ill-advised approach. This is all part of bottom-up politics, which includes pressuring Obama when we disagree as well as covering his back from GOP attacks."
JayinPortland explained Drinking Oregon: Will Work For Organic Beer: "I spent yesterday working the North American Organic Brewers Festival up at Overlook Park here in Portland, and I poured organic beers until it hurt. And then I kept pouring them. Because as our (organic cotton) t-shirts said - we are 'Saving the Planet, One Beer at a Time.' You're damned right we are! I am so with that."
The Overnight News Digest is posted. Included is the story Top weather experts: Weather disasters may rise
Schedule for DK GreenRoots week.
All listed times are PDT.


Tuesday June 30:
11 am: LaughingPlanet
3 pm: Got a Grip
7 pm: Magnifico
Tuesday Series:
Cheers & Jeers by BiPM; Healthy Minds & Bodies by RLMiller; The Left Wing by Texas Revolutionary; Top Comments by Elise; Overnight News Digest by wader


Wednesday July 1:
5am: A Siegel
noon: FishOutofWater
3 pm: Asinus Asinum Fricat
7 pm: Mark H
Wednesday Series:
Bookflurries: Bookchat by cfk; Siglines! by Wee Mama


Thursday July 2:
11 am: Muskegon Critic
3 pm: Bruce Nilles
7 pm: Jill Richardson
Thursday Series:
Morning Feature by NCrissieB; Labor Diary Rescue by djtyg, Considered Forthwith by Casual Wednesday; Thursday Night Health Care by TBA (contact: TheFatLadySings); Top Comments by Elise; Write On! by SensibleShoes; Overnight News Digest by Patriot Daily News Clearinghouse


Friday July 3:
11 am: Meteor Blades
3 pm: TXsharon
7 pm: Land of Enchantment
Friday Series:
Morning Feature by NCrissieB; Mojo Friday by TexDem or rbutters (TBA); Frugal Fridays by sarahnity; Friday Night at the Movies by Land of Enchantment; Top Comments by noweasels; Overnight News Digest by Oke


Saturday July 4:
11 am: Jerome a Paris
3 pm: buhdydharma
7 pm: Stranded Wind
Saturday Series:
Morning Feature by NCrissieB; Dawn Chorus Birdblog by lineatus; Saturday Morning Garden Blogging by Frankenoid; Saturday Morning Home Repair Blogging by boatgeek; Top Comments by carolita


Plus there'll be music on environmental themes in jotter's High Impact Diaries every morning, along with schedule updates. Additional diaries will be filled in from amongst the following: faithfull, jeremybloom, The Cunctator, and Turkana. And we'll make more slots as needed - anyone who has an environmentally-related story they want to post this week, we'll create a place on the schedule for you.

Frankenoid wrote another installment in her Saturday Morning Garden Blogging Vol. 5.19: "Our whacked-out weather year has caused unusual bloom times for a lot of plants. The jackmanii clematis — having had its initial ultra-early spring growth frozen off — has just finally come into full flower. And I've been searching for shoots from the passion flower vines, wondering if, perhaps, they didn't make it through the winter. Yesterday I saw what I think might be the first signs of growth — but I'm afraid that portends for very late flowering. Last year it was early September before I had passion flower blossoms. This year... well, who knows."
My New HET (High Efficency Toilet) was the occasion for much punnery by Timbuk3: "I didn't expect to be writing about toilets, today. As it turns out, my leaky bathroom toilet opened a flood gate (pardon the pun) of information that leads to a great comparison between the Democrats of the early 90s and today's Democrats."
terryhallinan wrote two diaries on his favor subject: I'm All Shook Up Over Geothermal Power: "It's not surprising that even some liberals who aren't sun worshipers got shook up over the Big One but when some dittoheads got concerned for San Francisco you know the earth is moving." And While Obama Invests In Coal, Maori Invest In Geothermal: "Maori are looking to create a $2 billion geothermal power generation company off the back of this week's $500 million Central North Island Treelords settlement. Consultants employed to investigate business opportunities by the eight iwi involved in the deal say Maori could be responsible for generating 10 to 20 per cent of New Zealand's electricity within five to 10 years."
tgypsy filled in for lineatus in the Dawn Chorus Birdblog: Baby, Baby, Baby!: "For today's birdblog, I've decided to share a few of the birds that breed near my home. I'll start with the Great-horned Owl. These owls are widespread, capable of surviving in lots of climates. For the past couple of years, we've been watching a pair of owls raise their chicks in a cottonwood tree next to an irrigation canal. Here's Junior looking a little concerned about the stranger poking around, while Dad appears uninterested."
greenman3610 presented another of his Climate Denial Crock of the Week diaries: "Climate science is not completely dependent on climate models. There are many threads of supporting evidence. Still, it is clear that climate models are telling us something important that we cannot afford to ignore."

kindler explained Why It's So Hard to Make Progress on Climate Change: "The oil and coal companies that have funded the astroturf ecosystem of climate change denial websites and think tanks take full advantage of this situation and "win" the argument with the least facts on their side. And enviros and scientists in this situation often come across as impatient, intolerant and frankly unpleasant, so fed up are they with the refusal of so many politicians to deal responsibly with the bona fide crisis we are facing."
Our old pal jillian conceded that DK Greenroots...Kermit was right, it ain't easy: "I know...I know....'doom and gloom' some would say, that's not the way to get people 'AMPED up and EXCITED about helping the Environment!!!!!!!! Yeah!!!!!" Well...true enough, but I don't really want to be a cheerleader TO a cause, I want to work FOR a cause. I would rather get into the dirt and work to address some issues and hopefully find some solutions. Such as, you ask?"
webuyitgreen took a look at the same issues in Creating a Personal Plan for Confronting Climate Change – Taking Political Action: "As one new climate study after another crosses our headlines, most of us have come to understand that the problem is real, but we are uncertain about what we need to do about it. In Creating a Personal Plan for Confronting Climate Change: Part 1 – Sources of Information, I argued that the first step is to stop reading endless 'Tips for Reducing Your Carbon Footprint' and find reliable sources that address the actual scope of the problem. This leads to the realization that political action must be part of any effective personal plan for confronting climate change."
Nuisance Industry announced that The Great Lakes have a czar. Meet Cameron Davis: "Earlier this month, the White House announced the appointment of another czar -- one tasked with maintaining the health of the Great Lakes."
Green Building Celebration was ForFreedom's diary on how the construction industry is turning green at an accelerating pace.
Contributing Edtior Devilstower wrote a letter to the White House: Mr. President, go and see for yourself: "You don't have to travel to the far side of the world to see protesters being arrested as they attempt to save their families, communities, and future. You don't have to travel to the far side of the world to find a place where the powerful oppress the poor, and where corruption breeds poverty. You don't have to travel to the far side of the world to find tragedy being written in people's lives and in the land. You can get in your car and drive there in less than six hours. Thirty Americans were arrested in West Virginia this week, while protesting a mountaintop removal mine that leaves millions of gallons of sludge hanging above an elementary school. Last week, fourteen others were arrested protesting at another mine. Both mines were owned by a company whose CEO took one state supreme court judge to the Rivera, and who spent more than three million dollars on another hand-picked 'justice.'"
Contributing Editor DarkSyde declared that CBS Had Jumped a Whale Shark: "Just for starters, the contrarian report that CBS accuses the EPA of 'suppressing' revives the old zombie lie that a warming sun is to blame for global warming, except when it's not, then the earth is actually cooling. There's no need to point out that the sun, the most studied object in the universe after earth itself, shows no signs of doing anything of the sort, nor is there any point in presenting data showing unequivocally that the earth is not cooling unless one conveniently cherry picks an interval right after the hottest year on record. Because -- now follow along Republican boys and girls -- the sun can't be the cause of global warming on a cooling earth. The rest of the so-called suppressed report is just as bad if not worse. Excluding nonsense heavily plagiarized from energy industry front groups is not an example of suppression. It's an example of rightful rejection."
leftyparent gave us some insight into The Politics of Walking (or Another One Rides the Bus): "To leave your starting point with only your feet (and possibly good walking shoes) below you and arrive at your destination the same way is a profound political commitment to sustained human evolution and balanced life on earth. (Of course there is also that marvelous feat of technology, that human-powered vehicle the bicycle, but that's a subject for another post!)"
Green Jobs Hold Promise for Rural America wrote RDemocrat: "Despite the Corporate doomsayers our economy and working Americans could benefit from this transition to the fuels and jobs of the future. It just so happens too that those same doomsayers are the ones who have waged constant war on American workers: Since 2000, 3 million manufacturing jobs have been lost and corporations have shipped more than 525,000 white-collar jobs overseas. At the same time, energy costs are skyrocketing. A bold plan is needed to revitalize the American economy and lessen our energy needs."
The Overnight News Digest: Science Saturday was all green when Neon Vincent wrote it, and Oke also focused a lot of attention on the environment in Overnight News Digest-DKGreenroots-Ole Man River And The Big Muddy.
In a DK GreenRoots-tagged diary, wide eyed lib talked about the ethics of Free Food Foraging for Herbs: "When you think about foraging, what comes to mind? For some, the first thought is of selfish, uncaring harvesters of plants and fungi, the kind of people who: 1. harvest plants on private property without permission; or 2. rake up virgin forest duff in order to get every last mushroom; or 3. imperil the general area through their gathering methods; or 4. severely endanger native populations of plants like wild ginseng. From my perspective, anyone who commits such acts is not deserving of the name 'forager'; such a person is merely a thief or irresponsible profiteer.
oilpolicy pointed out that the First EIA report under President Obama predicts major American lifestyle change: "Since the Energy Information Agency releases its International Energy Outlook 2009 mostly as statistics, you will have to follow through some math below to understand what is up. I became aware of the new report being radically different from a story by jsmyers that linked in It's Official--The Era of Cheap Oil Is Over."
dsteffen provided a lesson in green history with DK GreenRoots - How Regulation came to be: Donora: "About twenty-five miles upriver of Pittsburgh, Pennsylvania, the Monongahela River makes a sweeping horseshoe bend. Nestled in the horseshoe on the west bank or the river is the town of Donora, surrounded by a ring of 400-foot-tall hills and river bluffs that form a bowl around the town. Bowls are made to hold things. For five suffocating days at the end of October, 1948, the topological bowl around Donora did just that. ...The U.S. Steel Corporation's Donora Zinc Works and its American Steel & Wire plant employed thousands of Monongahela Valley residents, bringing good jobs and comfortable incomes to the local population. In exchange, the residents of Donora and surrounding towns were willing to live with the yellow clouds laden with sulfur dioxide and other contaminants that belched from the plants. As a veteran of the disaster, Bill Schempp, said years later, "That's the way it was here. It was a normal way of life."
ids opined that Washington Enviro groups like LCV hurt progressive movement: "The progressive movement is stymied by Washington based environmental groups such as the League of Conservation Voters (LCV). A look at a 2008 House race Kos spent precious resources on (and lost) to last week's House passage of ACES shows it is true."
A Siegel looked into who is Opposing ACES via Deception ... the Putnam example: "While there are quite serious issues to consider in how the Waxman-Markey American Clean Energy and Security (ACES) Act was weakened leading to its passage Friday and serious issues about whether this is the bill that is required, the vast majority of the opposition to the bill relied on deceit and deception. In part, Representative Lloyd Doggett's decision to flip his vote from no to yes came based on listening to floor statements by card-carrying members of the Global Warming denial wing of the Flat Earth Society. The misrepresentation of ACES comes not only in terms of demonstrated anti-science syndrome suffering, but also from misrepresenting the bill's impacts and priorities."
mogmaar spent some time in actions in the run-up to Friday's Climate Vote: "So by the time I left the Capitol, I had participated in two actions, led a team of young people in green shirts through the Capitol to remind reps of where the youth stand (in favor of a STRONG climate bill) and then sat in the gallery for an hour with 40 youth leaders watching the circus that is Congress. I anxiously watched those votes come up on the basketball-style scoreboard, as the Yea's were at 185, and then 204, and then 209, and then 214, and then 217, 218, and finally 219. And that was it, one of the most powerful assemblies in the world had just voted to reduce emissions in the United States --a truly historic achievement. But I couldn't celebrate at all, because no matter how historic this event was, it is not based on science, it is not a measure that seeks to urgently safeguard the most vulnerable people in this country and this world. And it is not a bill that moves us directly or boldly towards a clean energy economy."
Zwoof rolled his eyes at the thought that Now it's "Cleaner" Coal?: "Why has it now become 'cleaner coal,' when before it was 'clean coal'? Because...
There is no such thing as clean coal. People in East Liverpool, Ohio remember Robert M. Sussman. He's the guy that allowed the world's largest toxic waste incineration to be operated next door to their elementary school when he worked for Clinton's EPA. At the time he was a lawyer for the Chemical Industry. Now Sussman is advising Obama on Clean(er) Coal. Something doesn't quite smell right here."
billlaurelMD provided us with an update in DKos GreenRoots: News from the Arctic: 29 June 2009: "Current Condition of N Hemisphere Sea Ice. The data presented here are through 27 June. Previous diaries talked about a data problem resulting from intermittent failure of the satellite sensing the ice cover, and how it was resolved by merging its data with those from a new satellite that had been launched previously. A time series of N Hemisphere sea ice extent (sea ice coverage of 15% or more) is shown below. The 1979-2000 mean is bold solid gray, the 2007 record minimum melt season is dashed green, and the current season is solid blue."
We Need a Department of Sustainable Fisheries declared akmk: "With heavy lobbying to reclassify hydro-power as "renwable energy" and to seek funding for hydro-power projects "without restriction" and with the Supreme Court deciding it's okay for the Army Corp of Engineers to call mine tailings 'fill' and dump such tailings into lakes supporting wild fish (Kensington Mine case), we're reminded that wild fish stocks in the United States are all but lost and the importance of wild fish as a source of healthy, affordable food, all but forgotten.In Alaska currently, the last homeland of wild salmon in the U.S., the pressure to make money off of hydro-power at the expense of sustainable wild fish stocks is relentless. Would a Department of Sustainable Fisheries help remind those in power that people can't eat money and people can't eat gold, but people can eat wild fish? The protection of wild fish stocks needs to be given a higher priority among legislators and policy makers."
possum devoted his regular diary to DK GreenRoots: Science Tidbits.
And beach babe in fl devoted hers to DK GreenRoots - Maccas Meatless Monday Action Diary: "I have promised an Action Diary and I will deliver. It does not involve calling your reps or staking out a corner with a sign. It involves something very simple reducing your intake of meat. See the impact that you can haveby going meatless at least one day a week."
And djtyg added an environmental note to his in DK Greenroots: Labor Diary Rescue 6/29/09: "The Blue Green Alliance is an organization made up of several labor and environmental organizations, including the Sierra Club, SEIU, United Steel Workers, the National Resources Defense Council, and the Communication Workers of America. The goal of the Blue Green Alliance is to get legislation passed that will not only provide good paying 'green collar' jobs such as alternative energy production and high speed light rail, but will also fight for workers through passage of the Employee Free Choice Act and creating fair trade policies. If you're an environmentalist, a labor activist, or both, please go to http://www.bluegreenalliance.org and sign up for their mailing list."
The long-running series, Got a Happy Story?, was transformed into the DK GreenRoots Edition by Eddie C: "To join the week long celebration called DK GreenRoots tonight's diary is an environmental happy story. It is a story of an advancement for the food movement, a story about heightened awareness going out to the public about how much gasoline and diesel we put into the atmosphere trucking food all over the nation, all over the world. Often times progressive movements seem isolated but when The New York Botanical Gardens seems to be getting it about the advantages of eating local food, when the leading horticultural education institute in the western hemisphere seems to get it, it just seems like many more Americans are about to get it."
sarahnity listed who's written with a green tinge in DK GreenRoots: Books by Kossacks.
rperks gave us the skinny on the EPA's Disclosure of the Location of 44 Hazardous Coal Ash Sites: "After pressure by NRDC and others, today the Environmental Protection Agency just released the list of 44 "high hazard" coal ash disposal sites around the nation. At the behest of the Department of Homeland Security, the EPA had initially refused to reveal the location of these dangerous dumps, prompting NRDC and our partners to file a Freedom of Information Request in the public interest."
JekyllnHyde added some green to The Week in Editorial Cartoons.