This diary is part of a series of articles written by various members of the Daily Kos community to help bring attention to the urgent issue of climate change. My focus is on the majestic California coast redwoods and the challenges these trees face with our rapidly changing climate.
Allow me to begin by introducing you to Professor Todd Dawson who is a plant physiologist and ecologist and who has spent nearly two decades climbing and studying the world's tallest trees. With help from Save the Redwoods, he's currently focused on the biggest challenge of his career: helping coast redwoods (Sequoia sempervirens) and their inland relatives, giant sequoias (Sequoiadendron giganteum), weather the storm of climate change.
Coast redwoods live in a 450-mile-long fog belt that extends from central California to southern Oregon. Dawson and his colleagues at the University of California, Berkeley, were the first to figure out that coast redwoods condense enough fog to provide a large part—20 to 40 percent—of the total precipitation inputs to the coast redwood forest. In other experiments, the team proved that redwoods could soak up this water through their leaves as well from "fog drip" at their roots, helping explain how they can grow so tall. (The two tallest trees on record are just under 380 feet.)

Answering those questions led to a new one. How is global warming changing the life-giving fog belt? Working with Dawson, graduate student Jim Johnstone pored over airport records and discovered that over the past half century the average number of foggy days along the Northern California coast has declined by about 24 percent.
The coast redwood is an evergreen conifer and is a part of the cypress family. It's scientific name is Sequoia sempervirens. It's unknown when the redwood entered into the earth's history, although two redwood-like fossilized seed cones were found in 1985 in Antartica . The trees from which these seed cones came are from the Triassic period, about 240 million years ago. These trees were around before dinosaurs appeared. Currently there are living redwoods that are between 2,000 and 3,000 years old. Think ancient Greece and Rome. This information is from "The Wild Trees" by Richard Preston.
The coast redwood is the tallest tree on earth and is found on a narrow strip of land along the coast of California and Oregon. The northern boundary is 15 miles north of the California/Oregon border and the southern boundary is in the Big Sur area of Monterey county.
This native area provides a unique environment with heavy seasonal rains (of up to 2,500 mm or 100 inch annually). Cool coastal air and fog keep this forest consistently damp year round. Several factors, including the heavy rainfall, create a soil with less nutrients than are necessary, causing the trees to depend heavily on the entire biotic community of the forest, and complete recycling of the trees when dead. This forest community includes Coast Douglas-fir, Western Hemlock, Tanoak, Pacific Madrone, and other trees along with a wide variety of ferns, Redwood sorrel, mosses and mushrooms. Redwood forests provide habitat for a variety of mammals, birds, reptiles, and amphibians. Old growth redwood stands provide habitat for the federally threatened Spotted Owl and the California-endangered Marbled Murrelet.
The six tallest trees in the world, as of 2008:
Hyperion standing at 379.1 feet
Helios standing at 376.3 feet
Icarus standing at 372.2 feet
Stratosphere Giant standing at 370.9 feet
National Geographic standing at 369.9 feet
Exactly why the redwoods grow so tall is a mystery. Theories continue to develop but proof remains elusive.The trees can reach ages of 2,000 years and regularly reach 600 years.
From the National Park Service
Resistance to natural enemies such as insects and fire are built-in features of a coast redwood. Diseases are virtually unknown and insect damage insignificant thanks to the high tannin content of the wood. Thick bark and foliage that rests high above the ground provides protection from all but the hottest fires.

The redwoods' unusual ability to regenerate also aids in their survival as a species. They do not rely solely upon sexual reproduction, as many other trees must. New sprouts may come directly from a stump or downed tree's root system as a clone. Basal burls, hard, knotty growths that form from dormant seedlings on a living tree, can sprout a new tree when the main trunk is damaged by fire, cutting, or toppling.

Undoubtedly the most important environmental influence upon the coast redwood is its own biotic community. The complex soils on the forest floor contribute not only to the redwoods' growth, but also to a verdant array of greenery, fungi, and other trees. A healthy redwood forest usually includes massive Douglas-firs, western hemlocks, tanoaks, madrones, and other trees. Among the ferns and leafy redwood sorrels, mosses and mushrooms help to regenerate the soils. And of course, the redwoods themselves eventually fall to the floor where they can be returned to the soil.

The coast redwood environment recycles naturally: because the 100-plus inches of annual rainfall leaves the soil with few nutrients, the trees rely on each other, living and dead for their vital nutrients. The trees need to decay naturally to fully participate in this cycle, so when logging occurs, the natural recycling is interrupted.
Apart from the moral, and perhaps even holy, obligation humans have to these glorious trees, why is it important to care about what happens to them? Carbon dioxide, breathed out by us and breathed in by plants (through a process known as photosynthesis) is a handy function produced by nature. Without plants breathing in this chemical compound our species would not exist.
From the EPA
Natural sources of CO2 occur within the carbon cycle where billions of tons of atmospheric CO2 are removed from the atmosphere by oceans and growing plants, also known as 'sinks,' and are emitted back into the atmosphere annually through natural processes also known as 'sources.' When in balance, the total carbon dioxide emissions and removals from the entire carbon cycle are roughly equal.

Since the Industrial Revolution in the 1700's, human activities, such as the burning of oil, coal and gas, and deforestation, have increased CO2 concentrations in the atmosphere. In 2005, global atmospheric concentrations of CO2 were 35% higher than they were before the Industrial Revolution.

How much do redwoods help in reducing CO2. Well, according to The Redwood Doctor the biggest redwoods averages about 434,000 pounds and that doesn't even take into account the carbon in the branches, needles, and roots. That much carbon is equivalent to nearly 800 tons of carbon dioxide. From the standpoint of fossil fuel consumption, the average American produces about 1600 tons of carbon dioxide during their lifetime. That bit of information somewhat dramatically makes clear the importance of caring for and studying the coast redwood.
If you would like to help with various projects related to coast redwoods please visit Save the Redwoods.. There is much to do.
The size of these majesties can be seen in the picture below. How small we are compared to the redwoods! Yet, for all our smallness, we hold the power to do something to protect them. Please continue to encourage our lawmakers to do the right thing by enacting laws to curb our carbon emissions through a decrease in fossil fuel consumption.
I invite you to visit these wonderful trees. If you live in the San Francisco bay area please visit this site to learn more about the redwoods in Armstrong Woods State Park.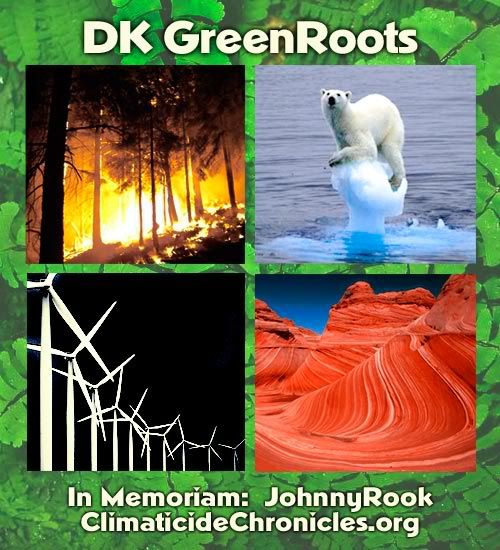 If you are interested in environmental issues, please join DK GreenRoots, a new environmental advocacy group created by Meteor Blades. DK GreenRoots is comprised of bloggers at Daily Kos and eco-advocates from other sites. We focus on a broad range of issues. We alert each other to important eco-stories in the mainstream media and on the Internet, promote bloggers at one site to readers at other sites and discuss crucial eco-issues. We are in exciting times now because for the first time in years, significant environmental legislation will be passed by Congress. DK GreenRoots can also be used to apprise members of discussions and strategy sessions happening in Meteor Blade's Green Diary Rescue thread, which is also our workroom.