As you may have heard, Norm Coleman has, a mere eight months after election day, conceded the Senate race in Minnesota to notorious funnyman and radio host Al Franken.
It will be remembered for many things. The lawsuits after lawsuit filed by Norm Coleman, for one. The money wasted by the NRSC, for another. Also notable is the lack of cojones on the part of the Senate Democratic leadership as compared to the Frank McCloskey(D-IN) brouhaha of 1984, where the House then ran its own recount and voted to seat him on party lines.
But the biggest thing it will be remembered for are the ballots, which were made available to the public online. The CW (at least in the secure voting community) is that paper ballots are not a panacea. But I disagree wholeheartedly. After all, only on paper ballots could the true will of the Minnesota people shine through.
As some people remember, I went through every single challenged ballot online. Not to see who was probably going to win the recount. No, my goal was to find exceptionally creative/deranged ballots. And boy did I find some.
I was first intrigued into completing this long and arduous task after this ballot was widely released and made semi-famous.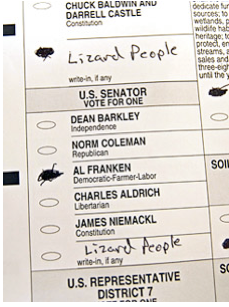 It first got me to watch the entire V miniseries, but after that, I set right to work trying to find some other hilarious, hilarious ballots.
I wasn't disappointed.
| | |
| --- | --- |
| Someone realized early on that Obama = Jesus, but was just too scared to actually say so | This person, though, had no illusions about Obama |
| | |
From Peace, MN a 'Hebrew Christian' (I disagree with the term 'Messianic Jew' since there are such things, and they are called Chabad Lubavitch)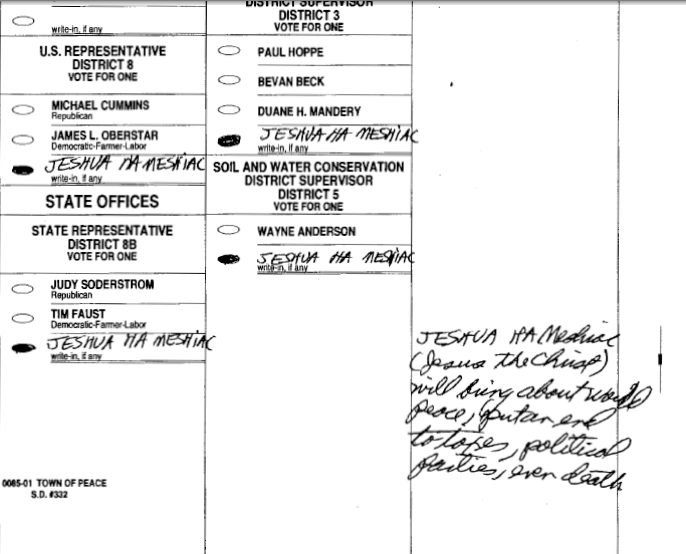 | | |
| --- | --- |
| Someone's angry about the judges | Not everyone had an imagination |
| | |
I don't want a sales tax increase, I just voted for one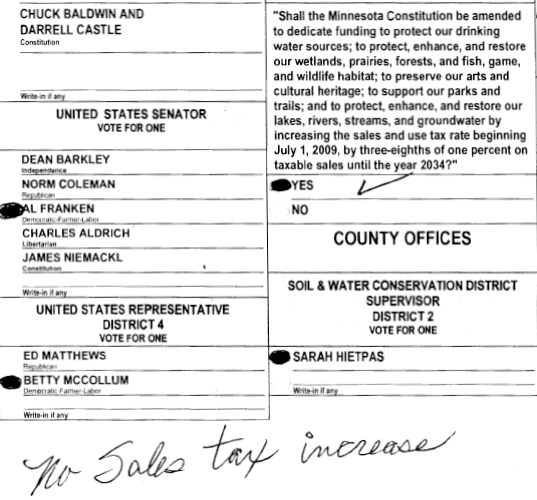 | | | |
| --- | --- | --- |
| I agree. I prefer my politicians disrobing the township. That's why I support Governor Sanford | Yeah, fuck you too, son | Possibly the most disturbing sentiment expressed |
| | | |
This guy apparently was more confident about Obama winning Minnesota than I was, given his jokes in every other slot. Unless he really did prefer Dukakis.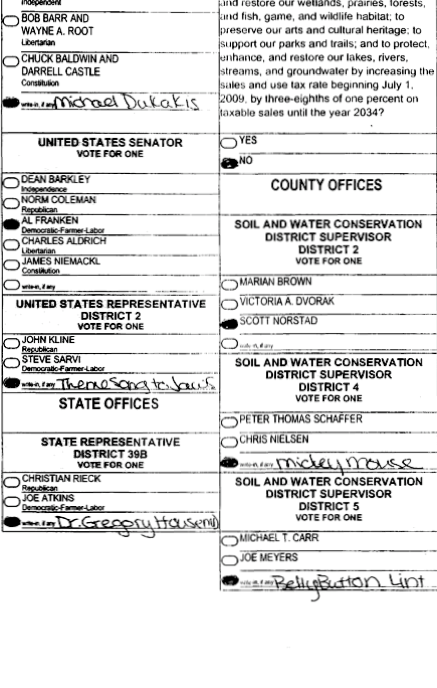 Finally, some low-information voters readily acknowledge it.