Welcome to bookchat where you can talk about anything...books, plays, essays, and books on tape. You don't have to be reading a book to come in, sit down, and chat with us.
Tonight, Bookflurries is taking part in the environmental/nature diaries of Eco Week. Land of Enchantment suggested this week's theme and I am happy to oblige. The land is important in many fiction and non-fiction books and essays. I will share a few of my favorite books and then you may share yours in comments.
I. Mildred Taylor's books for young adults are much loved by adults as well. In her stories the land and the trees on it are vital to the story.
wiki says:
Mildred Delois Taylor (born September 13, 1943 in Jackson, Mississippi) is an African American author, known for her works exploring the struggle faced by African-American families in the Deep South. Mildred Taylor lived in Jackson, Mississippi, then moved to Toledo, Ohio, where she spent most of her childhood. She now lives in Colorado with her daughter.

These anecdotes became very clear in Mildred's mind. In fact, once she recalled that as the adults talked about the past, "I began to visualize all the family who had once known the land, and I felt as if I knew them, too..." Taylor has talked about how much history was in the stories; some stories took place during times of slavery and some post-slavery.
I have read most of the books and enjoyed them very much.
The Land (The Land was written later, but it is a prequel to the series).
Song of the Trees
Roll of Thunder, Hear My Cry
Let the Circle Be Unbroken
The Road to Memphis
The Friendship
The Gold Cadillac
Mississippi Bridge
The Well
II. Land of Enchantment, many others, and I are fans of Aldo Leopold and his well known book The Sand County Almanac.
wiki tells about Leopold here:
LoE gave the site in another diary for his famous essay Thinking Like a Mountain which is a must read.
III. A favorite film of mine is The Man Who Planted Trees created by Frédéric Back in 1987, based on a fiction story by the same name, also known as The Story of Elzéard Bouffier, The Most Extraordinary Character I Ever Met by Jean Giono.
http://video.barnesandnoble.com/...
Our own DailyKos member, side pocket, has planted trees:
Loved the article on the evolution of trees. My contribution to the earth will be the 100+ redwood trees I planted about 10 years ago, already over 20 feet tall.
IV. In the story I Heard the Owl Call My Name by Margaret Craven, the woods, water, and mountains of BC, Canada, are a character as much as Mark and the wonderful villagers.
The story of the swimmers, the salmon, as they go upstream and die after laying their eggs is one of the metaphors of the story as is the owl itself who calls Mark's name.
http://search.barnesandnoble.com/...
Synopsis
Amid the grandeur of the remote Pacific Northwest stands Kingcome, a village so ancient that, according to Kwakiutl myth, it was founded by the two brothers left on earth after the great flood. The Native Americans who still live there call it Quee, a place of such incredible natural richness that hunting and fishing remain primary food sources.

But the old culture of totems and potlatch is being replaces by a new culture of prefab housing and alcoholism. Kingcome's younger generation is disenchanted and alienated from its heritage. And now, coming upriver is a young vicar, Mark Brian, on a journey of discovery that can teach him—and us—about life, death, and the transforming power of love.
In my diary on mysteries a couple of weeks ago, I mentioned books where the settings are important and several posters mentioned good ones, too.
V. My favorite stories where the land is definitely a character are Tony Hillerman's stories about the Four Corner's area.
The list of other mysteries with strong settings from that diary is here:
wiki says:
Hillerman repeatedly acknowledged his debt to an earlier series of mystery novels written by the British-born Australian author Arthur W. Upfield and set among tribal aborigines in remote desert regions of tropical and subtropical Australia. The Upfield novels appeared first in 1928 and featured a half-European, half-aboriginal Australian hero, Detective-inspector Napoleon (Bony) Bonaparte who worked with deep understanding of tribal traditions. The character was based on the real-life achievements of an aborigine known as Tracker Leon whom Upfield had met during his years in the Australian bush.

Hillerman discussed his debt to Upfield in many interviews and in his introduction to the posthumous 1984 reprint of Upfield's A Royal Abduction. In the introduction he described the seductive appeal of the descriptions in Upfield's crime novels. It was descriptions both of the harsh outback areas and of "the people who somehow survived upon them" that lured him. "When my own Jim Chee of the Navaho Tribal Police unravels a mystery because he understands the ways of his people, when he reads the signs in the sandy bottom of a reservation arroyo, he is walking in the tracks Bony made 50 years ago."
A list of photography books that he was involved with and that sound very interesting:
Books of Photos
Hillerman Country (1991) ISBN 0-06-016400-X
Indian Country: America's Sacred Land Bela Kalman (text by Hillerman) (1987) ISBN 0873584325
Rio Grande Robert Reynolds (text by Hillerman) (1975) ISBN 0-912856-18-1
New Mexico Photography by David Muench (text by Hillerman) (1975) ISBN 0-912856-14-9
Tony Hillerman's New Mexico (1 of 3)
Tony Hillerman's New Mexico (2 of 3)
http://www.youtube.com/...
Tony Hillerman's New Mexico (3 of 3)
http://www.youtube.com/...
New Mexico!
http://www.youtube.com/...
Tony Hillerman: The Art of the Mystery (1 of 3)
http://www.youtube.com/...
Tony Hillerman: The Art of the Mystery (2 of 3)
http://www.youtube.com/...
Tony Hillerman: The Art of the Mystery (3 of 3)
http://www.youtube.com/...
SOLDIER BLUE BUFFY SAINTE MARIE TO ALL TRIBES LOST
VI. Vital portraits of a land and it's people are found in James Herriot's books.
All Creatures Great and Small
All Things Bright and Beautiful
All Things Wise and Wonderful
The Lord God Made Them All

James Herriot's Yorkshire (Highlight)
These clips are about the TV show based on Herriot's stories that hubby and I watched and re-watched until we know them nearly by heart:
All Creatures Great And Small Documentary Part 1
http://www.youtube.com/...
All Creatures Great And Small Documentary Part 2
http://www.youtube.com/...
All Creatures Great And Small Documentary Part 3
http://www.youtube.com/...
wiki says about James Herriot:
James Herriot is the pen name of James Alfred Wight, OBE...

In 1939, at the age of 23, he qualified as a veterinary surgeon from Glasgow Veterinary College. In January, 1940, he took a brief job at a veterinary practice in Sunderland, but moved in July to work in a rural practice based in the town of Thirsk, Yorkshire, close to the Yorkshire Dales and North York Moors, where he was to remain for the rest of his life. On 5 November 1941, he married Joan Catherine Anderson Danbury. The couple had two children, James Alexander (Jim), born 1943, who also became a vet and was a partner in the practice, and Rosemary (Rosie), born 1947, who became a medical doctor.

Wight served in the Royal Air Force in 1942. His wife moved to her parents' house during this time, and upon being discharged from the RAF as a Leading Aircraftman, Wight joined her. They lived here until 1946, at which point they moved back to 23 Kirkgate, staying until 1953. Later, he moved with his wife to a house on Topcliffe Road, Thirsk, opposite the secondary school. The original practice is now a museum, "The World of James Herriot", while the Topcliffe Road house is now in private ownership and not open to the public. He later moved with his family to the village of Thirlby, about four miles from Thirsk, where he lived until his death.
There are so many wonderful travel books that have the setting as a character. The diary that has a long list of those books is here:
VII. In Alexander McCall Smith's books, The #1 Ladies' Detective Agency series, the land of Botswana is definitely a character and that is one reason I enjoy them so much.
Here is a video about Smith which also talks about Scotland and the last part is about the orphanage in the Botswana books (you will also hear a cheetah purring):
Alexander McCall Smith - Botswana
The Kalahari Bushmen – Botswana December 2002 (a sad story of tribal dispossession)
wiki says:
Alexander (R.A.A.) "Sandy" McCall Smith, CBE, FRSE, (born August 24, 1948) is a Zimbabwean-born British writer and Emeritus Professor of Medical Law at the University of Edinburgh, Scotland. In the late 20th century McCall Smith became a respected expert on medical law and bioethics and served on British and international committees concerned with these issues.
VIII. For a long time people like plf have mentioned A Canticle for Leibowitz by Walter Miller, Jr.. I had never read it and I was ashamed. An old paperback had been sitting on my TBR pile for probably years. When I was asked to do this diary, I felt the day had come to read the book since it would be very appropriate with this theme.
A Canticle for Leibowitz
wiki says:
A Canticle for Leibowitz is a post-apocalyptic science fiction novel by American Walter M. Miller, Jr...

Set in a Roman Catholic monastery in the desert of the Southwestern United States after a devastating nuclear war, the story spans thousands of years as civilization rebuilds itself. The monks of the Albertian Order of Leibowitz take up the mission of preserving the surviving remnants of man's scientific knowledge until the day the outside world is again ready for it.

Inspired by the author's participation in the Allied bombing of the monastery at Monte Cassino during World War II, the novel is considered a masterpiece by literary critics. It has been compared favorably with the works of Evelyn Waugh, Graham Greene, and Walker Percy, and its themes of religion, recurrence, and church versus state have generated a significant body of scholarly research.
The question that goes with the eco diaries this week is on page 119 of the paperback edition.

"How can a great and wise civilization have destroyed itself so completely?"
I have also read Fahrenheit 451 by Bradbury, Eternity Road by Jack McDevitt, The Postman by David Brin, and Always Coming Home by Ursula K. Le Guin.
IX. The Postman by David Brin
http://search.barnesandnoble.com/...
synopsis
... He was a survivor--a wanderer who traded tales for food and shelter in the dark and savage aftermath of a devastating war. Fate touches him one chill winter's day when he borrows the jacket of a long-dead postal worker to protect himself from the cold. The old, worn uniform still has power as a symbol of hope, and with it he begins to weave his greatest tale, of a nation on the road to recovery.
X. wiki says of Always Coming Home:
Always Coming Home ...It is set in a time so post-apocalyptic that no cultural source can remember the apocalypse, though a few folk tales refer to our time. The only signs of our civilization that have lasted into their time are indestructible artifacts such as Styrofoam and a self-manufacturing, self-maintaining, solar-system-wide computer network...
John Denver Whose Garden Was This?
Tom Lehrer - Pollution
Diaries of the week:
Write On! Slogging through to the bitter end.
by SensibleShoes
http://www.dailykos.com/...
Midsummer Meadows
by johnnygunn
http://www.dailykos.com/...
"The Hurt Locker" ( a movie review)
by jimstaro
http://www.dailykos.com/...
Monaco And Nice (Photo Blog) (includes Chagall pics)
by Turkana
http://www.dailykos.com/...
How To Help Promote Kossack Authors
by Jill Richardson
http://www.dailykos.com/...
A Musical Journey Through India -- DKos Travel Board #21
by WarrenS
http://www.dailykos.com/...
The Mad Logophile; A College of Collective Nouns
by Purple Priestess
http://www.dailykos.com/...
DK GreenRoots; Ecotourism: Not an oxymoron
by LaughingPlanet
http://www.dailykos.com/...
Road Trip Photo Diary
by john de herrera
http://www.dailykos.com/...
Photo Diary: My Trip To The Smoky Mountains National Park
by webranding
http://www.dailykos.com/...
Summer Reading: Recent Children's Books on Human Rights
by Deejay Lyn
Which book next?
by plf515
http://www.dailykos.com/...
NOTE: plf515 has changed his book talk to Wednesday mornings early.
sarahnity's list of DKos authors has grown so much that she has her own diary.
sarahnity says:
It turns out that we have quite a few authors hanging out here who have published books in the real world. A while ago, I started keeping a list of books by Kossacks, former Kossacks and Kossacks-once-removed. I was posting it each week to the diary series What Are You Reading and Bookflurries, but the list has grown long enough, that I've decided to turn it into a diary and post it as a weekly series on Tuesday evenings.

Not all Kossack authors may wish to lose their anonymity, so I am only including the author's UID if he has outed herself here (gender confusion intended). If you'd like to be included on the list, or if you know of an author who is left off, please leave a comment or email me.

(sarahnity@gmail.com)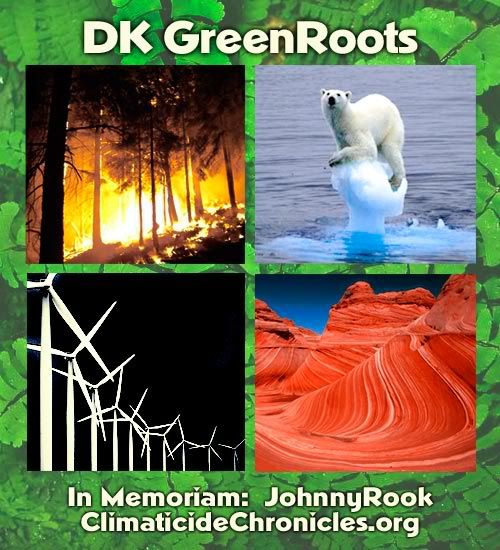 If you are interested in environmental issues, please join DK GreenRoots, a new environmental advocacy group created by Meteor Blades and Patriot Daily.

DK GreenRoots comprises bloggers at Daily Kos and eco-advocates from other sites. We focus on a broad range of issues and are always open to new ones.

Over the coming weeks and months, DK Greenroots will initiate a variety of environmental projects, some political and some having nothing directly to do with politics at all.

Some projects may involve the creation of eco working groups that can be used for a variety of actions, including implementing political action or drafting proposed legislation.

We are in exciting times now because for the first time in decades, significant environmental legislation will be passed by Congress. It is far easier to achieve real change if our proposal is on the table rather than fighting rearguard actions.

We alert each other to important eco-stories in the mainstream media and on the Internet, promote bloggers at one site to readers at other sites, connect bloggers of similar interests to each other and discuss crucial eco-issues.

Come help us put these projects together. Bring ideas of your own. There is no limit on what we can accomplish together.