There is a brutal civil war taking place in The Democratic Republic of Congo -- a war where the government is not strong enough to do more than patronize the bloody militias that fight amongst themselves. But what does this have to do with the environmental movement?
The DRC is rich in natural resources. Many of the metals that are used in green technology are found there. Electrodes in your cell phones, components in your computer, your catalytic converter, and materials of the green economy are regularly mined in The Democratic Republic of Congo. You might find electronic devices that funded this conflict in your pocket right now. These metals must be regulated just like the blood diamonds of Sierra Leone. H/t to Land of Enchantment for a great diary on Blood Diamonds.
We need to work toward a blanket prohibition on using blood minerals that come from The Democratic Republic of Congo.
There is a fledgling movement in congress to seriously regulate consumption of blood minerals in the United States. The Senate has come a little further than The House in terms of embracing this issue, but the problem with both houses is that their vision isn't wide enough.
There are many metals found in The DRC that are the bread and butter of green technology and green research. The problem is that whatever the Congolese mines produce gets plundered by the local groups that fight one another. The mines in eastern Congo are controlled by the militias.
Advocacy groups concentrate on "Three T" metals: Tantalum, Tin, and Tungsten. Gold is another conflict metal found the The DRC. It is very important to work toward a boycott of these metals if they come from illicit sources -- these are the main metals that fuel the egregious war there. But there are also nickel-copper mines that produce Pt-group metals. Perhaps the bigger bird to kill is copper, but a palpable amount of palladium is thought to be present in those mines. Platinum and palladium are found on many other parts of the globe, so prohibiting them as conflict metals will cause little grief to industry.
Catalysis is a subfield that is critical to green science, and Pt-group metals are the bread and butter of [heterogeneous] catalysis. They are used in "greening" industrial processes. They are used in organic transformations (reforming), and in cleaning up after petroleum fuels to minimize pollution when they burn (refining, catalytic conversion.) What is more relevant as we look forward is that Pd and Pt are important catalysts for fuel cell technology.
A few people in congress are interested in stopping the blood mineral trade:
"Blood diamonds," the worldwide campaign to stop the sale of diamonds that fueled a bloody civil war (and the name of a better-than-average Hollywood film) is about to be replaced by conflict minerals, a two-word phrase every bit as catchy but even more difficult to regulate.

Not to mention legislate — a process that is now going on in earnest at the direction of Senate Majority Whip Dick Durbin (D-Ill.), Sens. Russ Feingold (D-Wis.) and Sam Brownback (R-Kan.) and Rep. Jim McDermott (D-Wash.).
But I hope this gets your attention, because the violence in The DRC is absolutely monstrous.
Systematic rape in the DRC is unprecedented. It is complicated, because the acts of violence span across ethnic groups, and rape is used in many contexts. It also differs from other systematic rape campaigns in recent European history: it is made fantastically complex by the fact that women have little status and the DRC tolerates rape during relatively peaceful times. In times of war, the government supports militia groups who are allowed to rape and pillage with no consequence.

There are many uses of rape in war. Sometimes women are used for gratification, or because of customs and superstition that sanction rape like in the video above. If it spans across ethnic groups, it is often used as weapon of torture, or for ethnic cleansing. Women are raped in front of their families, they are forced into pregnancies to "dilute" ethnic bloodlines, and they are kidnapped and kept for the wanton comfort of the bloody militias. But the violence between ethnic groups is not limited to rape. The Interahamwe militias particularly have a habit of mutilating women and leaving them to suffer a protracted and painful death.

The UN High Commission on Human Rights (UNHCHR) on the DRC:

The human rights situation in the DRC continues to deteriorate. Serious violations, such as arbitrary executions, rape, torture and cruel, inhuman and degrading treatment are pervasive, committed mostly by the army, police and intelligence services. The latter, highly politicized, are often used to commit politically-motivated crimes during specific periods and then revert to daily harassment and intimidation of Congolese citizens. Armed groups operating in the country, both foreign and Congolese, although responsible for only six per cent of documented human rights abuses, have perpetrated massacres, arbitrary executions, abductions of villagers, and subjected women to systematic rape, sexual slavery and other forms of sexual violence with full impunity.
What's happening in congress now? There is a bill floating in the Senate, S.891, and another bill is currently under draft in the House. I am currently working on analysis to help determine the best proposal for bill that will float in the House, but that work is not yet finished. I will write an update diary when that is done.
The Senators who are co-sponsering S.900 are: Samuel Brownback, Roger Wicker, Benjamin Cardin, Russell Feingold, Richard Durbin, Charles Schumer, Roland Burris, and Mark Begich.
What can you do without leaving your chair?

-- Write a letter to VP Joe Biden, and tell him that blood minerals support the horrific violence in The DRC.

-- Contact your senators and representative. Your effort here will make an enormous impact toward advancing good legislation. Refer to the recent hearing in the Senate Committee on Foreign Relations regarding the violence in The Sudan and The DRC, tell them about the problem of blood minerals, and tell them that you want a law that prohibits using conflict metals.

-- If your senator co-sponsored S.891, be sure to tell them that Pt-group metals might also come from a milita controlled mine in The DRC.

-- Write to the companies that make your electronic devices, and encourage them to boycott blood minerals, sign the Conflict Minerals Pledge and offer certification that their products are blood mineral-free.

-- Work with advocacy groups like Enough, and Raise Hope for Congo.

-- Work with a group that directly supports the women who are affected by the violence in the DRC, like Women for Women International, or HealAfrica.

-- Learn more. Start by looking at a slideshow about a Congolese tin mine from NYT, or youtube taking on Conflict Minerals, or check out the advocates who call themselves Raise Hope For Congo.
I will be passing petitions during the upcoming months, while I work to improve the legislation that is currently being floated in congress. If you are interested in signing one or more of those petitions, please contact me:
If you are a scientist and use a metal that could potentially come from a mine in The DRC and want to sign a petition that specifically asks chemical supply companies to boycott conflict minerals, please send me an email with the subject header "Petition Against Blood Minerals -- Use."

If you are an academic or researcher of any kind who does not use potential conflict metals in your work and want to sign a petition toward supporting a boycott of blood minerals, please send me an email with the subject header "Petition Against Blood Minerals -- Do Not Use."

Anyone else who wants to sign a petition toward boycotting blood minerals, please send me an email with the subject header "Petition to Boycott Blood Minerals."

I will email you when the petitions are ready.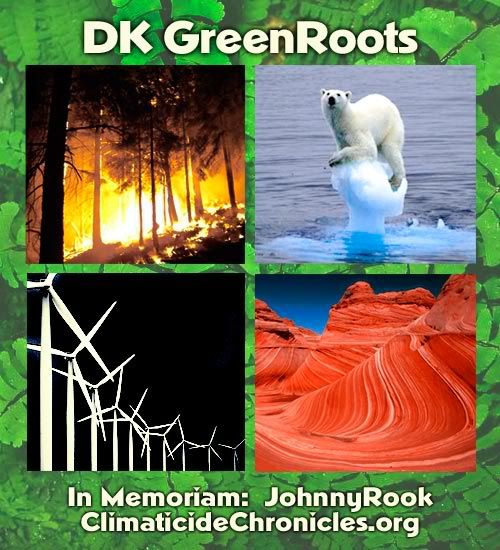 If you are interested in environmental issues, please join DK GreenRoots, a new environmental advocacy group created by Meteor Blades and Patriot Daily. DK GreenRoots comprises bloggers at Daily Kos and eco-advocates from other sites. We focus on a broad range of issues and are always open to new ones.

Over the coming weeks and months, DK Greenroots will initiate a variety of environmental projects, some political and some having nothing directly to do with politics at all.

Some projects may involve the creation of eco working groups that can be used for a variety of actions, including implementing political action or drafting proposed legislation. We are in exciting times now because for the first time in decades, significant environmental legislation will be passed by Congress. It is far easier to achieve real change if our proposal is on the table rather than fighting rearguard actions.

We alert each other to important eco-stories in the mainstream media and on the Internet, promote bloggers at one site to readers at other sites, connect bloggers of similar interests to each other and discuss crucial eco-issues.

Come help us put these projects together. Bring ideas of your own. There is no limit on what we can accomplish together.
Schedule for DK GreenRoots - yesterday, today and tomorrow
All listed times are PDT. Full week's schedule can be found here.


Wednesday July 1:
5am: Beware the Silver Bullet ... by A Siegel
9am: Good Green Jobs: Moving from Rhetoric to Reality by ChangeToWin
noon: The Video that Could Save Your Life by FishOutofWater
1 pm: Go Ahead, NPS, Seize These Cal State Parks, Please! by RLMiller
3 pm: The Insanity of Bottled Water by Asinus Asinum Fricat
5 pm: Keep an eye out for bear - Shenandoah NP photodiary by it really is that important
7 pm: Marine Life Series: Responsible Shrimp Buying by Mark H
9 pm: Soil organic carbon pools in the northern circumpolar permafrost region by shpilk
10pm: Green Transit and Hybrids: Planes, Trains, and Automobiles by Vikingkingg
Wednesday Series:
Bookflurries: Bookchat: The Setting as Character by cfk
Siglines! Caring for the environment by Wee Mama
Green Diary Rescue by Meteor Blades


Thursday July 2:
11 am: My Lake has Singing Sands by Muskegon Critic
3 pm: Poverty Near the "High Hazard" Coal Ash Sites by Bruce Nilles
5 pm: Green Social Networking by boatsie
7 pm: rb137 on blood minerals
9 pm: Jill Richardson on food
afternoon/evening: Meteor Blades (whenever he's ready)
Thursday Series:
Morning Feature: Wolves and Predators by NCrissieB
Labor Diary Rescue, 7/2/09 by djtyg
Write On! Have you been stripped? by SensibleShoes
Considered Forthwith by Casual Wednesday
Health Series Meets DK Greenroots! by TheFatLadySings
Top Comments by Elise
Overnight News Digest by Patriot Daily News Clearinghouse
Green Diary Rescue by Meteor Blades


Friday July 3:
9am: Turkana on beef (and more)
11 am: Meteor Blades
3 pm: TXsharon
7 pm: Spirit of Brash Optimism by Land of Enchantment
Friday Series:
Morning Feature by NCrissieB
Mojo Friday by rbutters
Frugal Fridays by sarahnity
Friday Night at the Movies by Land of Enchantment
Overnight News Digest by Oke
Green Diary Rescue by Meteor Blades


Plus there'll be music on environmental themes in jotter's High Impact Diaries every morning, along with schedule updates. We can make more slots as needed - anyone who has an environmentally-related story they want to post this week, we'll create a place on the schedule for you.