Originally posted at the Commonweal Institute's Uncommon Denominator blog
It seems fitting that the same week we celebrate the independence of our Nation, the House passed historic climate change legislation. In theory, this bill should bring us closer to the goals of oil independence and freedom from the disastrous future of a warming, melting planet. If America is to prosper in the 21st century, then we must take immediate action to reduce our role in causing the climate crisis. And yet, the bill left those of us who care about our shared environment shaking our heads. Is the Waxman-Markey bill is even slightly better for the planet than the status quo, or will it pave the way to increased, legalized pollution? Perhaps the most tragic part of the bill was the compromise with agribusiness interests that was required to secure its passage through the Agriculture committee.
Agribusiness likes to claim that "farmers are the first environmentalists" – a statement that should be true. Sadly, the large corporate interests that drive the agribusiness lobby like to hide behind the image of the American family farmer. And while the American family farmer may in fact be an environmentalist, the new climate change bill further entrenches the status quo of an agricultural system based on unsustainable usage of oil, water, and soil.
Soil represents one of our most powerful tools to sequester carbon, removing it from the atmosphere. However, in the last half-century oil-intensive industrial farming practices degraded our soil from up to 20 percent carbon to between 1- and 2-percent carbon.
The chemical fertilizers and pesticides that degrade the soil also contribute to greenhouse gas emissions. Of course, we all need to eat, so ending agriculture is not a viable option to combat global warming or to reduce our dependence on oil. But when it is done right, agriculture can sequester carbon, playing a positive role in the fight against climate change.
For example, if organic, regenerative methods were adopted on all the world's farmland, agriculture has the potential to sequester up to 40 percent of the world's greenhouse gas emissions. Furthermore, for corn, studies show that organic, no-till methods reduce fossil fuel needs by two-thirds over a conventional, tilled system. Last, measured over several decades, organic corn and soy yields matched conventional yields in most years. The exception was in drought years, when organic yielded 30 percent more corn than conventional.
These findings, that organic methods can match conventional yields for corn and soy, are consistent with the findings of another study that evaluated a large number of crops around the world. That study found that organic agriculture yields, on average, 92 percent as much as conventional in the developed world.
We must also consider that in the developing world, organic outproduces conventional agriculture by 80 percent. That is not because organic produces more; it is because chemical-based methods yield less. Agriculture in the developed world relies on heavy amounts of petroleum-based fertilizer and other inputs, resources the developing world lacks. These numbers paint a disturbing picture for our future here at home as our oil runs out. Without abundant, cheap oil, our conventional agriculture may more closely resemble the decreased yields of the developing world.
In other words, in a warming world that is running out of oil, organic agriculture may be our best shot at feeding ourselves. Simultaneously, organic agriculture may be our ticket to reversing global warming by sequestering carbon into the soil. Yet, when faced with what could have been a very ambitious effort at curbing emissions, agribusiness fought for and won the right to continue business as usual.
The average farmer might like the idea of decreased reliance on oil. Preventing a climate crisis will ensure these farmers can pass their farms down to future generations. But the corporations selling chemical fertilizer, pesticides, and genetically modified seeds to the farmer prefer to secure their own short-term profits over the long-term well-being of humanity.
The passage of Waxman-Markey represents a loss for science, conservation, the family farmer, and the human race, but a big win for agribusiness. Independence from oil and freedom from climate change will have to wait for a future Fourth of July – it certainly didn't happen this year.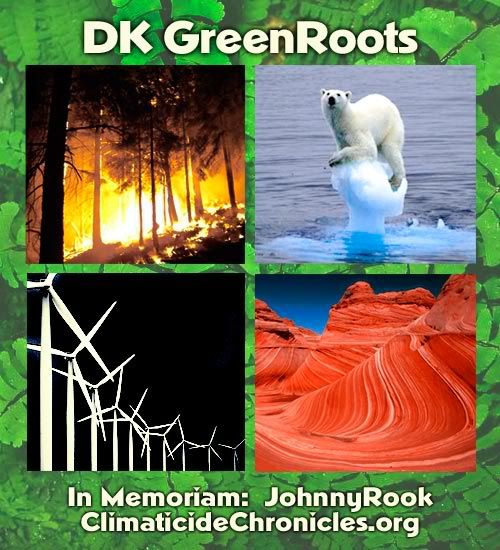 If you are interested in environmental issues, please join DK GreenRoots, a new environmental advocacy group created by Meteor Blades and Patriot Daily. DK GreenRoots comprises bloggers at Daily Kos and eco-advocates from other sites. We focus on a broad range of issues and are always open to new ones.

Over the coming weeks and months, DK Greenroots will initiate a variety of environmental projects, some political and some having nothing directly to do with politics at all.

Some projects may involve the creation of eco working groups that can be used for a variety of actions, including implementing political action or drafting proposed legislation. We are in exciting times now because for the first time in decades, significant environmental legislation will be passed by Congress. It is far easier to achieve real change if our proposal is on the table rather than fighting rearguard actions.

We alert each other to important eco-stories in the mainstream media and on the Internet, promote bloggers at one site to readers at other sites, connect bloggers of similar interests to each other and discuss crucial eco-issues.

Come help us put these projects together. Bring ideas of your own. There is no limit on what we can accomplish together.
Schedule for DK GreenRoots Week
All listed times are PDT.


Sunday June 28:
11 am: Mr. President, go and see for yourself by Devilstower
3 pm: Kermit was right, it ain't easy by jillian
7 pm: Obama Wants Green Bottom-Up Politics by Patriot Daily

Sunday Series:
Overnight News Digest (Science Saturday) by Neon Vincent; Sunday Talk by Silly Rabbit aka Trix;Free Food Foraging by Wide Eyed Lib, How Regulation Came to Be: Donora by dsteffen; The Week in Editorial Cartoons: The Crying Game by JekyllnHyde; Overnight News Digest - Ole Man River and the Big Muddy by Oke



Monday June 29:
2 am: Now it's "Cleaner" Coal? by Zwoof
6 am: CBS Jumps a Whale Shark by DarkSyde
7 am: News from the Arctic: 29 June 2009 by billlaurelMD
1 pm: With Assistance, Foxaganda Finds Another Denier by Meteor Blades
9 pm: Obama Says Mountain Crimes Can Be Regulated by Jeff Biggers

Monday Series:
Science Tidbits by possum; Maccas Meatless Monday - Action Diary by beach babe in fl; Books by Kossacks by sarahnity; Got a Happy Story? by Eddie C); Labor Diary Rescue by djtyg, Overnight News Digest: Eco Week-O by jlms qkw; Green Diary Rescue by Meteor Blades



Tuesday June 30:
11 am: Ecotourism: Not an oxymoron by LaughingPlanet
3 pm: Walking Gently in the Footsteps of my Ancestors by Got a Grip
5 pm: Coast Redwoods and Climate Change by maggiejean
7 pm: Climate War: the United States and China by Magnifico

Tuesday Series:
Cheers & Jeers Tuesday by BiPM; Glacier Park 1, Strip Mines 0 (Healthy Minds & Bodies) by RLMiller; The Left Wing: Owl Farm by Texas Revolutionary; Top Comments: The Local Green Economic Stimulus Edition by Elise; Overnight News Digest by wader; Green Diary Rescue by Meteor Blades



Wednesday July 1:
5am: DK Greenroots: Beware the Silver Bullet ... by A Siegel
noon: The Video that Could Save Your Life: DK GreenRoots by FishOutofWater
3 pm: DK GreenRoots: The Insanity of Bottled Water by Asinus Asinum Fricat
5 pm: Keep an eye out for bear - a DK GreenRoots/Shenandoah NP photodiary by it really is that important
7 pm: Marine Life Series, DK Grassroots: Responsible Shrimp by Mark H

Wednesday Series:
DK GreenRoots: Bookflurries: Bookchat: The Setting as Character by cfk; Siglines! DK GreenRoots: Caring for the environment by Wee Mama.



Thursday July 2:
9am: jeremybloom on climate
11 am: Muskegon Critic
3 pm: Bruce Nilles
5 pm: boatsie on social networking
7 pm: rb137 on "blood minerals"
9 pm: Jill Richardson on food

Thursday Series:
Morning Feature by NCrissieB; Labor Diary Rescue by djtyg, Considered Forthwith by Casual Wednesday; Thursday Night Health Care by TheFatLadySings; Top Comments by Elise; Write On! by SensibleShoes; Overnight News Digest by Patriot Daily News Clearinghouse



Friday July 3:
11 am: Meteor Blades
3 pm: TXsharon
7 pm: Land of Enchantment on energy

Friday Series:
Morning Feature by NCrissieB; Mojo Friday by rbutters; Frugal Fridays by sarahnity; Friday Night at the Movies by Land of Enchantment; Overnight News Digest by Oke



Saturday July 4:
11 am: Jerome a Paris on wind power
3 pm: buhdydharma
5 pm: Land of Enchantment on climate
7 pm: Stranded Wind

Saturday Series:
Morning Feature by NCrissieB; Daily Kos University by plf515; Dawn Chorus Birdblog by lineatus; Saturday Morning Garden Blogging by Frankenoid; Saturday Morning Home Repair Blogging by boatgeek; Top Comments by carolita



Plus there'll be music on environmental themes in jotter's High Impact Diaries every morning, along with schedule updates. Additional diaries will be filled in from amongst the following: faithfull, The Cunctator, and Turkana. And we'll make more slots as needed - anyone who has an environmentally-related story they want to post this week, we'll create a place on the schedule for you.