Suppose a logging firm was tearing the cherry trees from around the Jefferson Memorial. Do you think anyone would notice? Suppose local trash haulers decided the National Mall would make an excellent land fill, construction firms decided to tear down the Washington Monument for building material, or a parking lot was planned for the site of the Vietnam Memorial.
Do you think President Obama might step outside before that tower of white marble was dragged down? Would he intervene before over 58,000 names were covered by asphalt? Would he object before the level of empty beer cans and disposable diapers spilled up the steps to Lincoln's feet?
Then why will he not stop the destruction of the Appalachian Mountains before they are gone forever?
As Robert F. Kennedy Jr. points out, his father made the trip to West Virginia to see what was happening there. But these days, the plight of those in the mountains is all but ignored.
My father visited Appalachia in 1966 and was so horrified by strip mining -- then in its infancy -- that he made it a key priority of his political agenda. He complained that Appalachia, with our nation's richest natural resources, was home to America's poorest populations, its worst education system, and its highest illiteracy and unemployment rates. These statistics are even grimmer today as mining saps state wealth. In 1966, 46,000 West Virginia miners were collecting salaries and pensions and reinvesting in their communities. Mechanization has shrunk that number to fewer than 11,000. They extract more coal annually, but virtually all the profits leave the state for Wall Street.
Yes, there are many problems facing President Obama, and many issues confronting the Congress. But the issue of mountaintop removal may be unique in that it doesn't require any extraordinary action. It won't cost billions of dollars. It doesn't need any kind of false "bipartisanship." It only requires that President Obama instruct the EPA and other agencies to enforce the existing law. If he does not do this, there is no doubt where the fault for the resulting ruin will lie.
Instead of acting to enforce these laws, administration officials indicated last month that they will allow more than 100 permits to go forward while they carefully review their regulatory options. If they act accordingly, the ruined landscapes of Appalachia will be Obama's legacy.
It's no good to say that someone else started this disaster. The fact is that it's completely within President Obama's power to . If he does not believe this issue requires prompt action, there's one way to prove it.
President Obama should go to Appalachia and see mountaintop removal.
Go and see, Mr. President. If you're going to allow this Appalachian Apocalypse to continue, have the courage to face it.
Look for additional discussion of this topic in Teacherken's Diary.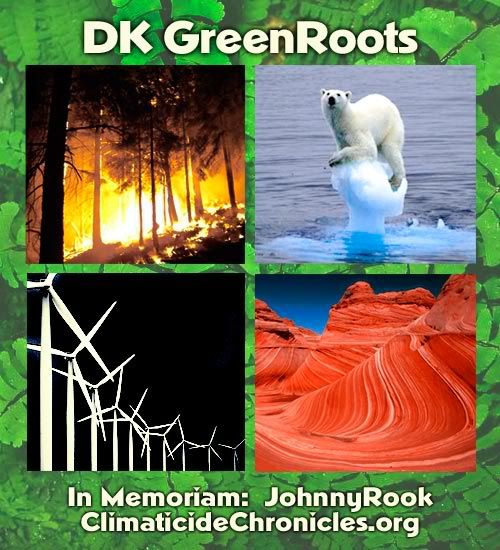 If you are interested in environmental issues, please join DK GreenRoots, a new environmental advocacy group created by Meteor Blades and Patriot Daily. DK GreenRoots comprises bloggers at Daily Kos and eco-advocates from other sites. We focus on a broad range of issues and are always open to new ones.

Over the coming weeks and months, DK Greenroots will initiate a variety of environmental projects, some political and some having nothing directly to do with politics at all.

Some projects may involve the creation of eco working groups that can be used for a variety of actions, including implementing political action or drafting proposed legislation. We are in exciting times now because for the first time in decades, significant environmental legislation will be passed by Congress. It is far easier to achieve real change if our proposal is on the table rather than fighting rearguard actions.

We alert each other to important eco-stories in the mainstream media and on the Internet, promote bloggers at one site to readers at other sites, connect bloggers of similar interests to each other and discuss crucial eco-issues.

Come help us put these projects together. Bring ideas of your own. There is no limit on what we can accomplish together.