It was with some trepidation that I replied "yes" to the Move On invitation to attend a rally at Kay Bailey Hutchison's office this afternoon. Kay Bailey Hutchison has been known to have constituents arrested for trying to talk to her, but I decided to risk it.
Fifty people signed up for today's rally; fewer than that actually attended, but the organizer got 7,000 signatures on a petition, which was delivered to Kay Bailey Hutchison's staff without incident.
Pics and the result of our organizer's meeting with KBH's staff over the jump...
We met around 11:00 in front of Kay Bailey Hutchison's Dallas constituency office. When I arrived, the police were already talking to our Move On organizer about moving the rally away from her office, since it's "private property."
The police told us we could hold the rally next door, at a vacant Circuit City (which, incidentaly, is also "private property"). The police were very good natured about posing for this picture with our Move On organizer, even after I told them I was going to post it on Daily Kos, showing off how good our police department is at protecting our Senator from the constituents.
The new location turned out to be a really good one, right next to the access road to I-75, where we got lots of traffic. While our organizer met with Kay Bailey Hutchison's staff, the rest of us lined the access road, holding up signs advocating the public option.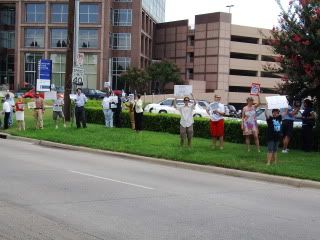 Many people waved, some giving us the "thumbs up" signs, others pumped fists; several truckers greeted us with big air horn notes of approval. I counted only one one-fingered salute, and my spouse heard someone yell "Communist," but everybody else seemed to agree with us that we are in dire need of health care reform.
About fifteen minutes later, our organizer returned with a statement from Kay Bailey Hutchison's staff. It was a typically non-committal statement, just like the form letters we always get from her, promising to "take our views into consideration"--before voting the Republican party line, of course. The staff said she "favored competition" and "would take a look" at the public option proposal.
Not expecting much, of course, but at least we went out there.