In honor of the Major League Baseball All-Star game approaching, let's turn our collective culinary attention toward ballpark food.
Peanuts and Cracker Jack will forever be tied to baseball, but today's ballpark fare is oh-so-much more. Join us below the fold for a few examples and some all-star recipes!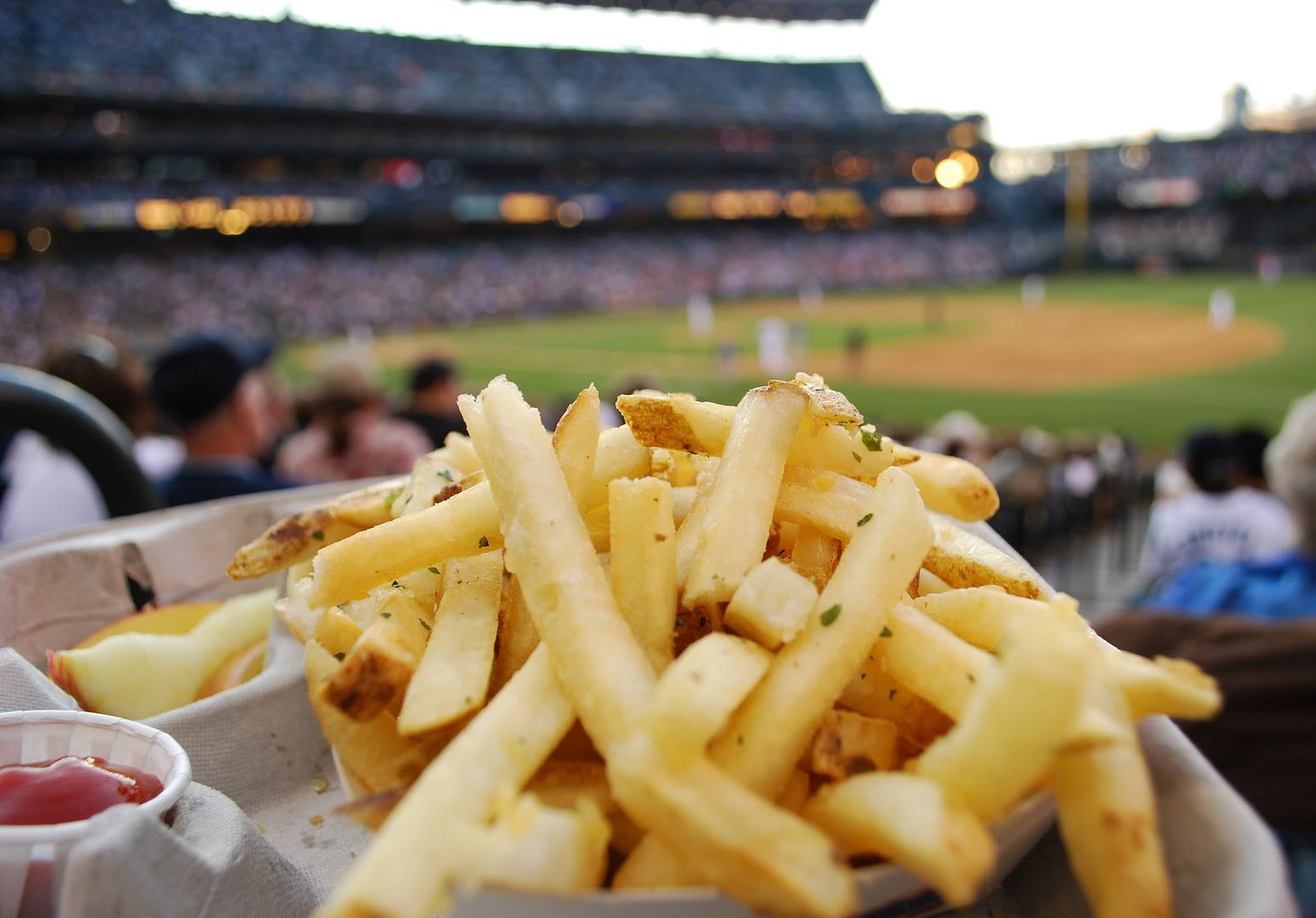 In many cities, ballpark food has become haute cuisine – just ask Rachel Ray or Peter Meehan, a food writer for New York Times Travel Section. Meehan had the dream job of visiting a dozen MLB parks to check out their concessions.
Meehan was served up some stinkers, but on the upside, he reports:
"There were two commendable forces at play at the best parks I visited: the upscaling of concession stands, and the whole-hearted embrace of local, vernacular cooking."
Such is certainly the case at Safeco Fieldin Seattle, where we live. In fact, Safeco is a contender for top ballpark food honors, having been nominated by the Food Network for having the "Best Ballpark Eats in America" and ranked by an ESPN poll as having the "Best Signature Ballpark Food."
You want yummy sushi? Head for Rice n Roll, out by the bullpen. Choices include the cleverly-named Ichiroll, and you can even order sake to go with. Four-star Thai food? Take a stroll to the Intentional Wok, on the concourse behind home plate. There's scrumptious seafood to be had at any of the multiple Ivar's stands, where offerings include their signature clam chowderin a sourdough bowl, and the Ivar's dog - golden-fried cod on a bun - is a regional twist on a ballpark tradition.
And what's that intoxicating aroma wafting in from leftfield? Ahh ... garlic fries from Grounders.
All this talk about ballpark food is making us hungry. But with the All-Star break looming, where's a baseball fan to get their concession fix? Why, by whipping up an all-star menu in your own kitchen, of course. ... Here are some recipes even a cooking rookie could deliver to a home plate.
Hot diggity dog!
Baseball is called "America's pastime" but it is really an international sport. In fact, on Opening Day 2009, 28 percent of MLB players were foreign-born, representing 15 countries and territories. (Factoid: The Seattle Mariners are the most international club, with 53.6 percent of the team being foreign born.)
That said, here's a tasty, Latin American take on traditional hot dogs, a MLB stadium staple. Short version below adapted from George "Ham on the Street" Duran.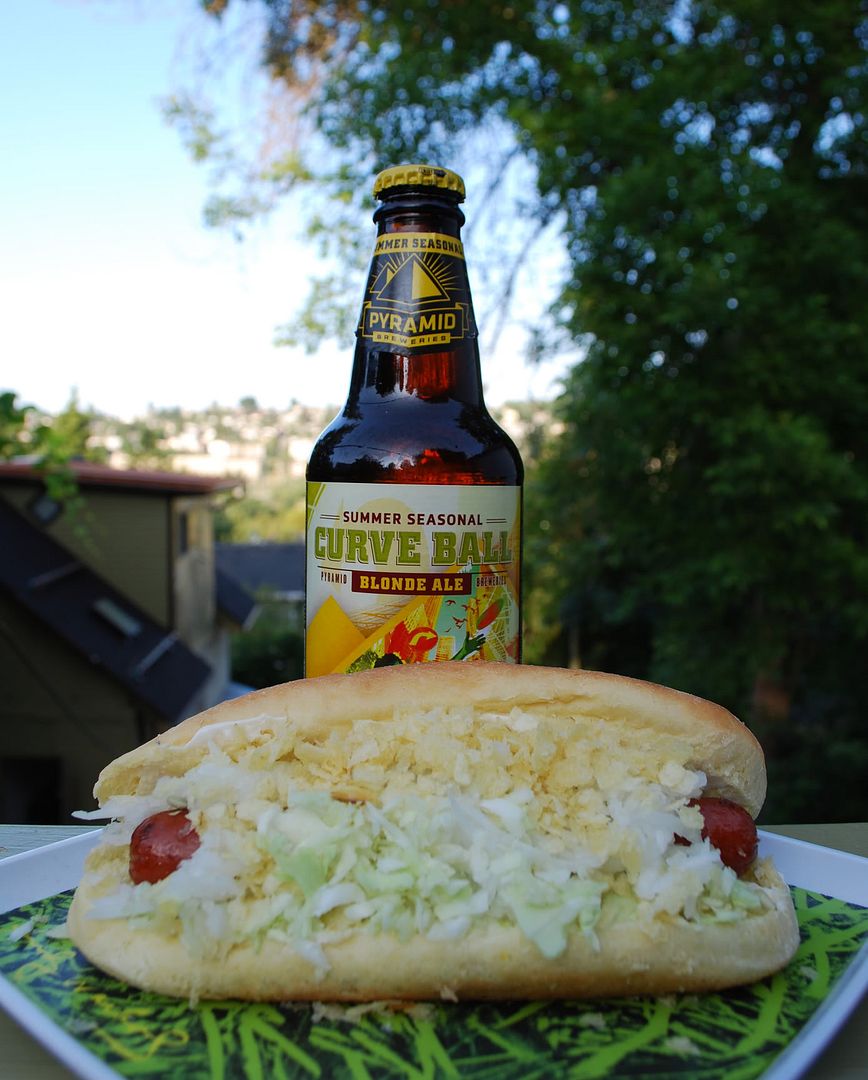 Venezuelan hot dogs
Hot dog buns - potato style
Premium hot dogs (like award-winning Nathan's, or Cloverdale, the Mariners' official brand)
1 yellow onion, finely minced (a food processor comes in handy)
½ head green cabbage, very finely chopped
1 bag potato chips, crushed (Lay's Classic work well)
Mayonnaise

Cook hotdogs to package directions/your liking. Carefully steam or toast the buns. Place a dog on the bun, top with chopped onion, cabbage and dust with crushed chips. Add mayo (yes, mayo – trust me, it really works with the cabbage!). Add mustard &/or ketchup if you must, you traditionalist. ... ; )

Serving suggestion: Pair with Pyramid's Curve Ball or Pete's Rally Cap Ale
Scentsational
OK, so you're going to have dragon breath for awhile, but with enough good-for-you garlic in the mix, maybe fries turn into health food!?
Garlic fries (easy peasy style)
1 bag of frozen French fries, skin on-style if you can find 'em
1/4 c. olive oil
4-5 heaping teaspoons of minced garlic
1 t. pepper
1 t. sea salt
2 t. parsley flakes

In a large Ziploc bag or a big bowl, mix the frozen fries with the other ingredients. Spread onto cookie sheet, bake at 425 degrees for about 20 minutes, stirring a couple of times during. Serve with a few slices of apple on the side (to cleanse the palate afterward).

NOTE: Instead of using frozen ones, you could certainly make your own home fries. There are excellent instructions on Daily Munch.

Also worth noting: Ellie Kreger of the Food Network's Healthy Appetite has a relatively guilt free garlic fry recipe.
My Oh Pie!
Apple pie is as 'Americana' as baseball. Since "portable desserts" are great for picnics and buffets, why not whip up some lil' apple pielets for your all-star buffet
Apple pielets - rookie cook/easy version:
1 package refrigerated pre-made pie crust
1 can apple pie filling (you might have to chop it up a bit to accomodate your mini pie shells)
Muffin/cupcake tin

Roll out pie crust onto flat, floured surface. Use a wide mouthed (about 4–inches) glass to cut circles large enough to fill a muffin tin hole, with a little overlap. Coat muffin tin cups with nonstick vegetable spray and dust them lightly with flour. Gently press your pie crust circles into the muffin tins, making sure the perimeter comes up and out of the cup enough to allow you to later pinch the bottom and top pie crust edges together.

Fill the bottom crusts with apple filling per directions on the can or jar. Top the pies with creative crusts (think stars, baseballs, maybe even try your hand at weaving a lattice top crust). Bake at 375 degrees F for about 25 minutes (until the crust is light brown and the filling is bubbling). Allow the petite pies to cool in the tin before carefully removing them. (Note: you might want to cover the edges of your lil pies with foil to prevent them from overbrowning while baking.)

This said, you are encouraged to make your own crust(it's easy, you can do it!)and your own filling, too.
Stick-y & Sweet
Candy for the eyes and nectar for the tongue, Shiskaberry's® are a fan favorite at Safeco Field. Chocolate dipped strawberries on a stick, they're pretty simple to recreate at home.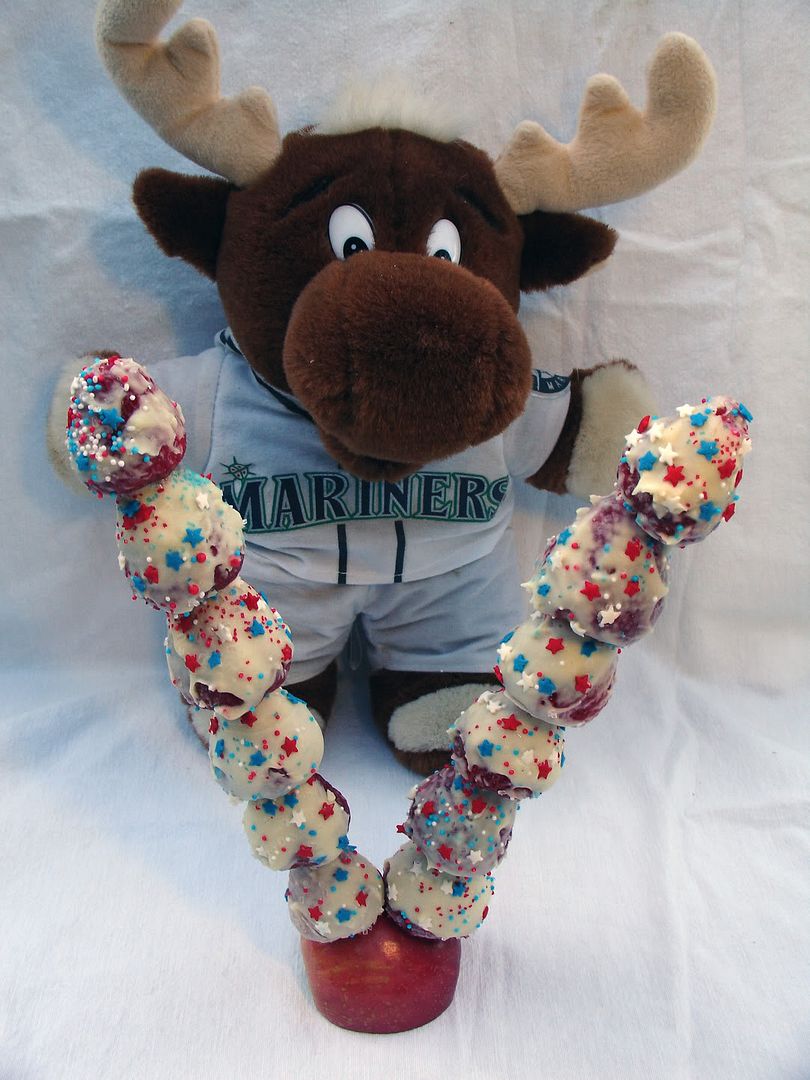 Strawberry kebabs
A dozen big juicy strawberries, cleaned, dried, stems removed
1 lb. high quality chocolate (white or dark), finely chopped
Optional toppings (candy sprinkles, coconut, chopped nuts, you name it)
Bamboo skewers
Parchment or wax paper

Temper chocolate by melting all but 2 ounces of it in the top of a double boiler. Once it has melted and its temperature reaches 105 degrees, remove it from heat. Add the last 2 ounces of chocolate and stir until temperature enters tempering range of 88 to 90 degrees. (Keep the chocolate at this temperature while you're dipping.)

Dip strawberries, one at a time into melted chocolate. While still warm, roll them in toppings of your choice. Place on a cookie sheet lined with parchment or wax paper and place them in the refrigerator to cool. Once chocolate has set, skewer the strawberries and serve.
Final out
I leave you with a quote, from "Field of Dreams":
The one constant through all the years ... has been baseball. America has rolled by like an army of steamrollers. It has been erased like a blackboard, rebuilt and erased again. But baseball has marked the time. This field, this game: it's a part of our past. ... It reminds of us of all that once was good and it could be again.
A request: I'd love to hear about can't-miss concessions at your favorite ballpark.
And a question ...