For years these rats followed their pied piper Dick Cheney wherever he would lead them, whether is was to war or to torture or to destroy the Constitution. Now they are trying to avoid following Dick off of a cliff and into the abyss.
I say we push them over the edge.

Spin, spin, spin
Watch John Cornyn, John Kyl, Judd Gregg and John McCain try to find some reason why Dick Cheney and the CIA is not criminal, but those mean allegations are going to put us all at risk.
Pity the poor CIA, and poor helpless Dick Cheney.

More, plus Action below the fold
Please Recommend this call to action for investigations and a Special Prosecutor for Bush/Cheney so that others can use the contact information below throughout the day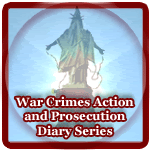 Dick Cheney is a War Criminal. War Crimes, High Crimes and Crimes against Humanity were committed by the Bush/Cheney Administration with the full endorsement of the Republican party. The rats are not stupid. They can tell the ship is sinking. They can tell that the public, We The People, want Justice. They will tell you torture is necessary and empathy is not. They will tell you nothing is illegal if a Republican does it, or the President does it, or his Vice President, or his legal adviser, whatever, Whatever it takes to keep the GOP ship from sinking. What they don't realize is that the iceberg that hit the GOP did so 8 years ago
The ship is sinking.
This is the beginning of the end.
The rats are looking for the best place to hide.
And we shouldn't let them get away with this.
For years these politicians in the GOP have told us all how necessary this was, how very necessary and important in order to keep us safe.
Despite being lead to war on false evidence.
While defending torture.
While perverting the Constitution to abridge the rights of citizens.
While war crimes were going on under our noses.

And now these same politicians want to blame the Democrats, blame them for drudging up the past. Blame Speaker Pelosi for daring to question the might of the C.I.A., blame President Obama for daring to even thinking of holding the Bush/Cheney regime accountable for the War Crimes and other High Crimes committed during their watch. Blame anybody, just as long as it isn't a Republican.
The GOP knows that if Dick Cheney goes down they will all go down with him. The GOP knows that if full investigations do proceed their goose is cooked.
Excuses, excuses.
Well, excuses just won't cut it anymore. George W. Bush IS NOT THE PRESIDENT ANYMORE. No matter what the GOP thinks or how bad the Corporate media would like to pretend he is. Barack Obama is the President of the United States now. We The People elected him, and elections have consequences. Accountability must be one of them.
Contact Speaker Nancy Pelosi to voice your support for her against Dick Cheney and the CIA and to demand full congressional investigations into the criminal actions and security policies of the Bush/Cheney Administration.
Contact Speaker of the House Nancy Pelosi [D-CA8] by E-Mail here

Or Call (202) 225-0100
Contact the White House and demand investigations into the Bush/Cheney Administrations War Crimes and domestic security policies that have done nothing to keep Americans safer, but have done everything to deny us our constitutional rights and the rule of law.
You can Contact President Barack Obama's White House to demand accountability here
CALL The White House at 202-456-1111 and E-Mail the WH here
Contact Attorney General's Eric Holder's office to demand accountability and a Special Prosecutor to Investigate and Prosecute the Bush/Cheney regime for War Crimes, High Crimes and Crimes against Humanity

If you need help writing a letter to AG Eric Holder there is an excellent one you can click and paste in today's diary by Something the Dog Said. I highly recommend this diary and this letter.
BY MAIL

U.S. Department of Justice
950 Pennsylvania Avenue, NW
Washington, DC 20530-0001

BY PHONE:

Department of Justice Main Switchboard - 202-514-2000

Office of the Attorney General - 202-353-1555

BY E-MAIL

E-Mail the Attorney Generals Office at AskDOJ@usdoj.gov

Disclaimer: THIS E-MAIL ACCOUNT IS NOT AVAILABLE FOR SERVICE OF OFFICIAL, CASE-RELATED OR LEGAL DOCUMENTS AND IS NOT MONITORED FOR SUCH SUBMISSIONS OR FOR OTHER TIME-SENSITIVE COMMUNICATIONS. E-mails with attachments will be deleted because they may contain viruses.