He once was my cat.
I loved him more than any animal before or even after.
I met him at a shelter with my ex-gf and two young sons in Madison, Wisconsin. We had lived in family housing at the UW for a number of years and were not allowed to have pets.
Since I had left grad school/family housing and had taken a job transporting the disabled, we could finally get a pet. My ex and I agreed we wanted a cat. The shelter talked us into a pair... they came in together, they were inseparable, yada yada. Sold.
One was Ace, a beautiful long-haired tabby who was kind, needy, but a bit messy about the personal hygiene with the long hair and all. I once immortalized him here:
Ace lives on.
The other was Scooter.
Scooter was a classic tabby with the signature patterns for the type. He was playful and mischievous and we hit it off right away. We lived in a rented townhouse where the bedroom peeked out over the living room if you opened the folding doors. From that vantage I once decorated a 12 foot tall Xmas tree. You should have seen the look on both the cats and the kids faces when we set that tree up. Eye candy.
We had a little nerf basketball hoop set up from the bedroom balcony. Scooter would sit up top in the bedroom and play defense while I tried to sneak a shot past him. John (The Spider) Salley couldn't have defended a plastic hoop better. Scooter got up with me when I went to work at stupid o'clock and was the first to crawl under the covers with me when I went to bed. He was my friend, my compadre, my pain in the ass if I dared to leave the bathroom door open.
Scooter: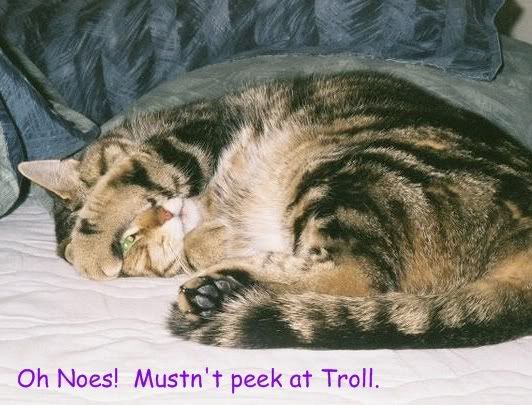 As years went by Scooter and Ace found their ways to entrench themselves in each of our lives. I miss them both deeply.
I left both of them years ago. My ex-gf and I split, although I still care about her deeply as well. I moved halfway across the country to Seattle. She went back to Duluth with the cats. We thought it best for her to take the cats instead of moving them to an unstable situation. I had two young boys to look after and that was more than enough.
But I still care about Karyn, and Ace... and now Scooter is gone.
Gone, but not forgotten.
So, here is to those we left behind but still care for. May their lives be merry and full. May we remember ourselves at our best through them. May we never forget.
Goodbye Scooter.
P.S.: All my edits have been for correcting crappy grammar.