Thank you all for joining me this morning, and a special thank you to lineatus for giving me another opportunity to guest host Dawn Chorus. I'm on dial up this morning, so please be patient if my responses or comments are delayed.
Grab a cup of cofee or tea. Join me below the fold for just some my observations and photos of "my" pair of urban adult Red-tailed Hawks and the 2009 nesting season.
Buteo jamaicensis Red-tailed Hawk
From Wikipedia:
The Red-tailed Hawk is a medium-sized bird of prey, one of three species colloquially known in the United States as the "chickenhawk," though it rarely preys on chickens. It breeds throughout most of North America, from western Alaska and northern Canada to as far south as Panama and the West Indies, and is one of the most common buteos in North America.

The Red-tailed Hawk occupies a wide range of habitats and altitudes, including deserts, grasslands, coniferous and deciduous forests, tropical rainforests, agricultural fields and urban areas. It lives throughout the North American continent, except in areas of unbroken forest or the high arctic. It is legally protected in Canada, Mexico and the United States by the Migratory Bird Treaty Act.
I've always been fascinated by raptors. There is just something about them, maybe it's that they are fierce killers yet devoted mates and parents. Or maybe it's that I read "My Side of the Mountain" one too many times when I was growing up. Whatever the reason, I found myself presented with the opportunity this year to watch and document an adult pair of Red-tailed Hawks as they nested, incubated, raised two young, and finally see the eyasses fledge and thrive in the middle of my city. My story may not equal Marie Winn's Red-Tails in Love and my photos don't come close to any found on Lincoln's Pale Male website, but this is one year I will never forget. :)
3.17.09: A view from my office: They are always flying over this area, I know they nesting over there, but where?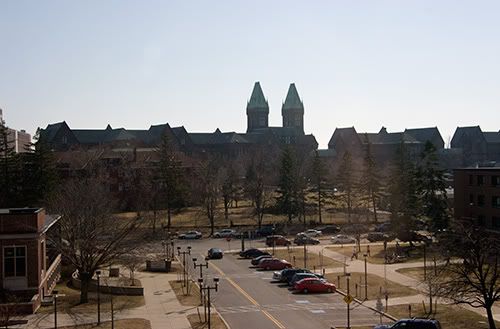 For the past several years the adult Red-tails have been part of our campus landscape. They are seen flying over the area year round. We on occasion have also seen young fledges in past summers, but none of us ever knew the exact location of the nest. This past autumn my office was moved to a location where I had the perfect view to see them perched on various roof peaks and watch them fly. As months went by I kept seeing the female (she is easy to ID because she is not only larger, but also paler than her mate) going to same area in the complex across the street. I can't tell you how many times we walked over there looking in every tree during the month of March, and still I kept watching them fly to the same spot. I started suspecting that this pair found a place to nest on one of the complex buildings. I got lucky one day while walking over there - at the right place/right time to watch the female fly and land onto the nest. It really was so well concealed I would have never found it without her.
4.13.09: The perfect nest site! Tucked in a window ledge and a nice stone roof!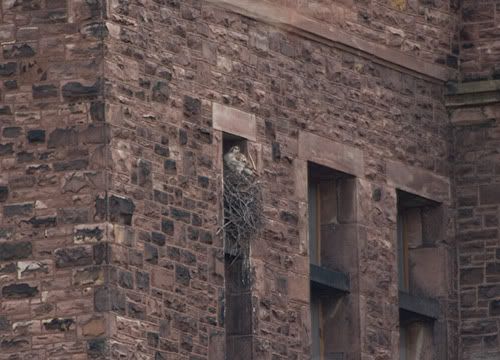 A little bit about this complex without revealing its location. It's an old structure that is on the National Historical Registry, but was abandoned many years ago. Most of the area surrounding has chain link fencing to keep people out, years of vandalism and neglect have made it a dangerous area to get close to, so the hawks have a nice private nesting area with very little activity in the immediate area.
4.21.09: Sharing a moment together on a favorite peak/perch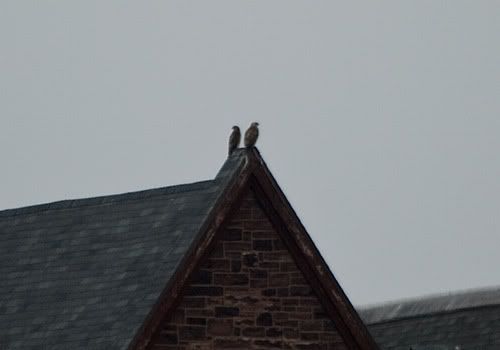 Through the month of April we didn't see much of the adult female. On the rare times I was able to walk over the complex area all I could see was her head as she sat tight on the nest. The adult male on the other hand was very much a presence on our campus. It seemed that he had made a habit of hunting gulls and killing them in the middle of some of our green spaces. Every day brought another report of a pile of gull feathers somewhere. My fave is the morning that he killed and cleaned a gull in front of the administration building (a friend sent me photos). As soon as he carried off his prey, the grounds crew was called to remove the remaining pile of white feathers, head, feet, etc before the president and VPs arrived to work ;)
4.29.09: The adult male on the hunt (flying low above the heads of a large group of people)

5.1.09: Cleaning off a small prey item (House Sparrow)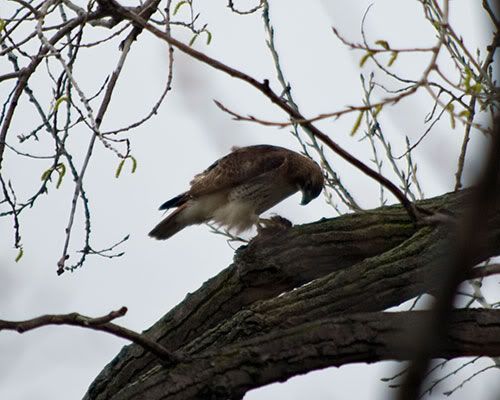 5.5.09: Just one of many incidents of Crow harrassment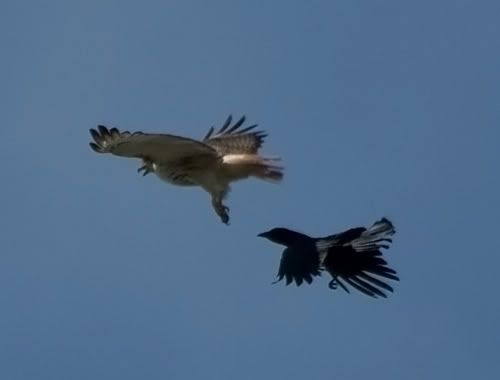 As the weeks went by there were more and more incidents of hawk/human interaction. We suspected that the young eyasses had hatched because the male seemed to only have hunting on his mind and he didn't care if there were large groups of people present or wandering around when he was on his missions. There was even one incident where he had a torso of a gull in his talons and was being harassed by a pair of Crows. The torso was dropped in the middle of a group of people. Amazingly no one freaked out, instead they all started chasing off the Crows in hopes the male would come back for his prey. I also witnessed a gull kill around this time. After removing the head the male took it to a nearby tree limb and cached it for later.
5.7.09: Finally the young eyasses are large enough to see in the nest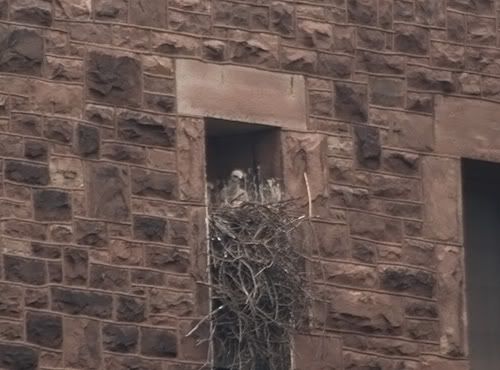 6.2.09: The female on the hunt for food

Some days it seemed like time was going by so slow as we waited for two youngsters to fledge. Then just like that we saw them leaning out of the nest, flapping their wings in what seemed to be too small space! All we could do was hold our breath and hope that all would go well.
6.2.09: Almost ready to fledge!

The day finally came when I walked over to the complex and found an empty nest. The young eyasses had fledged. As I was heading back to work I saw the beautiful female flying back to the nest area with prey in her talons! I immediately heard begging calls from one eyass. At least one was OK for now :)
6.5.09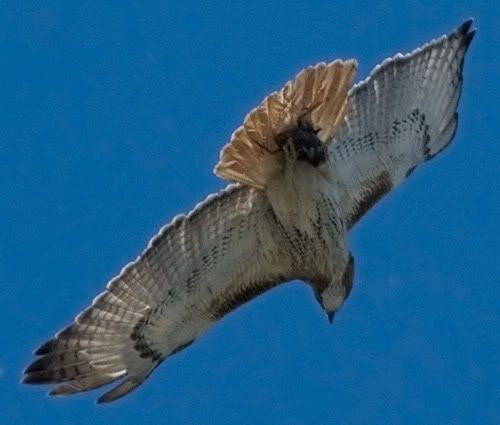 6.9.09: Four days after finding an empty nest, a sighting of one of the fledglings on a ledge!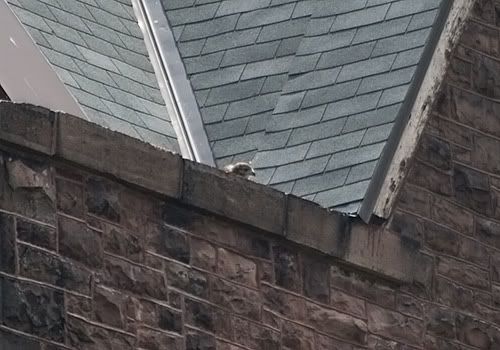 For a few weeks things were quiet. We didn't see much of the adults or the young fledges. I figured no news was good news. Then one morning when I went out for my usual 10-15 minute walk around the old quad (camera in hand of course) I heard the familiar sounds of a young raptor begging for food :) I found the one I believe is the young male in a tall pine tree, squawking very loudly and impatiently. Three weeks of flying lessons had proved successful and he was expanding his range.
6.30.09: Spreading young wings

6.30.09: Practicing landing skills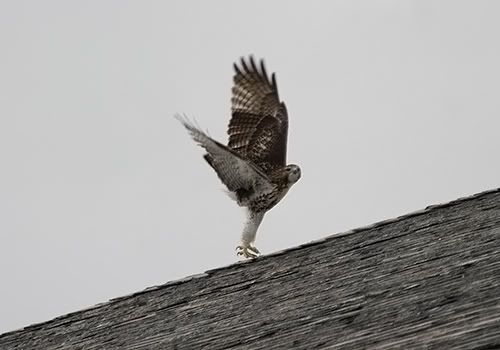 6.30.09: Playing with a stick in the grass (practicing hunting and grabbing skills)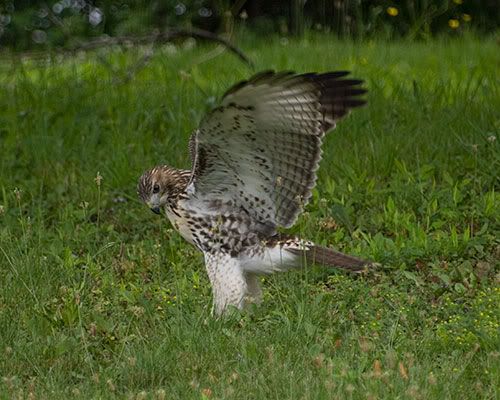 After spending all of this time watching and photographing this Red-tailed Hawk family the one thing that amazes me and worries me is that they exhibit no fear of humans or human activity. It's as if we are part of their scenery, just another obstacle to navigate around. We have at least 3 separate major construction projects going on right now and it's not uncommon to see the adults perched just feet above cranes or bulldozers. Or to have any of them fly and land just feet away from people. Thankfully, everyone who has talked to me is respectful of their presence and they go out of their way to make sure they are safe and aren't harassed by others.
It has been an honor and a privilege to watch these beautiful birds as they go about their daily activities, doing what raptors do, comfortable with their busy, bustling urban surroundings, and even more special to see two young lives come into the world, now flying higher/farther everyday and learning the skills that every young raptor needs to survive in a harsh world.
7.13.09: The young female managed to grab the food delivery first!

7.13.09: The young male followed her and begged for a share, but she was having none of it

This will probably be the last year for the "window ledge" nest. Major renovaton work on the complex is due to start anyday and I doubt the nest will be allowed to stay (as it is there are too many sticks in it now). Hopefully this pair will adapt to changes just as they have adapted to all the urban activity that surrounds them now. I have no worries they will continue to be a successful pair of adults in the future.
I hope you enjoyed this diary. I could have written so much more :) If you have questions I will answer to the best of my ability. At some point I hope to have the time to sit down and put together a decent flickr or photobucket album of the season. I'll let you all know when I finally get one up :)
OT: Before I forget! Chimney Swifts Update! The pair had a very late start this year, but did finally lay three eggs and they hatched this week! You can visit Cornell's NestCams for the live feed w/sound! :)