Here we are again. Monday and time for a science break. New discoveries. New takes on old knowledge. Over the fold are some of my favorite selections the past week from a few of the many excellent science news sites around the world. Today's tidbits include earthquake protection with "invisibility cloak", 3-D brain mapping for removal of a large tumor, making concrete from rice husk ash, a contact lens to deliver eye drugs, stem cells embedded in sutures to aid healing, and inexpensive way to administer xenon gas to critical newborns. Follow down the yellow brick road for one more session of science education and entertainment.
Much of the damage from an earthquake comes from seismic waves traveling across the surface of the earth. New technology involves fitting plastic rings to the earth's surface.
By controlling the stiffness and elasticity of the rings, waves travelling through the 'cloak' pass smoothly into the material and are compressed into small fluctuations in pressure and density. The path of the surface waves can be made into an arc that directs the waves outside the protective cloak. The technique could be applied to buildings by installing the rings into foundations.
The damage is thereby redirected but with the right design populous areas may be spared.
Fusion of various imaging techniques and images allowed surgeons to plot a course and remove a fist-sized tumor from the brain of a woman.
The multiple brain scans were fused and installed into a surgical guidance computer, whose function is similar to a global positioning system. By revealing the tumor's relationship to all of the functional centers, electrical pathways and arteries and veins in the patient's brain, the technology enabled Tew and his team to map out a safe pathway to the tumor.
And the wonder that is modern medicine grows one more giant step.
When heated to a high enough temperature rice husk becomes an ash that is nearly pure silica, a component of concrete.
Ash from rice husks, while not completely neutralizing the pollution that comes from making cement, could reduce it. On top of that, this ash provides protection against corrosion and strengthens the concrete.
Management of many eye diseases involves the use of eye drops which are messy and deliver only a small amount of medication directly to the eye. Now comes news of a potential solution in a contact lens delivery system.
To make their lens, the researchers took a biodegradable polymer called PLGA and dissolved it in an organic solvent, and then they added their drug. As the solvent evaporated, they were left with drug mixed into a polymer film. Finally, they coated the film in a hydrogel called pHEMA, which is the same material that's used to make regular contact lenses.
Next step is animal testing and maybe one day into a human eye.
Biomedical engineering students found a way to embed the patient's own stem cells into suture used for surgical repair.
At the site of the injury, the stem cells are expected to reduce inflammation and release growth factor proteins that speed up the healing, enhancing the prospects for a full recovery and reducing the likelihood of re-injury.
One more step for humankind along the stem cell trail. Who knows what may be next?
Newborn babies may suffer conditions requiring surgery to allow their tissues to receive enough oxygen. Xenon gas is known to offer protection to tissues in low oxygen conditions but the gas is expensive. Now a new system allows the gas adminstration at low costs.
The new system, fitted to a conventional newborn ventilator, essentially recaptures the exhaled xenon so that the infant can re-breathe it. The system adds precise amounts of oxygen and other gases as needed.
Bonus Stories
Cooking with sound.
Why raindrops come in many sizes. (With video)
Biosensors for bacterial detection and identification on the horizon.
Tsunami risk for West Coast higher than expected.
When science discovers what seems to be obvious.
Personal submarines for one and all.
For even more science news:
General Science Collectors:
Eureka Science News
New Scientist
LiveScience
PhysOrg.com
Science Daily
Space Daily
BBC News Science and Environment
Scientific American
Blogs:
A Few Things Ill Considered Techie and Science News
Cantauri Dreams space exploration
Deep Sea News marine biology
Laelaps more vertebrate paleontology
List of Geoscience Blogs
ScienceBlogs
Space Review
Techonology Review
Tetrapod Zoologyvertebrate paleontology
Wired News
Science RSS Feed: Medworm
The Skeptics Guide to the Universe--a combination of hard science and debunking crap
Daily Kos regular series:
Daily Kos University, a regular series by plf515
This Week in Science by DarkSyde
This Week in Space by nellaselim
Overnight News Digest:Science Saturday by Neon Vincent.
The daily science story by vladislaw.
All diaries with the DK GreenRoots Tag.
NASA picture of the day. For more see the NASA website. These pictures are evidence of your tax dollars hard at work.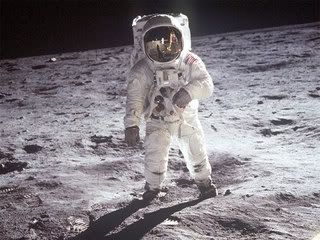 Buzz Aldrin on the moon, NASA, Public Domain
Quote of the Week:
A fact is a simple statement that everyone believes. It is innocent, unless found guilty. A hypothesis is a novel suggestion that no one wants to believe. It is guilty, until found effective.--Edward Teller
Peace.