The World Economic Forum (WEF) issued a report (pdf file) warning that in less than 20 years the world may face a water bankruptcy of fresh water shortages
so huge and pervasive that "global food production could crater" as the world could "lose the equivalent of the entire grain production of the US and India combined." The report warns that half of our global population will be affected by water shortages, millions will die, and water wars will increase over shrinking supplies. The gravity of the water crisis is exacerbated by the interrelationship between water and economic growth, political stability, health, food, alternative energy, climate change, human rights and life itself.
The WEF report warns that our water bubble is as "unsustainable and fragile as that which precipitated the collapse in world financial markets" and may result in a water "bankruptcy in many places with no way of paying the debt back."
The problem is that water is a finite resource, yet government and management policies are based on the erroneous assumption that a renewable resource means the supply is inexhaustible. The reality is policy makers do not evaluate water sustainability within the confluence of population growth, increased irrigation for food, energy water needs, waste, mismanagement and pollution of water supplies.
Drought is often discussed in terms of rainfall amounts, but it is the hydrologic conditions (pdf file) in the context of intertwined external factors --- such as environmental mandates, development, population growth --- that create water shortages that may exist even in plentiful wet years.
Finite Water Supplies
Water is a finite resource of 1.4 million cubic kilometres of water circulating through the hydrological cycle.
Nearly all of this is salt water and most of the rest is frozen or under ground. Only one-hundredth of 1 percent of the world's water is readily available for human use.
The only renewable source of freshwater is rainfall which provides an annual global water supply of 40,000 to 50,000 cubic km, but annual global population increases of 85 million decrease the amount of water available per person.
The world today generally has the same quantity of water that was available when dinosaurs roamed our earth. One major difference is that we now have 6.7 billion people drinking from the freshwater supplies that were plentiful for the 300 million global population of Roman days. Peak water is not based on the loss of water molecules -- except for issues like groundwater usage outrunning natural recharge – but water sustainability.
Water Bubble
In the past 50 years, regional water "bubbles" that supported economic growth are now popping in parts of China, the Middle East, southwestern U.S. and India.
In California, water bubbles were created by allowing development or projects based on inflated and unrealistic paper water entitlements rather than real water supplies and without consideration of climate change impacts that decrease water availability.
The 80-year average for Delta water is 29 million acre-feet annually. The state and feds wrote contracts promising 130 million acre-feet: 4 1/2 times reality.

Other contracts bring total export contracts to an insane 245 million acre-feet, an ocean of paper water promised to people who gauged their farms, businesses or urban water consumption accordingly.
The insanity is illustrated by projects claiming sufficient water to qualify for permits based upon full contractual water entitlements from the State Water Project. However, the State Water Project was never fully constructed and so there is a large gap between water supplies promised in contracts and the quantity of water that can actually be delivered. In 2007, the California Supreme Court made it clear that paper water cannot be the source for development projects.
A similar type of false entitlements ultimately resulted in California declaring a statewide drought for the first time (pdf file) in 2008 due to prior lax regulatory oversight. Permits were obtained without compliance with endangered species laws that require leaving some water in the streams for critters. Thus, the permit holders were using water that should have been allocated to the critters. Years later, the courts corrected this "theft" of water, which now means there is less water available for agricultural and municipal users that have grown in reliance on the originally faulty allocations.
Signs of Water Crisis Today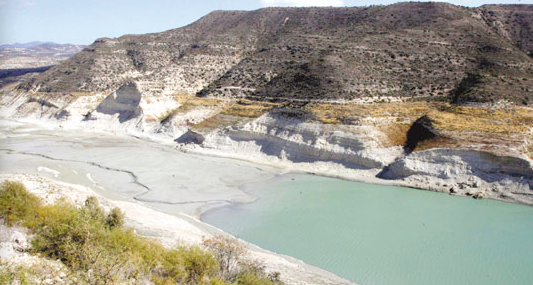 Today, some rivers no longer reach the sea, lakes have been reduced to a "fraction of their natural size" and aquifers are overdrafted. Seventy of the world's major rivers may soon be completely drained while even the Great Lakes are shrinkingand reservoir water levels dropping.
Within 3 years, at least 36 states will confront water shortages. In the past 2 years, 4 states denied power plant permits due to lack of sufficient water to run the plants, Atlanta faced running out of water within 90 days for which the Governor's remedy was a prayer vigil scheduled after rain was forecast, and a factory in South Carolina was shut down because not enough water to discharge its waste flow. Then, a community in Tennessee literally went dry and the Red Cross had to provide water, which many fear is the "canary in the coalmine."
Mismanagement of Water Resources
One problem is mismanagement based on taking water supplies for granted by using them as disposal sites for human, industrial and agricultural wastes. Inefficient practices also include using water without calculating the time it takes for the water to return to its source and thus be available again for reuse:
Consider that every time a toilet flushes in Los Angeles, as much as six gallons of water is sent to a waste-water treatment plant, and then dumped, unceremoniously, into the Pacific Ocean. True, it's subject to the hydrologic cycle, but that water may not be available for reuse for hundreds of years.
Instead of conserving water to reallocation for other uses, it is wasted: 70% of global freshwater withdrawals are used for agricultural production while traditional irrigation has a consumption rate of 50% and the remainder is wasted or evaporated. Leaks in municipal water distribution systems results in 30-40% of water wasted.
Food And Agriculture
A 2007 assessment (pdf file) on water management in agriculture by 700 leading scientists concluded that there will not be sufficient water to feed our increasing population over the next 50 years unless agricultural water use is improved. The assessment describes the channel of water needed to feed people worldwide:
Imagine a canal 10 metres deep, 100 metres wide and 7.1 million kilometres long (enough to go around the world 180 times). That is the amount of water it takes each year to produce food for today's 6.5 billion people.
Remedies may include some consideration of water footprints or the amount of water needed to produce food in order to balance trade.
Energy
Water and power are hooked together because energy production (oil, coal, natural gas, nuclear) consumes a significant amount of water as does concentrating solar power systems while wind power consumes little or no water.
The Department of Energy recognized that "energy production is very much at the mercy of water availability." In Uruguay, for example, cities had to make the choice between using water supplies for drinking or electricity.
The question is whether the focus on alternative energies to replace oil will target technologies with low water usage or simply replace a dependence on foreign oil with domestic water.
National Economic Security
Access to freshwater supplies is related to increased economic growth and conversely, limited water access has been linked to minimal growth. Today, water shortages are threatening economic growth in China, India, Indonesia, Australia and the western U.S. Drought has decreased Australia's GDP by 1% in prior years while the US agricultural industry lost $4 billion a year during a two–year drought.
Water Wars
The potential for wars is significant. Not even considering shared rivers or lakes, 145 countries with more than 90% of the global population share water basins. In the U.S., the water shortages may force reallocation of limited supplies between people and endangered species as well as cities versus farms. There is also the looming battle of state versus state. If actions are not taken to prevent these wars, then for some the unthinkable question may become which uses have greater social utility to warrant priority of our liquid gold?
Despite the growing recognition of water bankruptcy, the Kyoto Protocol does not directly address water issues, but many are working to remedy that defect in the Copenhagen talks at the end of this year.
Take one world already being exhausted by 6 billion people. Find the ingredients to feed another 2 billion people. Add demand for more food, more animal feed and more fuel. Use only the same amount of water the planet has had since creation. And don't forget to restore the environment that sustains us. Stir very carefully.