DoD Identifies Marine Casualties

The Department of Defense announced Friday the death of four Marines who were supporting Operation Enduring Freedom.

The following Marines died Aug. 6 while supporting combat operations in Farah province, Afghanistan:

Lance Cpl. James D. Argentine, 22, of Farmingdale, NY
Lance Cpl. Travis T. Babine, 20, of San Antonio, TX
Cpl. Christian A. Guzman Rivera, 21, of Homestead, FL
Sgt. Jay M. Hoskins, 24, of Paris, TX
Please join me below and spend a few minutes remembering these young men.
Lance Cpl. James D. Argentine, 22
Hundreds turned out for a mass held for Lance Cpl. James Argentine Sunday night at St. Anthony's chapel in Farmingdale, NY where the young Marine had attended high school. According to Newsday.com, Argentine started St. Anthony's on September 11, 2001. Nine of his peers lost parents in the Twin Towers, including two boys who became close friends. That day and the relationships he formed played a big part in his decision to join the Marine Corps, according to his former English teacher, Denise Creighton.
He graduated from St. Anthony's in 2005 and attended SUNY Oneonta for a year before joining the service.
Newsday.com reports that neighbors of the Farmingdale family remember "a boy who was close to his family and who made the most of every day." Friends described him as "the sweetest, most sincere kid you'd ever want to meet." As their only child, he was very close to his parents and appreciated the sacrifices they had made for him.
His friends recall someone who was "friends with everybody" and, while they were upset with his decision to join the Marines, he had his mind set.
Pigstye.net reports that Argentine joined the Marine Corps in October 2006 and was previously deployed to Iraq from January to August 2008.
Rest in peace, Lance Cpl. James Argentine.
Lance Cpl. Travis T. Babine, 20
From the Honolulu Advertiser:
About three weeks ago, Marine Lance Cpl. Travis T. Babine's heavily armored vehicle rolled over a pressure-detonated roadside bomb in southwestern Afghanistan. There were five Marines inside. The bomb blew off the rear wheel and axle with such force that it sent the parts flying 120 feet.

But Babine, 20, and the other Marines in the hulking Mine Resistant Ambush Protected vehicle were unhurt.
Last Thursday, Lance Cpl. Babine (along with Lance Cpl. Argentine and Sgt. Jay Hoskins) was killed when the thinner-skinned Humvee in which they were riding hit a roadside bomb in the Farah province of Afghanistan. It was Babine's first deployment to Afghanistan. The Advertiser reports Babine had told his father, Bill Badger, that roadside bombs "were a serious problem and it was one of the most difficult things to deal with."
Babine's mother originally wanted her son to go to college first and obtain a commission in the service, but he believed he would be a better officer by being an enlisted man first. In fact his family said he often took the most difficult route toward a goal. Babine joined the Marine Corps immediately out of high school and went to boot camp in January 2008.
Babine was a voracious reader and was into gaming and painting miniature models.
Rest in peace, Lance Cpl. Travis Babine
Sgt. Jay M. Hoskins, 24
Sgt. Jay Hoskins had already served a tour of duty in Iraq in 2004, where he fought in the Battle of Falleujuh and received a Navy Unit Commendation Medal for his efforts there. He had also served a tour of duty in Afghanistan in 2005.
During his first tour in Afghanistan, he spent seven months in Toro Boro area in that country's mountain region. The Paris (TX) News reports that Hoskins served as a member of a training cadre in infantry tactics for Marine officers from 2005-2008. He deployed for the second time to Afghanistan in May of this year.
Hoskins was a 2003 graduate off North Lamar High School in Paris and joined the Marine Corps in August 2003.
Sgt. Hoskins leaves wife Chandler McRae Hoskins, their one year old son, Tristen and a second child due in January 2010. According to family members, Hoskins knew he might not be around for his wife and children, but "he was willing to go anyway because he believed in what he was doing."
Rest in peace, Sgt. Jay Hoskins.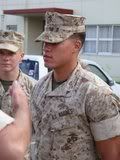 Cpl. Christian A. Guzman Rivera, 21
Velma Torres saw Marines at her door last Thursday afternoon and she immediately knew why they were there. Pigstye.net reports that "they told her they should go inside to talk and when she asked them if they had brought bad news, they said, 'Yes.'"
She said, "My heart is broken. I'm not going to have him anymore." Instead, she wears his hefty boot camp ring on a chain around her neck.
A 2006 graduate of Homestead Senior High, Rivera trained to be a firefighter for the Marines, though he never had an opportunity to fight any fires. He had just been promoted to Corporal a week ago and had arrived in Afghanistan in May 2009.
Mrs. Torres told the local television news station, "We are wondering when this (the war is gonna stop. It's eight years already and how many more -- How many more heroes do they need?"
Rivera's uncle, Cristobal Rivera, made a plea:
"To everybody out there--every time you see a serviceman, say thank you. Thank you for the service you've done."
Rest in peace, Cpl. Christian Guzman Rivera.
* * * * *
I Got the News Today (IGTNT) is a diary series intended to honor service members who have died as a result of the wars in Iraq and Afghanistan; its title is a reminder that almost every day a military family gets the terrible news about a loved one.

Click here to see the series, which was begun by i dunno, and which is maintained by Sandy on Signal, monkeybiz, noweasels, greenies, blue jersey mom, chacounne, twilight falling, joyful, roses, SisTwo, SpamNunn, a girl in MI, and JeNoCo.

Please bear in mind that these diaries are read by friends and family of the service members chronicled here. May all of our remembrances be full of compassion rather than politics.