Crossposted from Hillbilly Report.
I have been collecting baseball cards for some time now. After mowing a couple of yards on my day off, I ventured to downtown Paducah, Kentucky to an antique shop I buy cards and supplies from to buy some supplies I needed to protect some new cards for my collection. Much to my surprise when I was leaving the shop, I saw a CNN bus parked a block away. Curiosity led me to go and see just what CNN was doing in Paducah, Kentucky.
I soon found out that Ali Velshi was touring the heartland to find out what normal folks are saying about the healthcare bills in Congress. Of course, everyone knows about all the lunacy that has happened at Townhalls across America. Luckily, today those who support real healthcare reforms were at least partially represented.
Although I looked horrible and was still in my work clothes from mowing, much to my surprise Mr. Velshi actually decided to do a short interview with me about my take on healthcare in our country. Here I am talking to Mr. Velshi:
He asked me several questions about the subject. I told him that I actually believed in single-payer but that I thought we at least needed some kind of robust public option in any healthcare bill that is passed. I mentioned that I thought many people in my area were misinformed about the healthcare bill, and when I was asked why I let Mr. Velshi know that in my kneck of the woods we have very Conservative media, on television, radio, and in the newspapers. I explained that a lot of the problem is right-wing radio which dominates the area playing such personalities as Rush Limbaugh, Sean Hannity, and Glenn Beck all of whom simply are not going to tell the truth about anything doing with real reforms. Unfortunately here on the radio, their propoganda goes unchallenged.
I let him know that our media here does little more than spout Republican talking points. High-speed internet is expensive here and a lot of people still depend on traditional sources for their news. When asked I told Mr. Velshi that I got my information on the subject off the internet, where you can find more than one point of view and actually weigh the facts for yourself instead of depending on folks with an agenda they push off as news.
Luckily, the wingnuts must not have known that CNN was going to be in Paducah doing a story like this. They did not get a chance to organize their loons to be there shouting and making a scene. While there were some there who definately leaned to the right, there was also a strong contingent of folks that believed in real health reforms. My girlfriend, and several others that believe in the public option were there. Even Heather Ryan, our Congressional candidate in the last election was there with her children.
At the suggestion of Mike Watt, a freelance photographer that does some work for our blog, hillbillyreport.org Mr. Velshi decided to have a makeshift townhall so more of the people present could be heard. Since I had been granted a one on one interview, I stayed back and let others participate:
While there was a lively discussion and some there did not favor real reforms since the wingnuts did not know about it in advance we did not have any of the right-wing loons shouting over and disrupting everyone else. Heather Ryan, former Democratic Congressional candidate participated in the makeshift townhall along with my girlfriend and they both made excellent points against those of whom where there who did not favor real healthcare reforms.
Luckily, we too were able to get some video that we should have up at hillbillyreport tommorrow, and we were able to demonstrate that not all Americans in places such as Paducah are completely misinformed, and not all of them oppose attempts at reforming our broken healthcare system. Mr. Velshi seemed quite relieved that our forum did not turn into a huge shouting match and that everyone was able to have a civil discourse on the issue without it escalating into the madness we have all witnessed from other townhalls where wingnuts were able to mobilize their forces to stifle discussion.
I was informed that the footage CNN will use on this event should be on their network tommorrow. I was quite nervous because I had never given an interview that I knew may be broadcast all across America and indeed the world. I sincerely hope at least some of the footage of my interview makes CNN so that people realize that in some parts of red and rural America not all of us are completely misinformed and brainwashed on the need for real reforms in our healthcare system.
For their part, I will say that Mr. Velshi and the CNN crew sincerely wanted to report impartially and did their best to make sure that everyone who wanted to be heard got to be. Mr. Velshi was quite pleased that we were able to have a civil discussion without much of the lunacy that has dominated events such as these in other places. It remains to be seen what they will actually put on CNN about their trip to Paducah, but I would like to thank them for taking the time to talk to us nonetheless.
Here is a photo of most of the people who participated that wanted to be photographed: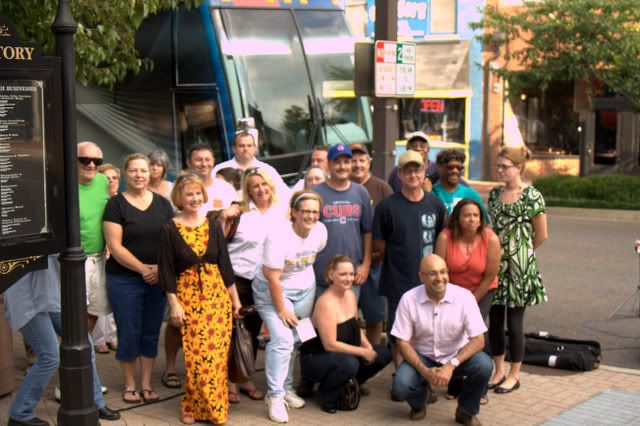 Here is a link to Mike Watt's photos of the visit by CNN:
http://s163.photobucket.com/...
And here is a link to the photos taken by the Hillbilly, Jim Pence:
http://s285.photobucket.com/...
Watch CNN tommorrow, and be sure to tune into
Hillbilly Report tommorrow for more coverage and our videos of CNN in Paducah, Kentucky to talk about healthcare reform.