That quote, courtesy of Thomas Paine in Rights of Man, quite accurately describes the manner by which the Bush tax cuts and accompanying economy rewarded labor by the respective income classes. The below chart reflects the change in Real Median Household Income from 2000-2007: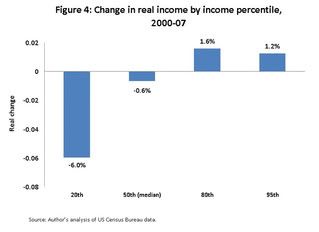 *Source: Economic Policy Institute
Now, the nation is being advised that the bottom has been reached regarding the current economic recession. Unemployment actually decreased from 9.5% to 9.4%. The rate of GDP decline was lower at (-)1.0% than it was the three previous quarters i.e. (-)2.7% Q3-08, (-)5.4% Q4-08 and (-)6.4% Q1-09. For the first time in nearly a year, the economic outlook is starting to brighten.
...unless you are a working-class wage earner...
Below is the recently-released chart of Non-farm Productivity and Unit Labor Costs: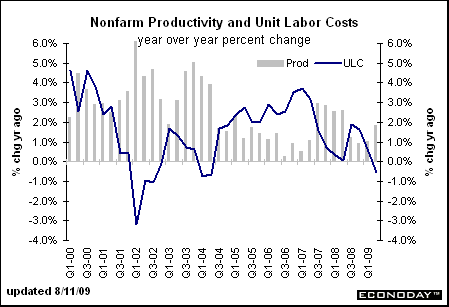 Given the fact that non-farm productivity rose by 6.4% annualized during the second quarter of 2009 and Unit labor costs dropped an annualized 5.8 percent, you would expect an increase in Real Disposable Income, right?
WRONG
The following chart paints the picture of precisely how wage earners are being rewarded for their increased productivity: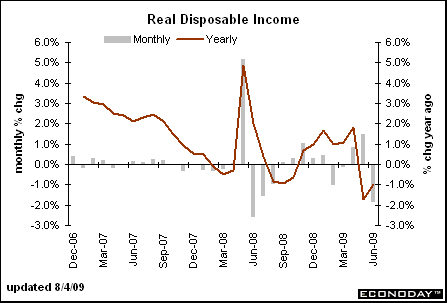 Now, it is remotely possible that employers may use the newfound fruits of their workers' labor to hire more workers - thus increasing aggregate business productivity to an even greater extent. It is also possible that those same employers will increase wage and benefit payouts for the workers who are responsible for the spike in profits.
Then again, this hope for "trickle-down" prosperity may spawn the same result it did when George W. Bush handed the wealthy nearly $2 trillion in tax cuts during his two terms: Increased wealth for the affluent, continued degradation for the working class and a continued devotion to widening the gap between the affluent and the working-class.
As for me? I will side with the great Thomas Paine, who wisely once asserted:
"If, to expose the fraud and imposition of monarchy . . . to promote universal peace, civilization, and commerce, and to break the chains of political superstition, and raise degraded man to his proper rank (emphasis mine); if these things be libellous . . . let the name of libeller be engraved on my tomb." -Thomas Paine, 1792