Courtesy of AZ Central:
A man, who decided not to give his name, was walking around the pro-health care reform rally at 3rd and Washington streets, with a pistol on his hip, and an AR-15 (a semi-automatic assault rifle) on a strap over his shoulder.

"Because I can do it," he said when asked why he was armed. "In Arizona, I still have some freedoms."

Two police officers were staying very close to the man.

"What he is doing is perfectly legal," Det. J. Oliver, of the Phoenix Police Department said. "We are here to keep the peace. If we need to intervene, we will intervene at that time."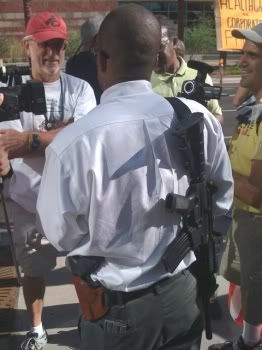 *** UPDATE: TPM has the story now too, and says
CNN now reports that there were two men carrying assault rifles, reportedly AR-15s, outside President Obama's event in Phoenix.