Welcome to Round Seven of the Atheist Digest series. (Note: see below for schedule changes.)
In this series we're going to explore philosophy, science, theology, psychology, epistemology, and a whole slew of other silly elitist things. We're going to challenge each other to think, we're going to inadvertently insult some people, and hopefully we'll end the day battered, bruised, confused, but just a little more thoughtful and tolerant than before.
Previous (and rather awesome) installments of this series:
XNeeOhCon's Series Intro
Semantics (Chicagoa)
Belief (Something the Dog Said)
Science, and Scientific Method (rfall)
Evolution (rfall)
Common Myths & Misconceptions about Atheists (SuperbowlXX)
I am not an atheist. I absolutely, 100% believe in God. As a former agnostic atheist (see Chicagoa's Semantics diary), this was a very difficult leap for me to make. I'm sure you can imagine, but there were lots of tears involved in the process.
I don't belong to any religious practice. I'm not a Christian (of any stripe), a Jew, a Muslim, a Hindu, a Mormon (which is kinda Christian, anyway) a Rosicrucian, a Jew for Jesus, a Scientologist, or any other organized religion you can throw my way. I certainly don't begrudge anyone who does practice religion, however, or (in contrast) considers him/herself an atheist - whatever trips your trigger. I do love to learn about and explore religions but, if anything, I think my holistic, Boulder-inspired spiritual views fall right in line with Buddhism.
Bud·dhism (bōō'dĭz'əm, bŏŏd'ĭz'-)
n.
The teaching of Buddha that life is permeated with suffering caused by desire, that suffering ceases when desire ceases, and that enlightenment obtained through right conduct, wisdom, and meditation releases one from desire, suffering, and rebirth.
I am of the mindset that Buddhism is more of a philosophy than a religion, though. There is no set of beliefs you need to have to be (or become) a Buddhist, but rather, a series of choices. Buddhism incorporates the idea of Higher Self (realization) and Lower Self (denial). There is no altar, no rules, no choir, no immortal book, no worshipping Buddha, nothing. The above link calls Buddhism "very pragmatic" which, I suppose, is the point.
How I came to believe in God is a long and personal story. I've diaried about it many times, so feel free to check my history. But the bottom line is this: about 5 years ago, I began to understand that I'm not really The Shit that I regularly think I am. My entire world fell apart, and I was left standing with the knowledge that Something (could be anything, really - could be a fucking interspace doorknob, for all I know) made us. All of us, all of this. The trees, the birds, the flowers, the dirt, the oceans, rainbows, snow, the Earth, the Universe, supernovas, you name it. I don't think that homosapiens just, like, appeared here without purpose.
I feel that there is Higher Purpose. I feel that there is Higher Power. But I freely and willingly admit that I have no idea what that Something is. Could be a woman, could be a man, could be a gigantic orgy with 50 people, could be a big green blob. I just call this presence "God", because everybody knows wtf I'm talking about when I say it. My feeling of God is not solely head, but entirely heart: I don't think it, I feel it.
A beautiful Colorado, blue sky morning. A baby's smile. My daughter's laugh. Wonderful life moments, that would somehow feel less to me without God in the equation.
Why do people choose organized religion and/or spirituality? Why do people have faith in something/someone(s) that they can't see? For a number of reasons that I can fathom, just off the top of my head. Understanding. Family history. Familiarity. Comfort. Community. Prestige. Respectibility. Death of a loved one. Illness. Other big life changes. "It was just what was expected of me."
The components of belief are complicated and, sometimes, twisted. But, in the end, I think all believers wish to define that which is undefinable. The one thing I seem to have in common with many other believers is that I wish to understand. I do not, however, wish to obey; in my mind, that is the primary difference between the religious and the spiritual. I think that a certain amount of gratitude and thankfulness to my Creator is all fine and good, but I guess I'm not really cut out for the reverence part.
I've heard this quote many times in the past, and I think it has at least a partial kernel of truth (not always, but sometimes):
Religion is for people who are afraid to go to Hell. Spirituality is for people who've already been there and don't want to go back.
I am down with science. I am down with proof and evidence and computer back-ups. But science simply cannot answer all of life's mysteries - it's just not possible. Life is much bigger and more complex than absolute answers that have perfect endings, just like 30-minute Brady Bunch reruns. Crop circles? Ghosts? Little green men? Black holes (a.k.a. "Shiz's love life")? ESP? Honest-to-goodness psychics? Glenn Beck?
All of these things are enigmas. All of these things are mysteries. Even if you wanted to, you could spend your entire life trying to cohesively puzzle the pieces together and coming away with nada, or very little.
Sometimes, there just aren't any answers.
People generally use faith as a salve. Life is messy and scary and completely undomesticated. I mean, fuck, the world has Republicans in it! Republicans, fer chrissakes! What the hell, ya know? How do you explain Sarah Palin? What, you got some scientific evidence to present to me to figure that shit out? I highly doubt it.
I am very naive, in many ways. I very much want to see the best in people and I often do, to my own detriment. I'm not only an eternal optimist, but a total romantic to boot. Faith and belief are tangents that I not only keep close, but regularly employ: I talk to God all the time. We chill, we listen to techno, we dance, we sing, we write, we eat great food, we hug my daughter. This makes me happy, fulfilled, and satisfied. I feel "complete" with God in my life, for lack of a better phrase. My God doesn't judge you, doesn't harm you, doesn't want to cause you pain. My God laughs at many of the rules that organized religion has even made up. For the believers who are reading this, I recommend the Joshua book series for a full understanding. In this series, Joshua (Jesus) comes back in present day and essentially messes up organized religion's theories about what it should be, and who he can/should be.
The benefits of faith are surely numerous: positivity, compassion, happiness, perspective, intimacy, personal success, etc. And while I certainly don't doubt that atheists have achieved many of these things on their own, I submit that there should be some kind of Atheist Group (AG?) "religion", whose main service is to provide outreach to members going through tough times, and to help them through said times. Although, this does kind of take away from the Atheist Philosophy (AP?) which, seemingly, is thus:
Why don't y'all just let us handle this our own selves? We like our science and we can believe whatever we choose. Not all of us need community, ya know.
And that's entirely true, I know. Not everyone does. But I do. I need understanding and guidance. I need help. I need belief. I need faith.
I need Maslow's hierarchy of needs.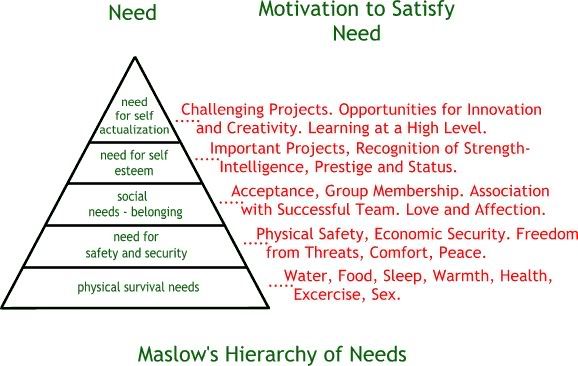 For most of my adult life, I have spent much of my time on Rung One of that ladder. I want to make it higher. I want to be a better person, as well as a person who needs less than I normally do. Abraham Maslow was a brilliant man.
My way to get there? Faith and spirituality. Others have different ways, but faith and spirituality are mine. I tend to take the Margaret Cho approach to religion (even though I'm not a Christian), which she perfectly summed up in a blog post she wrote last year entitled "I'm a Christian, you Fuckers". Apparently, she has the same exact problem with Sarah Palin (and her supporters) that I do. Heh:
Don't fucking question my Christianity you fucking idiot assholes. If you continue to have a problem, then talk to God about it, not me, you fucking racist homophobic misogynist fake Christian shitheads. God thinks it is funny that I swear so much. He said I could use his name in vain or whatever. He just wants me to use it. He loves me. So fuck you. And I guess he loves you too. Even though you are fake Christian assholes. If you were truly Christians, you would let gays get married, and send them fucking presents from Bed Bath and Beyond!

If you truly believed in Jesus, you would try to be like him and love us, fags and dykes and feminists all. God bless you, even you. You fucking fuckers.
Word, Ms. Cho. Word.
-----
Thanks to all who have participated in this diary series thus far! You guys rock! (For the most part, both diarists and commenters have been respectful and forthcoming.) A note regarding future diaries:
Sunday August 23rd - Topic 8 - Growing up Atheist - (WarrenS)

WarrenS talks about growing up in a family of atheists (all right, grandparents on one side were churchgoers, but that's it). How did his parents (both scientists) teach morality and ethics? How did growing up atheist affect his relationships with religions and religious organizations? How did it affect his relationships with religious people? Now that he has a child of his own, how will he approach these questions? Expect lots of stories and thought-provoking digressions in this one.
Date TBD (Maybe August 27?) – Topic 9 – Creation, Cosmology, Deism, and the Space-Time Continuum. - (Chicagoa)

Chicagoa: This will be "a diary on cosmology - physics, logic, and theory - to explain to the haughty deists why we don't accept their First Cause or Kalam Cosmological arguments for the existence of a non-interventionist designer deity." This will possibly include a discussion of the philosophy of infinite/finite time and space, and explore the common misperceptions of Einstein's and Hawking's views of "God."
Date TBD - Conclusion: 'Why We Care So Much' - (XNeeOhCon, with input from all)

This one is pretty simple, but needs more attention. We need to make everyone see why we are so 'obsessed' with religion and what it really means to be Atheist in the United States. Within this section we will restate why we felt like participating in this series, and what we hoped to accomplish. We'll try to tie up as many loose ends as possible and we will get some brief concluding statements from any of those who participated that would like to submit them.