Oh, no! Dr. Tinycat is out of network, and pug-puppy's claim for x-rays and a cast on his broken leg has been denied.
That's how bad the health care crisis in this country has gotten: The lolcat community is being affected.
Even if you haven't gotten around to taking action for health care reform yet, how can you deny these poor sad puppy eyes? And what's next? Will Snowball become a victim of rescission for not disclosing that her groomer found a hair mat once?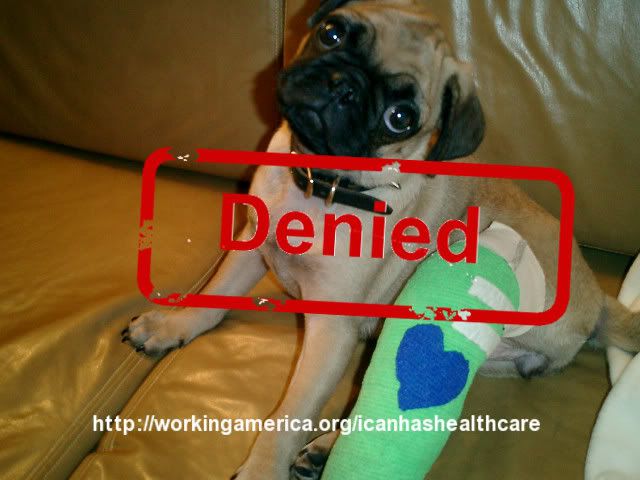 Most of you here have already written an email, made a call, made sure your representatives in Washington are in no doubt where you stand on health care. But maybe you have a friend or family member who isn't as much of an activist. Please make sure they know that private insurers—not the government—are the main threat to their ability to make an appointment with Dr. Tinycat.
In all seriousness, Working America is out in the field every day. As I diaried last week, we're in 12 states and have talked about health care reform with 30,000 people in two months. We don't just talk to supporters, either. We talk to everyone – which is why it's so remarkable that 2 out of 3 people we talk to write personal letters to their senators and representatives urging them to vote for health care reform with a public option. And unlike most of the screaming teabaggers disrupting town hall meetings, our letter-writers actually live in the districts of the representatives they're contacting.
But, you know, sometimes you just have to take the health care system fail and put it in a picture. And you can see exactly the kind of fail we're talking about here.