UPDATE 3 -- This one is important so I'll put it up front: A lot of people are commenting that we we need more of these events and that it's hard to know when and where rallies and townhalls are happening. A few of us have started writing rally roundup diaries every day, but they haven't been getting much attention. If you'd like to help with these efforts, or just be notified of diaries we're posting, join the netroots for healthcare group.


What an AWESOME rally in Times Square today!
Most of us first met up with others in our communities to walk together to Times Square.
My group joined some other groups at St. Vincent's hospital in downtown Manhattan. The weather wasn't great, but a few people made the best of it.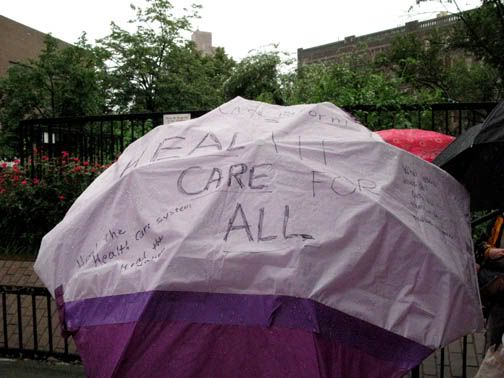 As of this morning, we had about 85 signups for our walk; 130 people showed up. We took that as a good sign.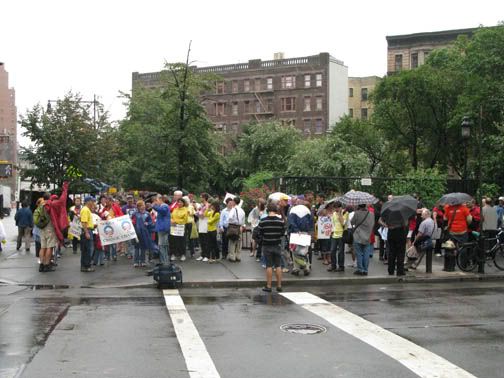 We learned last night that the Bill Moyers Show would be walking with us. Here they are interviewing one of the volunteers.



At 12:30, we headed to Times Square.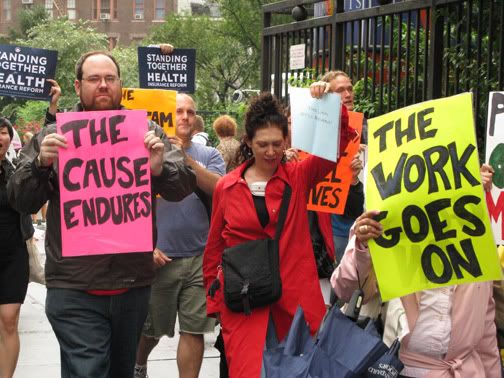 Our group was the first to arrive at the rally site.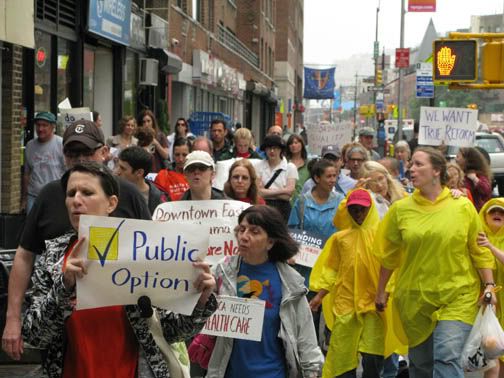 But groups from all over the city arrived shortly after.



By 1:30, one area was completely full and the police opened a second in the next block.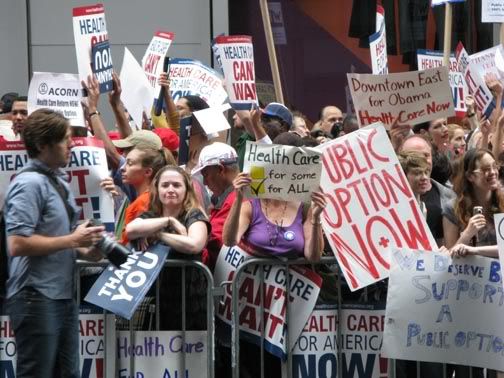 Creative New Yorkers made some fantastic signs.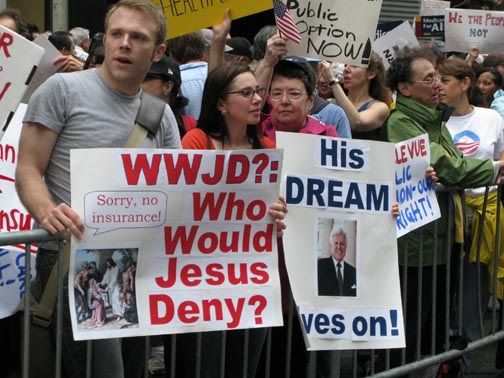 Including kossack mindoca (R), who get really inspired last night and created this beauty. She's here with javelina.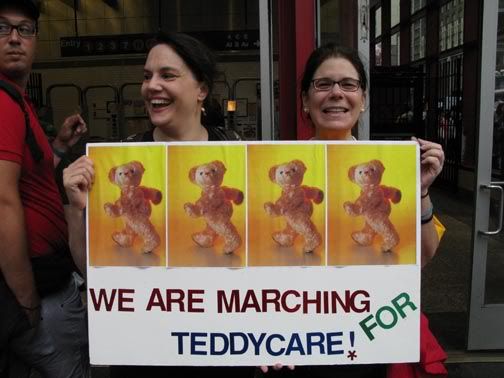 I also saw sidnora, brooklynweaver and skrp23. It was great running into so many kossacks.
And I ran into Baratunde -- I guess I was briefly on his streaming phone thing... I wasn't entirely sure what was going on, and thought he was taking our picture together. I am so not ready for prime time.
And I spotted Living Liberally's Justin Krebs in the crowd, but didn't get a chance to say "hi."



There seemed to be a lot of media interest in what we were doing.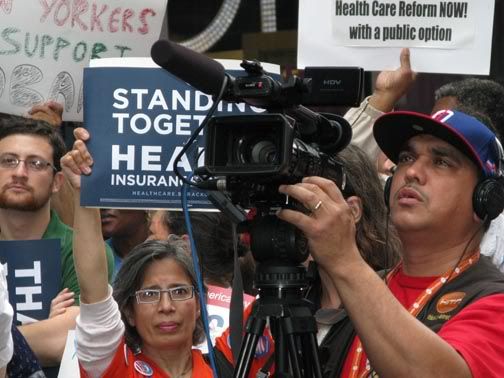 There were a lot of speakers, including Congresspeople Caroline Maloney, Jerry Nadler...



The best speakers were (not so surprisingly) the non-politicians. One of the highlights was Jonathan Arend, from the National Physicians' Alliance, who shared how hard it is to a doctor and not be able to give people the care they need because private insurance won't cover it.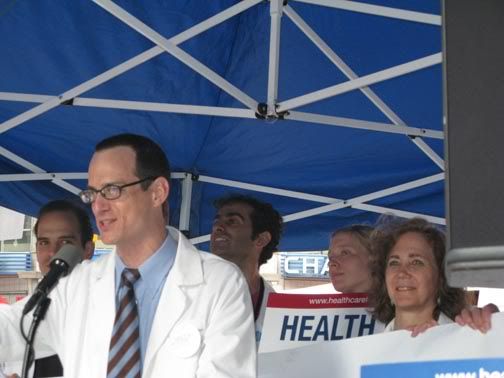 Perhaps most impactful was Jessica Silk, who recently finished grad school where she studied public health, but who hasn't had health insurance herself. She starts a new job soon which will provide coverage in two months. She said that in the meantime she would continue the plan she has, which is a "knock on wood" plan.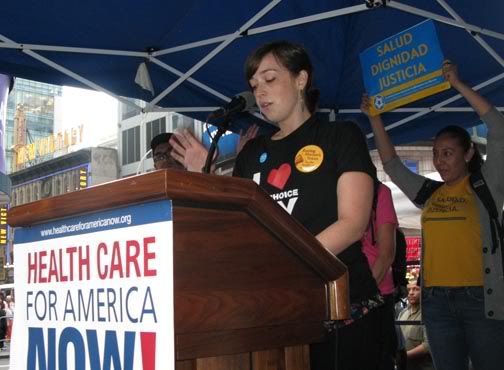 But the real heros of the day are the grassroots leaders who have been working tirelessly on this issue and put together this impressive rally. I hate to do shout-outs, because I'm sure I'll miss some of the main people, but here are photos of some people who deserve a big "thanks."
Here's Naomi (the one NOT in a white coat) who was one of the main organizers the rally.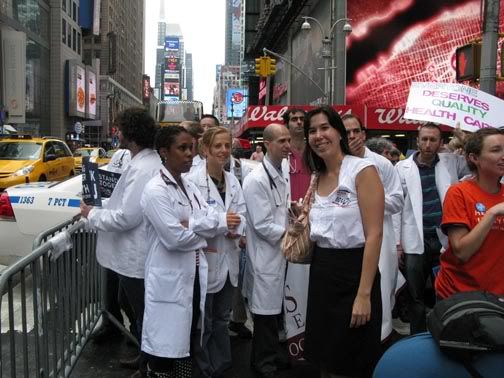 Amy was another main rally organizer. Both Naomi and Amy have been organizing all kinds of health care events over the past months. Amy is shown with Lamont, our emcee and the best "fired-upper" EVER.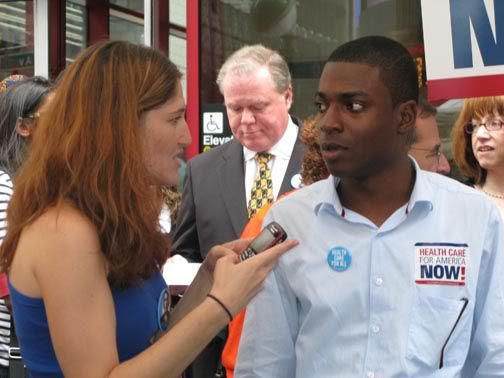 Nina is one of the main people behind NYC for Change and today's rally. With her are Lamont and Geoff Berman, a NY field director with Organizing for America. Thanks Geoff for all you did to make the rally a big success.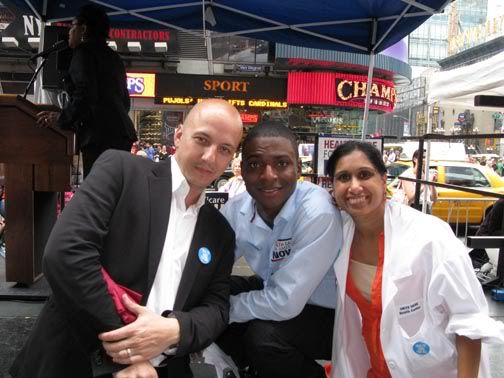 Tim Foley is a rock star of health care reform and organizing. If you haven't been reading his blog, you should. We are so lucky to have him working on this issue here in NY!
I've left off way too many key people, but that's the way it goes. Thank you to everyone involved: Anne, Alan, Allie, Mark, Ethan, etc., etc., etc. And thanks to all the group and community organizers who got their volunteers out on a rainy summer Saturday.
Today New York showed that we are ready to Get This Done!


UPDATE: I have to head out for dinner shortly, but will check comments when I get back. If this diary inspires you, check out all the townhalls, rallies and other events kath25 found yesterday. We're rounding up all the great health care events we can find every day. Find an event near you and GO!
UPDATE 2: Someone in the comments mentioned that Anima has a great photo diary up of the Portland Oregon rally today. Go check it out. Also Bria posted a great diary with more photos from the Times Square rally.