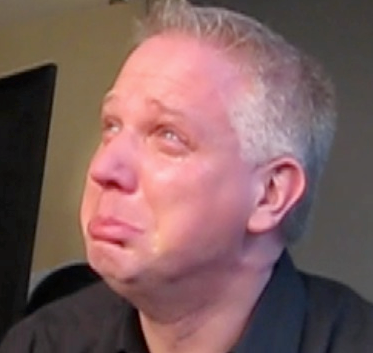 Obama and Democrats need to wake up. The GOP mob rule thuggery machine, led by the likes of crybabies Beck and Limbaugh, does not care about the validity of their outrageous, racist claims that are simply the means to political ends. GOP lawmakers have done their best to validate the Beckist lies, fully knowing they are lies but refusing to back down until someone, like Mike Stark, or some reporter paint them into a corner. What the birthers, deathers, teabaggers, right-wing extremists are doing is tossing as much mud at Democrats, Obama and our policy initiatives as they can in order to draw the big picture of negative perceptions associated with Democratic policies and Democrats so they can win the midterms. Beckism is not about even winning a round, whether it is Van Jones, health care or climate change. Actually winning is gravy for Beckism's goal is GOP midterm success. This is the same "angry white man" strategy used against Clinton and it yielded one of the two times that the GOP creamed the Democrats in the midterms over the past 6 decades.
During the past 60 years, the GOP had "huge gains in the congressional midterms" only twice. It is not coincidence that one of the "strategies" used to achieve election success is the same as this putrid mud tossing fest now used against Obama. In GOP Welcomes Return Of The Angry White Male, Ron Elving described the GOP surge in 1994:
The Republican charge in 1994 added 52 seats net in the House and a dozen in the Senate. It was led by Southerners such as Newt Gingrich of Georgia, Dick Armey and Tom DeLay of Texas and Trent Lott of Mississippi. A longstanding dam of Democratic sentiment had given way in Dixie.

On a single day in November 1994,the GOP won its first majority of Southern governorships, Senate seats and House seats since Reconstruction. It has held those majorities since.
The fire that fed the GOP resurgence in 1994 was a "deep-seated animosity against" President Clinton. The birthers, deathers and teabaggers don't even try to hide their racist hostility and anger against President Obama.
One tactic used in 1994 was to make the first couple years of Clinton's presidency a "rocky affair" by conservatives openly challenging "his right to be president." The dittoheads and Beckists have made the same challenges with Obama, both expressly via their unfounded birther claims and implicitly, with their slander and libel that he is a socialist, fascist, communist and thus not qualified to be president of a democracy.
Does this sound familiar? The primary tool used by the nuts against Clinton was rumor and speculation of anyone and anything:
Rumors linked Clinton to various marital infidelities and more. He was not just a draft dodger but a Soviet collaborator, not just related to a cocaine dealer (his brother Roger) but linked to the traffic of the drug -- and a murder suspect as well. Even without today's World Wide Web, these tall tales were widely told and often believed -- undermining Clinton's legitimacy years before his impeachment by Republicans in the House.
In under a year, the manufactured bullshit about Obama has been even more despicable than that used against Clinton:
* Rev. Wright * Obama's a secret Muslim * Obama pals around with terrorists * Obama wasn't born here * Obama wants to kill grandma * Obama is a socialist * Obama is a Nazi/Hitler * Obama is a facist * Obama wants to suck your childrens' brains dry
There is an insidious method to the right-wing madness.
First, the allegations against Obama are based on political faith that preemptively nukes the typical Democratic response of stating the facts to debunk the lies. The problem is that logic, reality, truth and facts do not matter. The right-wing nuts spewing these lies have faith in the memes much like some people have faith in religious doctrine. After all, faith means a "firm belief in something for which there is no proof." Thus, there is nothing that Obama or we can say to change the minds of the Beck adherents, whether they are civilians or lawmakers. Think about this. How can Obama negotiate in a bipartisan manner when facts are irrelevant to some GOP lawmakers either because they believe the claims made or don't want to tangle with a conservative base needed to maintain their power?
Second, Beck and his nut followers do not care about winning an individual battle. Take the case of Van Jones. It is irrelevant to Beck if Van Jones resigned or not. What matters is that more mud has been tossed at Obama and the Democrats. It is the collective pile of mud that accumulates over Obama's first term that will create a "perception" that he is not fit to be president that will be used to win the midterms. The fact that Van Jones resigned is gravy that will reinforce and fuel the perception and assumption that the nuts actually had presented valid reasons that forced Jones to resign.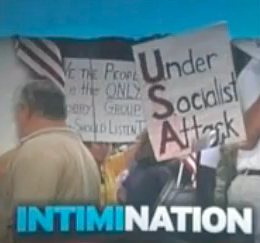 Third, Democrats need to stop viewing the attacks, speculations, conspiracy theories and rumors in isolation as individual events and look at the cumulative picture and interrelationship of the lying memes. Beck and his stupid, mindless followers knew beforehand that papa and son Bush both talked to school children about issues that fall within the umbrella of policy. They also knew that the meme that Obama was not fit or safe to talk with school children would take hold because many now believe a prior lying meme that Obama is a socialist determined to "indoctrinate America's children to his socialist agenda."
91% of the GOP conservative base believe Obama is a socialist, Marxist, Communist or Fascist. Online polls from Newsmax andU.S. News and World Report show 85% believe Obama is a socialist or that he has socialist policies, respectively.
It is not just the base:
The poll results come amidst official efforts by the Republican National Committee to label Democrats as the "Democrat Socialist Party."
How can the GOP lawmakers practice bi-partisanship or agree to compromises if they seek to win the next election with votes from their nutty base? Some GOP lawmakers have been duplicitous in the Beckism crap, refusing to clearly set the record straight on any of the speculations and rumors when asked because they know they need their base to win next time, and their cowardly duplicity provides more "evidence" that the lies are true. The beauty for Beck is that the very need for the megamedia to ask if Obama is a socialist, Muslim, US citizen etc creates the doubt that Beck and his progeny will milk as "evidence" in the perception game.
Fourth, Democrats need to respond based on our values rather than focus primarily on defending the substantive issue raised by the nuts. Remember, the Beckists don't care about the "issue" that they raise other than as a means to a desired end goal of destroying Obama as a credible, effective President.
For example, when Meteor Blades posted the announcement that Van Jones had resigned, some Kossacks responded along the lines of how can we defend Van Jones when his truther beliefs violated the rules of Daily Kos? The answer is that we defend Van Jones because he is a Democrat who did not violate any laws. Daily Kos rules about truther bannings does not regulate the real world where people have a constitutional right to free speech. We defend Van Jones because the attacks against him were part of the right-wing machine to win in the midterms and this site is about electing more and better Democrats.
The GOP mudfest, both the intimidation and mob rule thuggery at town hall meetings and the attacks against Obama, his team, and his policies are designed to be bullet proof against defenses because the lies are contrary to the facts, which are not relevant to people acting on political faith, or the lies would require Obama to prove a negative, such as that he is not a socialist, he is not a communist, he is not a fascist.
Instead of caving to the GOP nuts, we need to stick to our guns on principles supported not just by Democrats but also most Americans. Forget precompromise, forget bipartisanship. Even Obama recognized this fact that we should stick to our core principles:
Our goal should be to stick to our guns on those core values that make this country great, show a spirit of flexibility and sustained attention that can achieve those goals, and try to create the sort of serious, adult, consensus around our problems that can admit Democrats, Republicans and Independents of good will.
These nuts, and their GOP Congressional enablers, don't have "good will," so screw them and move on.
In fact, Obama stated during the campaign that he has a set of core principles and if any politician, Democrat or Republican, opposed those principles, then Obama promised to "go after them with everything that I've got."
Well, President Obama, if there was any doubt before, the Beckism record is clear now. Please heed Bill Moyer's advice:
No more Mr. Nice Guy, Mr. President. We need a fighter.