Also at The Albany Project
The Tea Party Express national anti-Obama bus tour stopped in Albany yesterday, and attracted about 600 Obama-haters to the east steps of the Capitol.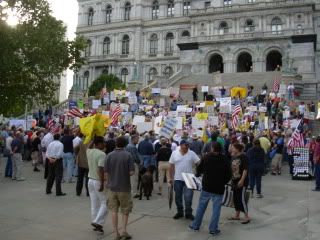 This media/organizing event, extensively promoted on Fox News and talk radio, is bankrolled by the California conservative Republican group Our Country Deserves Better PAC, and features unemployed radio talk show host Mark Williams, "Marine Mom" Deb Johns, "union-thug victim" Ken Gladney, and a handful of D-list entertainers.
A former talk show guy in the market, Williams chose Albany so he could continue Our Country Deserves Better's jihad against Congressman Scott Murphy (NY-20), but Murphy went unmentioned, as the program was mostly about hating on our President and the Democratic Congress.
Details, and more pix, below.
This is the second Our Country Deserves Better cross-country bus tour in 10 months. The first, the Stop Obama Tour last October, was obviously a FAIL.
But back then, the Paul/Beck micro-minority had not come up with the "tea party" gimmick.
Now that they have, and turned out newsworthy crowds with substantial support from Fox News and local and national talk radio, we should know what they're up to.
In four words, no good for Democrats.
First of all, the signs at yesterday's event were a lot more free with commie and other slurs: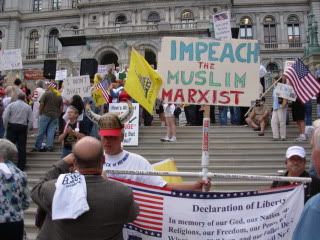 And, of course, there's always some guy who's confused about where his Medicare comes from: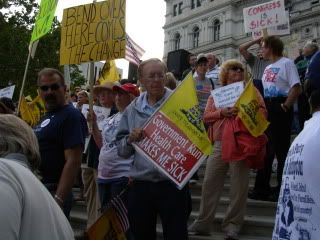 In his rabble-rousing speech, Williams got right down to the Democrats-are-traitors meme:
Why are we doing this?

We're doing this because the United States and our system are under attack from within.

snip

Give liberty or give me death did not mean give me death panels.

Or the general welfare does not mean welfare for General Motors.

snip

We're the adults. We need to grab the reins of our representative democracy and take it back, it's that simple.

snip

We're just the warm-up show for 2010. There are gonna be some changes in Washington.

I was disappointed that Jim Tedisco (Murphy's opponent in the March special election for NY-20) didn't make it into the Congressional seat. I worked hard on his behalf from long distance, but it just wasn't meant to be.

But there are going to be some serious changes in Washington, and you're going to be on the cutting edge of it.

snip

Out west, I've picked up some of the NRA phraseology, and this one's perfectly appropriate -- They can have my country when they pry it from my cold, dead fingers.
Williams tried to localize his set speech to appeal to what our local government-haters wanted to hear, and made a mistake, or lied.
Williams said that State Senate Democratic leader Malcolm Smith had done the locally infamous "show me the money" video bit while arguing in favor of a legislative pay raise. And Williams said he had heard it himself, on the radio.
Smith did not say that. Freshman Sen. Eric Adams did.
And Williams said he was "brutal" to the Bush administration's TARP plan on the radio here, though he had been fired before that happened.
Johns talked about the evils of an Obama-led government:
Our government is out of control. It's time to end the bailouts, reduce the size of intrusive government, stop the out-of-control spending, stop raising our taxes, and by God, no government-run health care.

You know what, the congressman last night who called Obama a liar on the House floor, he got that right.

For whatever reason he felt the need to back down today, I don't know why, but you know what, I'm not gonna back down from it, because he did lie last night.

When is he going to understand, the Constitution begins with "We, the people," not "We, "Barack Obama."

snip

It is up to you to change the direction this country is going in, which is socialism, and to stop it.
Gladney played his "union-thug victim" role to the hilt, recounting in gruesome detail an "assault" that was not visible on a YouTube video of the confrontation, and getting a big cheer when he said that the alleged assailants will be prosecuted for committing a hate crime.
Several searches of the St. Louis Post-Dispatch site did not turn up any indication that this is no more than a minor he-said/he-said misdemeanor assault case, with a video that will presumably make a conviction even for that impossible.
There was more -- anti-Obama songs like "USSA", a recognition of veterans, several pleas for donations, lots of flags, buttons and T-shirts for sale, and the Pledge of Allegiance, with "under God" shouted out.
Though the crowd was relatively small (the April 15 event had several thousand), it was boisterous and obviously energized. Sure, they're deluded by anti-Obama lies repeated over and over, and have a blind hatred of government.
But they will be more active in the 2010 elections, and will presumably have some effect in marginal House districts like NY-20.
Which means that we will have to work harder than ever next year.