This is my first time hosting TGR.
Before I post the standard grieving room intro. let me just say quickly that I hope I can make this diary more about a celebration of an amazing life, focusing on all the love, joy, and yes, miracles that my Angel dog brought into this world rather than the sadness of his loss.
I want this to be a small tribute to a true Angel on earth.
Now, trying to describe an Angel is a tall order. I feel like nothing I could write would be good enough.
But I do hope that I can manage to at least give you an idea of why he was so special not just to me but to so many other people too. And why I really wanted to write this tribute (though it's taken me a year to get up the courage to attempt it).
He was a therapy dog, activist, life-saver - just an all-around Angel.
First, our welcome message:
A special welcome to anyone who is new to The Grieving Room. We meet every Monday evening. Whether your loss is recent or many years ago, whether you have lost a person or a pet, or even if the person you are "mourning" is still alive ("pre-grief" can be a very lonely and confusing time) you can come to this diary and process your grieving in whatever way works for you. Share whatever you need to share. We can't solve each other's problems, but we can be a sounding board and a place of connection.
The Grieving Room. (link to all past grieving room diaries.)
_____________________________________________________________________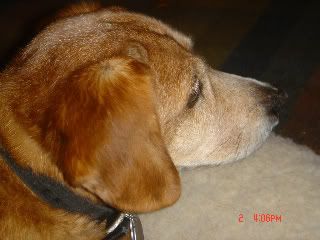 NOTE: I want the main focus of this diary to be about my dog, not me, but there are a few details that I'll have to share about myself in order for me to express just how much of a miracle dog my Angelino was.
_______________________________________________________________________
Part 1: AN ANGEL APPEARS
So here goes...It was July 4, 2001. The dot com bubble was bursting. Jobs were going left and right in my field that I had worked so hard to make a name for myself in. And I had a feeling that that was only the tip of the iceberg. Something in my gut told me it was time for a change so I decided to move from NYC back to Texas.
I flew down first to interview for a job and look for an apartment. Some old college friends invited me to their July 4th party- and that's when the first miracle happened.
As I was helping my friend's wife prepare for the party I opened up to her about how much working in Wall St. had changed me (I had been workiing in the World Trade Center, actually).
I became a workoholic. Life was so empty. Now matter how hard you worked or how well you did it was always just about making that next sale.
I looked down at her dogs and tears started to form in my eyes. I had always grown up with a LOT of dogs (my parents rescue them). I told her right then and there that the first thing I wanted to do was get a dog.
But then I said this:
My new apartment here has a 25 lb. weight limit. I've always grown up with BIG dogs. I don't like small, yappy dogs. Where am I going to find a dog under 25 lbs. that I like?
Later on...The party starts coming to an end. Most of the guests have left. But there seems to be this one guest who doesn't want to leave- my Angel.
Who is he? Where did he come from?
Nobody knows. We sat there looking at this little red-haired dachshund who just crashed the party and looked like he was planning on staying for good.
Whoever he was, he was absolutely adorable. He DIDN'T BARK. EVER. And guess what? He weighed 22 lbs!
My friend said:
NYNY, I think you've found you're dog. Or better yet, he found you!
__________________________________________________________________
Part 2- THE HEALER
And thank God he did find me. My Angel (appropriately named Angelino) couldn't have come at a better time. I moved down to Texas the following month (August 2001) and we all know what happened a few weeks after that in NYC.
If I thought things were bad before I hadn't seen nothin' yet. My whole world went into a tailspin. Now, I have bipolar disorder so when things get really bad that can trigger a bad episode of depression. And that's exactly what happened.
That's when I first really discovered my Angelino was a natural healer. He would notice right away when things weren't right with me and help get me back on track. You might be asking how could a DOG possibly do that?
Well- let me give you a few examples:
* If I didn't eat, he wouldn't. Plain and simple. (THIS from a dog who thought of food and nothing BUT food!) Sometimes I could go for days without eating and then I realized that he was doing the same thing. At first I thought he was sick or something was wrong. Then I realized that as soon as I took a bite of food he'd eat. So in his own way, he forced me to eat.
* When I couldn't sleep he'd come lay on top of my chest. Sometimes my heart would be pounding so fast- like a panic attack. I could feel his little heartbeat on mine and slowly mine would start slowing down to match his. He'd calm me (better than any pill I might add!) enough until I could fall asleep with him in my arms. I'd wake up with him still there in the same spot. HE WOULDN'T BUDGE.
* So many times during this tough period I got so depresed that all I thought of was killing myself but he kept me going.
He truly saved my life, more than once.
I just couldn't leave him.
_
____________________________________________________________________
Part 3: ANGELINO GETS A JOB!
I ended up getting stabalized again and getting a job as a social worker. 9/11 had changed everything-not just job-wise but in other ways too. I wanted to go back to roots and help people again. And I now had the perfect sidekick!
Lino (as I called him for short) starting coming to work with me everyday working with the severly mentally ill and the disabled. This was when his true magic came to light.
He had a knack for knowing as soon as we entered the room who was having a bad day. He would go immediately to them.
NOTHING, AND I MEAN NOTHING, DETERRED HIM.
One of my clients who was schizophrenic would go through bouts of hitting himself- hard! No counseling, no drugs could stop the voice in his head that told him to beat himself up...but Lino could!
Lino jumped on the couch and sat right on his lap as the client was punching the hell out of his leg- mere inches from Lino's head! Yet Lino didn't flinch. Not one bit. He laid there calmly. Until finally the client had to take notice. Eventually, curious, he starting petting Lino. Then he realized that he liked petting him and kept it up. Next thing you know he had completely forgotten he was supposed to be hitting himself and was quitely watching tv just petting Lino on the back with a smile.
Lino performed this kind of magic every single day at work.
I could tell you dozens of stories of how he baffled even veteran doctors and social workers who saw him do his thing.
______________________________________________________________________
Part 4: ANGELINO BECOMES AN ACTIVIST!
Lino did so many other things like working with Autistic adults, visiting nursing homes, etc. He accomplished more in his short life than many people do in their whole lifetime.
But in addition to becoming a full-out therapy dog he also became an activist. We would set up booths outside of supermarkets to raise awareness about mental illnesses and fights for related causes, resources available, and of course- to fundraise to support them.
Lino was a rockstar activist!! He LOVED people. Loved them.
Meeting new people was his favorite thing to do. And he had this certain charm, this magnetism about him that drew people to him.
As a result, people would come right over to our table and we were one of the top fundraisers for a mental illness charity. He then joined us on our march and everyone said
If Lino's going, I'll go.
Lino was even spotlighted on the front page of the Charity's next newsletter!
____________________________________________________________________
Now maybe you can see why it took me more than a year to write this. He touched and inspired so many people in his life.
If EVER there was an Angel on earth it was my baby Angelino.
Angelino ???- April 26, 2008
RIP