Note: I originally wrote this over a month ago. I've been away for a bit and had decided not to post it. I changed my mind because I promised someone that I would do it, and recent events reminded me of it, at which point I got pissed off all over again. So I'm going to go ahead and vent. - I.T.
I get asked a lot about certain brothers and sisters getting face time on the TV these days; they've been getting put out front and center since the election. There's some confusion about WHY these folks are saying what they are saying. Let me go ahead and clear that up.
And yes, the question is rhetorical - because either way the result is the same.
Let's take it to the bridge...
This isn't as difficult as it might seem at first glance. You see, there is one very important concept that you have to keep in mind when dealing with these folks. It'll become apparent in just a second.
Let's take, for example, Chris Broussard, the AR-15-carryin' tool in AZ (although in honesty, he's not as prominently displayed as he once was):
Or ever-present cable teevee overseer wannabe Ron Christie:
Or good ol' "Why women got to worry their heads over pay equality?" Michelle Bernard:
And we cannot forget "What racist cartoon?" Amy Holmes: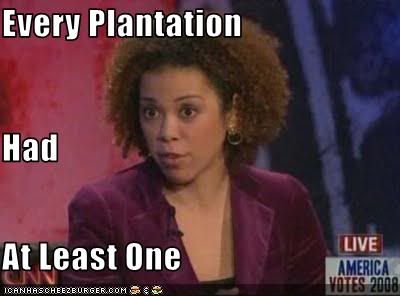 You see, there have ALWAYS been those among us with a vested interest (or in some cases, the DELUSION of a vested interest) in the status quo. For some, it's money; for some, power (or PERCEIVED power). Either way, their INTENT is irrelevant; their RESULTS are catastrophic.
For example: RNC Chair Michael Steele stated his intent was to transform the Republican party. His stated methods for doing that, however, left a little bit to be desired. So remember:
There's others that could be mentioned here, but you get the point.
Now there are going to be some upset people over this one, "airing dirty laundry" and all that. Let me put them on blast real quick: every single one of the people mentioned above (except Broussard) are all over the idiot box - I couldn't possibly air them out any more than Fox, Time Warner, and GE have. I'm simply telling you what they won't.