The name Elon Musk may not be familiar to many of you, but the company that he help found and later sold to Ebay, Paypal, will definitely ring a bell. Elon Musk also founded Zip2 which he sold to Compaq in 1999. Born and raised in South Africa, Elon Musk left that country in 1988 at the age of 17 for Canada against his parents wishes. He refused to accept the compulsory service requirement into a military that was still actively suppressing blacks and the civil rights in the apartheid era of South Africa. After his successful ventures on the Internet, Elon Musk turned to another of his main interest: space. He founded the company Space Exploration Technologies (Space X) in 2002 and began developing a new rocket concept from scratch called the Falcon. Just this last December, Space X was awarded a Commercial Orbital Tranportation Services (COTS) contract worth $1.6 billion dollars for 12 resupply flights to the International Space Station (ISS). Below the fold is a photo diary of the construction for the prototype of Falcon 9 rocket along with the launch infrastructure. As you look at the photos please think about all the highly technical jobs and skilled labor that went into building this system. All photos are courtesy of Space X and can be found at their website.
Note: A large number of photos are displayed so be warned about byte intensive.
Someone said a single picture is worth a thousand words. These photos below will hopefully convey more than just words. The caption for these picture are above each photo. Here is a beautiful picture of the Falcon 9 sitting on Launch Pad 40 at Cape Canaveral:

And this is not an actual launch, the F9 was raised as part of a pathfinder test to check out the newly assembled launch infrastructure at the launch pad. The another step in the process to launch this latest prototype. The Falcon series are the first and newest rocket system to be developed in the 21st century.
The process started with Elon Musk founding the company in 2002 and hiring a number of rocket engineers who decided to build all the systems of the rockets virtually from scratch with latest technology in order to guarantee the reliability of the system to its customers. As you look at these photos take a look at the background of the facility as well to get a sense of the scale of this operation. Here is the Merlin engine developed by Space X at its plant in Hawthorne, CA:
You can see just how complex is the Merlin rocket engine. They performed static fire tests on it at a test facility in MacGregor, TX. After several initial failures, Space X performed a successful flight of this engine on the Falcon 1 rocket at the Kwajalein Atoll near Malaysia.
For the Falcon 9 first stage, nine of these Merlin engines are rigged together as seen in below photo:

Below are some photos of the tank manufacturing and assembly for the 1st and 2nd stage much of which was welded together by a friction stir welding (FSW) machine which uses no flame, spark, inert gases and produces no fumes:

Dome for 2nd stage fuel tank being put in FSW for assembly with tank cylinder:

Completed 2nd stage tank being mated with fairing to check fit:

The halves of the payload fairing where satellite, supply vehicle, or a crew vehicle will rest until spacecraft achieves orbit:

Interstage connector for 1st and 2nd stage:

Interstage being fitted to 2nd stage:

Engines skirt for 1st stage:

1st stage fuel tank:

Skirt being fitted to 1st stage inhouse:

Interstage being fitted to 1st stage inhouse:

Then, there is the launch infrastructure which erects and hold the Falcon 9 rocket in place. All of which was built and fitted inhouse at the Hawthorne facility: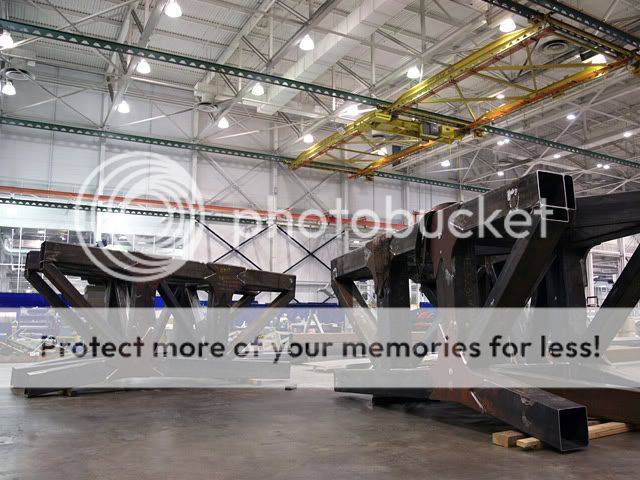 The launch infrastructure is then loaded on to special truck transport and shipped to Cape Canaveral, FL to be assembled on Launch Pad 40:

Eventually, the rocket components are wrapped and shipped to Florida as well. The rocket engine platform was already shipped to MacGregor, TX where it underwent successful static testing.

Meanwhile, the launch system trusses have arrived at the Cape and are assembled.

The launch mount upon which the Falcon 9 will rest:

Launch mount structure is bolted into place in its concrete pad:

In these pictures the erector for the rocket is being built:

The enigine platform of 9 Merlin engines arrive from Texas where they underwent a successful test in November:

1st stage fuel tank being lifted by crane from its supports onto a rail dolly for rocket assembly. The rocket assembly occurred outside for this test. A new processing facility will be built close to the launch pad to house the rocket assembly line.

The completed Falcon 9 rocket rail tracks:

Elon Musk standing by Falcon 9 at Pad 40 just before rocket is erected:

The erected rocket on the launch pad:

Falcon 9 at night on Pad 40:

In less than 7 years, Space X has grown from a company of just a few people to over 550 employees. As of this writing, Space X has 62 current job openings for positions such as structural engineer, machinists, and launch system technician. Creating jobs at a time of economic upheaval. All of this for only initial investment of $100 million of Elon Musk's own fortune and an additioanl $20 million from Founders' Fund a private venture capital group. There no government grants or promise of government contracts or assistance until after Space X had demonstrated the viability of its Falcon rocket and Merlin engine concept. This was one hell of a gamble and it is now paying off. Space X has received the COTS contract from NASA, the US Air Force is interested in contracting for several military satellite launch, and Bigelow Aerospace has negotiated for several launches for its Genesis space habitat module.

Much of the incentive for Space X's venture was the development of the ISS. A successful demo launch of the Falcon 9 slated within the next couple of months will reduced resupply missions to the ISS by almost two thirds of current costs. I use to be a big proponent of developing cheaper LEO access first before moving outside of Earth's orbit. Now, I am convert. NASA should never have abandoned the Apollo/Saturn 5 program. Had they not, the ISS construction would have been done at a considerably cheaper cost with considerably more capacity than the current station. The US would have been well on its way to developing the spacefaring society that Gerard O'Neill had envisioned, but instead the US space program was mired in the swampland of the Space Shuttle for almost 40 years.
This is why the Constellation program is vital to NASA, not so much as to return to the Moon, but as to develop a launcher capable of accomplishing what the Saturn 5 accomplished and more. Some may wonder why NASA didn't just rebuild the Saturn 5. The answer is they couldn't because, though the original blueprints were saved on microfiche at Marshall Space Center, in an act of brazen shortsightedness much of the manufacturing infrastructure for Saturn 5 was voluntarily destroyed or dismantled. Many of the thousands of parts for the Saturn V can no longer be produced. With the ARES 5, NASA will be able to once again build additional manned satellites such as a manufacturing facility, a space dock, space hotel, and fuel depots in LEO to GTO orbits and a permanent lunar base. By building the destination infrastructure, NASA then could spur greater investments from private sector to develop cheaper LEO and space transport systems just as it has with the ISS through its COTS program eventually making space travel affordable to a larger percentage of the population.
There are many users on Daily Kos who have dismissed the space program altogether saying the money would be better spent on people here on this Earth. As a progressive, I find this attitude puzzling as would Elon Musk. He is an environmentalist and has hugely supported the green movement. He is owner and Chairman of Tesla Motors. More importantly, he recognizes that one of the best ways of stimulating economic activity and combating poverty is to develop an profitable industry on a new business frontier, one in which the US has had a solid footing for many years. Creating jobs and through commercial enterprise. Space is and will continue to be an important resource for humanity as well as the US. Nations like Russia, China, India, Japan, and European Union have or are developing their own space programs. China has joined the US and Russia in launching a human into Earth orbit and have plans to send manned missions to the Moon. India will soon be sending their own astronauts into orbit and too have lunar ambitions. This is no coincidence. And we here in this country should not ignore that but join in with these nations.
NOTE: Click on this link Space X website and on this link Falcon 9 photos for additional photos. I have found Space X to be considerably more transparent than many of its competitors in its development process. A thanks to Space X for providing all these photos.
NOTE2: A very embarassed diarist had to make edit. Sorry for the unintended caption image.
Correction: BrowniesAreGood pointed out that a set of blueprints still exist for Saturn 5. My information was based on an excerpt from a book and apparently a commonly held misconseption. The Saturn 5 is no longer producable due to the dismantlement of its manufacturing infrastructure.