Welcome to the first installment of a new Morning Feature - Thriller Thursday - where we bring you the exciting tale of an event from the week's news that should have been a Hollywood action movie.
This week's film is a Clusterfuck Production of the Chimpy Company classic: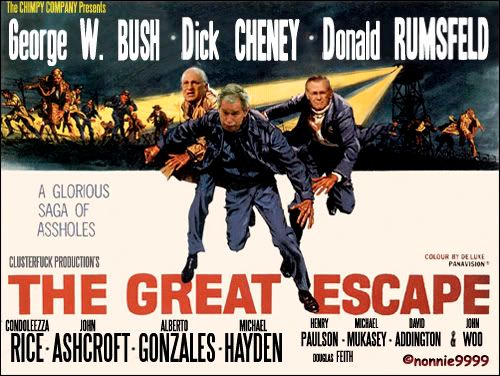 More after these previews of long gone attractions....
OPENING CREDITS: WIDE SHOT OF PRIUSES AND OTHER DEMOCRATIC VEHICLES ARRIVING AT STALAG D.C., WHERE NEW LEADERSIP ARE TAKING OVER. SHOT NARROWS TO VIEW OVER BUSH'S SHOULDER AS HE WATCHES OUT THE WINDOW OF THE OVAL OFFICE.
BUSH: I can't believe it's real.
RICE: Reality was never your strong suit, George. We have to get out before they figure out what we've been doing.
BUSH: Has it been that bad?
CHENEY: It's worse than you know, son. Condi's right. We'll have to escape. I brought in an expert.
BUSH: I don't like the sound of that ... 'expert.' Sounds like I'm not in charge.
RICE: It's no time to be proud, George. This is too important.
BUSH: [Nods] Okay, okay. Who's the expert?
CHENEY: Don? C'mon in.
RUMSFELD: [Enters] Thanks Dick. I think I've....
BUSH: He's your expert? Exit strategies aren't his strong suit, Dick.
RUMSFELD: George, that's not fair. I told you we weren't going to get out of there. But I got us in, didn't I? I know how to plan. You have your known knowns, your unknown knowns, your known unknowns, and your unknown unknowns....
BUSH: Huh?
RICE: Don't try to think, George. Just listen.
RUMSFELD: Thanks, Condi. [Spreads blueprints on desk] I figure we have to tunnel out of D.C. Past the Beltway, in fact. Fifty miles out and we reach real America. We have friends there.
BUSH: That's a lot of digging. I like clearing brush and all, when the cameras are on me down at the ranch. But this sounds like real work.
CHENEY: Not to worry, George. I gave a no-bid contract to my friends at Haliburton. They're digging it for us.
BUSH: [Confused look] How are we paying for that?
RICE: You didn't really think that bailout money was going to banks, did you, George?
RUMSFELD: Fine, well, let's get on with it. [Points] As you can see, we have three tunnels: Tom, Dick, and Harry.
BUSH: But I only see two marked on the plans.
RICE: Dick is in an undisclosed location.
BUSH: [Nods] Okay, that makes sense. But how do we get to these tunnels?
CHENEY: We have a scooter to ride, George.
BUSH: [Stunned look] We're going to ride Scooter? Pardon?
CHENEY: [Shaking head] A scooter, George. Not that Scooter. We're all against riding that Scooter, so far as you know.
BUSH: Right, right. Well this sounds easy. Let's....
RUMSFELD: There's more, George. We'll need a way to hide the dirt, from our digging.
BUSH: We never worried about covering our dirt before!
CHENEY: We were running the camp then, sir.
BUSH: [Slow nod] Ah, fool me once, joke's on ... or whatever.
RICE: Yes, George. Whatever. We'll need legal papers. They have to look official.
CHENEY: We've got that, Condi. David? John?
ADDINGTON: Here, sir.
WOO: Here, sir. We've got them ready. They're almost exact replicas of the Constitution.
BUSH: [Squints] What's that smudge?
ADDINGTON: That was the Bill of Rights. Printing problem.
BUSH: So nothing we'll need, then?
WOO: Nothing we've worried about before, George.
BUSH: I gotcha.
CHENEY: We'll also need food.
RUMSFELD: I've got that covered. [Tosses out snack bags] Pretzels.
BUSH: [Wary] Ummm....
RICE: I have a jar of applesauce for you, George.
BUSH: [Blushes] Aww thanks, Condi. So when do we go?
CHENEY: Right after the inaugural, George.
BUSH: Why after?
RICE: It would be ... noticed ... if you weren't there for that, George.
BUSH: [Smirks] Yeah, I guess the people want to see me one last time.
RICE: [Muttering] Not ... exactly. [Full voice] Yes, George, exactly.
CUT TO INAUGURAL. REAR SHOT OF NEW LEADER GIVING SPEECH TO ENTHRALLED CROWD. EXTREME CLOSE SHOT OF BUSH FOR VOICE OVER.
LEADER: As for our common defense, we reject as false the choice between our safety and our ideals. Our founding fathers, faced with perils that we can scarcely imagine, drafted a charter to assure the rule of law and the rights of man, a charter expanded by the blood of generations. Those ideals still light the world, and we will not give them up for expedience's sake.
BUSH: [V.O.] Oh shit. The crowd cheered at that. Dick was right. We're going to have to get out fast. And Dick hurt himself helping to finish the tunnel. No way we'll get out that way now. What will we do? Uh oh, he's done talkin'. Think, Georgie, think! That's what Daddy always said to me. I should've listened. Well, I'll just have to wing it, like I've always done.
BUSH: [To Leader] Great speech, buddy.
LEADER: [Gracious smile] Thank you, Mr. President. Now let's get you and Laura to Executive One.
BUSH: [V.O.] Could it really be this easy? He's gonna let me walk right out of here? Heh-heh. I knew the other side was wussies.
CUT TO OVERHEAD SHOT FROM EXECUTIVE ONE, CIRCLING OVER NATIONAL MALL. CROWD IS SINGING "HEY HEY HEY, GOODBYE."
BUSH: Hear that, Karl? They're serenading us!
ROVE: [Muttering] Not ... exactly. [Full voice] Yes, that's right, George. They always loved you. [To crew chief] Any chance you can hurry this up? We have a plane to catch. As quickly as possible.
CUT TO EXTERIOR, WITH KYRON: "CRAWFORD, TEXAS - SEVERAL WEEKS LATER"
BUSH: You're sure, Dick?
CHENEY: [Nodding] I'm sure. We're heading south, for the border.
BUSH: I knew it was too easy. I misunderestimated those wussies. Fool me once, joke's on ... whatever.
RICE: [Squeezes his hand] It's okay, George. Looking ahead was never your strong suit.
BUSH: Thanks, Condi. I was sure I'd be all alone when Laura left.
RICE: Never, George.
BUSH: Can't I have just a little drink first?
RICE: [Shakes head] No, George. You'll be driving.
CHENEY: Do you have your papers?
BUSH: Now Dick, you know I never read the papers.
RICE: [Pulls them from purse] I have them, Dick. But I don't think these Mexican passports look real.
CHENEY: [Cocks shotgun] That's okay. I'm ready if we meet resistance.
BUSH: [Wary] Is that the same gun?...
CHENEY: Let's go, George. It's now or never. You still have the all-terrain vehicle, right?
BUSH: Sure, but we can't afford gas.
RICE: It's okay, George. I was on Chevron's board, remember?
CHENEY: Not everyone fails at the oil business, George.
BUSH: Don't even go there. It wasn't my fault Arbusto couldn't find oil in a McDonalds fryer.
RICE: [Pats his head] Shhh ... don't get upset, George. We don't have time to invade random countries again.
BUSH: Right. Just Mexico. [Climbs on ATV] Let's go!
SOUND OF HELICOPTERS APPROACHING.
RICE: They're coming.
CHENEY: [Raising gun] I've got it.
RICE: Be care.... [GUNSHOT] Owwwwww! I'm so sorry, Dick. I got in the way of your birdshot. Can you forgive me?
OFFICER: Put the gun down, Mr. Cheney!
CHENEY: Run George, run!
CHASE MUSIC AS BUSH FLEES SOUTH, HELICOPTERS OVERHEAD. MUSIC SWELLS AS HE TRIES TO LEAP THE FENCE INTO MEXICO, ALMOST BUT NOT QUITE MAKING IT.
BUSH: [To arresting officers] Hey ... didn't I pardon you guys?
CUT TO STALAG D.C. AS BUSH IS LED IN, SHOES HANGING ROUND HIS NECK. RICE AND CHENEY ARE WAITING. LEADER AND HOLDER SMILE AS A CROWD OF TWO MILLION CHEERS.
BUSH: I told ya, Condi. They love me. They want me back!
RICE: [Muttering] Not ... exactly. [Full voice] That's right, George.
CHENEY: I heard it was close at the fence, George. If we'd planned ahead, I'd have told KBR to leave a gap there.
BUSH: [Nods] You did a heckuva job, Dickie. Any news about our kids? Is they learning?
RICE: They're fine, George.
BUSH: So what now?
LEADER: [Stepping forward] I'll tell you what now. Unlike your crew, mine does a strong suit. It's called the rule of law. [Points] Cooler!
END CREDITS, OPENING KYRON: "Dedicated to us all."
SCREENPLAY by NCrissieB
POSTER by nonnie9999