I originally began this diary in a sarcastic and caustic tone, opening with the sentence, "Today I ventured into the belly of the beast, a horrible, nightmarish death tunnel of socialized medicine." The accompanying photo would have confirmed my sense of irony and wit: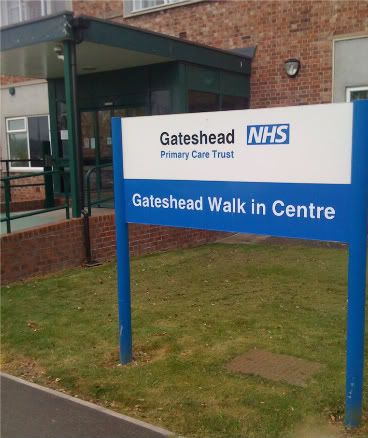 But, in truth, I just can't do it. I am too emotional to make jokes as I ponder the inspirational experience I had and lament the fact that if my children are sick, at home, they will encounter just the opposite. Sometimes humor is the best weapon, but it's not in my arsenal right now. Stick with me if you want to learn a bit of what it was like for a foreign national visiting the UK to engage with the National Health Service today.
I am a US citizen, from Louisiana, traveling in the UK (or travelling as they would write here, spellcheck be damned) and I came down with a nasty cold in the wet October weather. It's doubtful that I would have gone to see a doctor if I were at home, largely because my Blue Cross deductible is so high that it never kicks in. I would have tried to tough it out. But, being over here and thinking that I might not have as much resistance to the bugs floating around, and also because I'm travelling and generally exhausted and my immune system is weak, I thought I should see someone. So, I found myself at the Gateshead Walk In Centre.
Upon entering I gave them my name and date of birth. As I started to give them my home address, they stated that they only needed the address of the hotel where I'm staying locally. It was clear right off the bat that they were interested in my HEALTH, not some kind of strangling web of information by which they could prevent lawsuits. They wanted the info in case they needed to reach me. Wow. Nothing to sign, at all. (Though they did have a sign stating that anyone who didn't feel comfortable giving information out loud due to concerns about privacy could have the forms to fill out themselves. Once again, the patient came first.)
As I sat down to wait, I noticed this sign (very poorly photographed, sorry):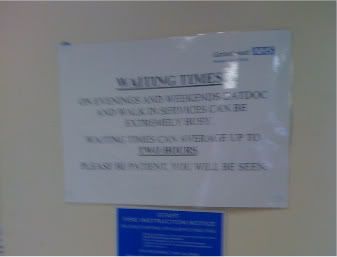 "On evenings and weekends GATDOC and walk in services can be extremely busy. Waiting times can average up to two hours. Please be patient, you will be seen."
Okay, so THAT'S the horror of a waiting room in a socialized system? I've waited for more than 2 hours for my private doctor in the US plenty of times and have never been greeted with an apology or any sense that the time I spent waiting was valuable in comparison to that of the doctor, the employees, etc. As it was, I waited for about half an hour before being seen. No problem. At all.
I also noticed this sign, which would infuriate US health insurance companies and big tobacco at the same time, no doubt.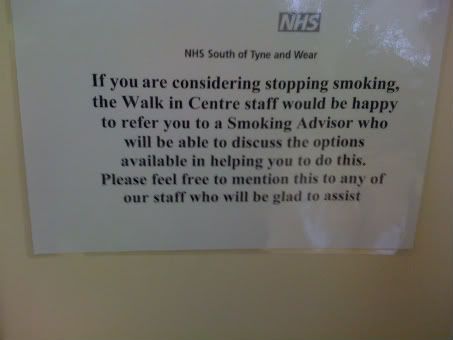 The Smoking Advisor is on the taxpayer's payroll? Someone gets paid to help people kick one of the most addictive and health-destroying habits on earth? Damn straight! Because we're all in this TOGETHER!
While waiting I saw a mother and her young daughter playing with a wonderful bunch of toys and equipment they had out for children. I overheard that the young girl had hit her head at school and the mother had brought her to get checked out, just in case. Again, I imagined my own daughter in a similar scenario. In this case, the mother brought the girl in, she was seen right away, given a clean bill of health, and they were out the door within a few minutes. No big deal. Took only a tiny bit of anyone's time, but it was worth it. Yet I knew that if I'd had that concern about my daughter, I would not have brought her in. I would have weighed the $100 it costs to see the pediatrician, or more to go to the emergency room. She would not have seen a doctor, I know, and that makes me damn sad.
In looking around the waiting room, I also saw some flyers for other programs. Given the economy everywhere, more people are losing their jobs, and this program is designed to help people deal with that: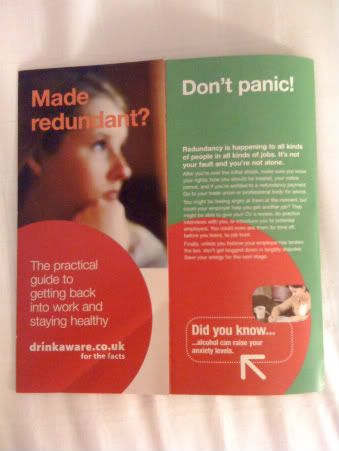 "Made redundant" translates into American as "got fired," of course! This program faces the reality that many people are losing their jobs and tries to help them cope. Imagine - acknowledging a problem and trying to help people through it. Radical (okay, my sarcasm's creeping back in. Sorry.)
We all know that systems of socialized healthcare want to encourage the death of the elderly, right? Well, what about a system in which medical teams actually come to your home to see you and assess your health in your own environment? Check out the NHS Urgent Care program: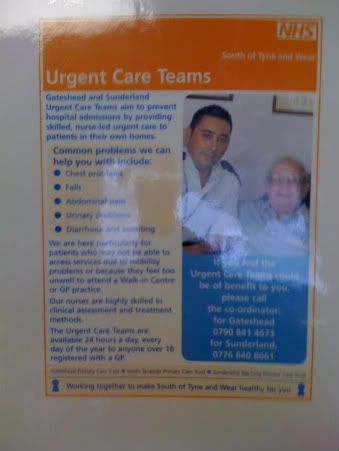 "...aim to prevent hospital admissions by providing skilled, nurse-led urgent care to patients in their own homes." House calls. Remember them? Me neither. Can you even imagine a doctor or nurse coming to your home in a non-emergency situation?
Or are your problems dental in nature? You'd hope, perhaps, that children and women who are pregnant or have just been pregnant, or people with low income, or others having a hard time, might be covered. They are: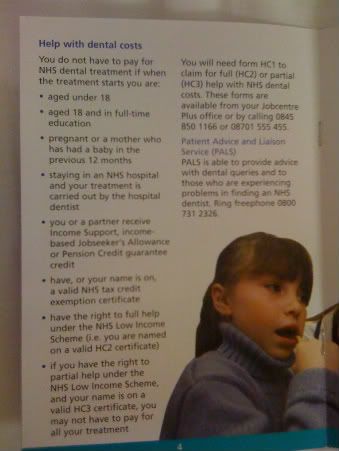 And if you are one of those who has to pay, how about $80 for a root canal? And less than $400 for absolutely everything you might need, period.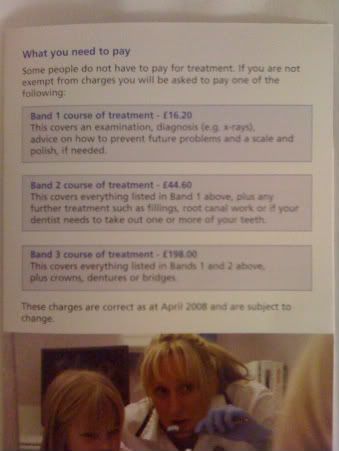 Here's another program, or series of programs, put on by the NHS to help people deal with stress and other mental problems. There are several others, like helping young people with addiction issues, dealing with STDs (free home kits for people under 25, where they can test themselves privately and regularly, etc.), looking for signs of stroke, etc. In general, there is a sense of compassion in the things being offered, a sense that we are all invested in each other's well-being.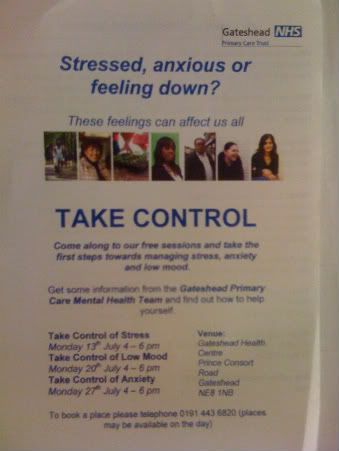 I ended up seeing a nurse and a doctor today, after the very short wait I described, and was given a prescription for antibiotics which have already helped me. My prescription cost less than $15 and I received the medication then and there. Though I'm not certain of the exact policy, I could see that many people get free prescriptions.
My doctor was extremely friendly and concerned. She answered all my questions and helped me as completely as I could have hoped. There was no charge as I walked out the door. Not a penny.
In preparing to leave I looked at a flyer about getting to and from the Gateshead Walk In Centre. If you check out the list, you'll se they have nice priorities -- "Walking is a healthy form of exercise and generates no pollution." Reality. Health. Environmental health. And if you do need a cab, a free phone to call one.
I'll post one last picture. It broke my heart because it reminded me of Nataline Sarkisyan and how CIGNA denied her a life-saving liver transplant, even after her family had put all their faith into the American health insurance system. Obviously they need organ donors in the UK, as they do everywhere, and this pamphlet is about encouraging people to go that route, so it in itself is not different from what we might see in the US. But the idea that a girl died because CIGNA refused to pay for the procedure, and not because there were not organs available, is infuriating beyond words. It had not occurred to me until seeing this pamphlet that someone may even have died, having signed up as an organ donor, with the feeling that at least they would help others to live, and that they too were robbed of the opportunity to save Nataline's life. As trifling as that is compared to the Sarkisyan family's loss, it's still another example of the multiple crimes that CIGNA and other insurance companies have inflicted on the American people.
Today, I saw an example of a healthcare system that is about HEALTH and CARE. Period. We've waited long enough.