UPDATE: Call for messages is closed on this quilt. Thank you all!
Last night I posted a diary about the quilts the Kossack community has commissioned for valued members. Three quilt projects were proposed – the first of which I am writing about tonight.
We will make a quilt bearing messages of support with wishes for healing for Michelle Caudle who is fighting ovarian cancer (I'll sew it -- you provide the messages). In order to maintain coverage for the care and treatment she needs, her husband, who was recently laid off, joined the Army for a four-year period of service. It's an awful predicament for her because, in addition to facing a third round of chemo and caring for their kids, by necessity her husband will be hundreds of miles away.
To do this, first, we need messages! If you would like to have a message inscribed on the Caudle quilt (to fit within a 4.5" square patch), please leave a comment below. I will write your message in archival ink on muslin and heat set it for permanence. If you would please include your State – and city, too, if you don't mind – I will add that information as well so that Michelle Caudle will know how widespread her support is. She can wrap herself in the quilt, hug it, cry in it – and know that many kind people care about her situation and want to see her in full, radiant health.
This quilt is funded up to forty-four messages so I am removing the PayPal link now. I am figuring $4 per message to cover the cost of materials and a bit of my time – or about the cost of sending a get well card per message. People have been generous -- so don't feel that you need to donate in order to include a message on the quilt.
Some may want to contribute toward meeting the family's other needs. There is a way! See also this article about how to donate to the Michelle Caudle Benefit Trust that has been established to help the family with back medical bills.
Below are some photos of prior quilt projects. The design of Mrs. Caudle's quilt will be inspired by the number of messages that will be in it. We need a minimum of forty-four.
Othniel's quilt (forty-four messages)
Exmearden's quilt (one hundred eighty messages):
MsSpentyouth's quilt (forty-eight messages):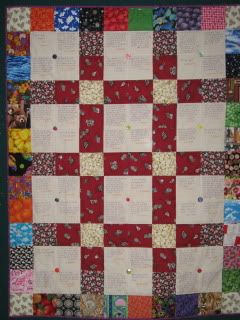 Moe99's quilt (forty-seven messages):