I rarely get a chance to go to Broadway shows anymore, but am planning to schlep into NYC, and stand in line for tickets to see the first Broadway revival of Finian's Rainbow, a musical that debuted in 1947, the year I was born.
The Irish Examiner has an interesting review of the show, scheduled to open on October 29th at the Saint James, which speaks pointedly to why the show hasn't graced the main stage in 63 years, even though it produced songs that have since become standards, like "Old Devil Moon", "How Are Things in Glocca Morra," and "Look to the Rainbow?"
Gwen Orel writes:
It's an unusual Broadway plot, mixing music, magic, mythology and - political commentary. Finian McLonergan (Jim Norton) and his daughter Sharon (played by the luminous Kate Baldwin) leave Ireland and settle in the mythical state of Missitucky to hide their stolen leprechaun gold. Sharon soon falls for a handsome sharecropper, Woody (played by appealing crooner Cheyenne Jackson). So far, it's a cute Boy-Girl romance, and Celtic imagery was somewhat trendy - Rodgers and Hammerstein's Brigadoon also debuted in 1947, just a few months later, amusing Broadway audiences with fictional Scotland).

But in Missitucky the Lonergans encounter not only American capitalism, which runs (then and now) on debt, but also racial division and a bigoted Southern senator. Og the leprechaun follows them to retrieve his gold - the loss of it threatens to turn him mortal - and his magic gold inadvertently grants hot-tempered Sharon her hasty wish: that the bigoted senator turn black. When he does, he becomes a better man. Blending Irish mythology with social criticism of the United States was something entirely new.
When discussing racism, and bigotry here on Daily Kos, people often point to the song lyrics from South Pacific, "You've got to be carefully taught" as an illustration of how we learn to hate and fear "the other".
Orel speaks to this in the review:
Rodgers and Hammerstein's ground-breaking criticism of racism in South Pacific came a year after Finian's Rainbow debuted. And although South Pacific's song "You Have to Be Carefully Taught" questions racism hauntingly, the show did not look at the racial divides that still existed within American borders. Broadway Producer David Richenthal believes that it's Finian's edigness in commenting on American racism at home that "has scared producers off. In 1946, who was standing up against the scourge of racism? Yip Harburgh and Fred Saidy were, courageously."

How else to explain the long absence of a show that launched such classic songs as "Old Devil Moon," "How Are Things in Glocca Morra," and "Look to the Rainbow?" With the credit crisis still raging and America's first black president, and talk of a "post-racial society" in the air, the relevance of what might seem merely whimsical is inescapable. Ricenthal had been working for over ten years with the writers' estates to bring the show to Broadway, but when he and Encores! Producer Jack Viertel first began looking at doing the show last year, they couldn't miss how perfect the timing was for the revival.
The original production in 1947 was groundbreaking in many ways, not only the content addressing racism, but particularly in the use of a well-integrated cast.
Miles Jefferson, black theater critic and scholar wrote of this in the 1947 in The Negro on Broadway, 1946-1947 Phylon Vol. 8, No. 2.
He said:
The real treat of Finian's Rainbow, however, has been left until last. For the first time in this reviewer's memory race intolerance in the Deep South has been subjected to light, but peppery spoofing in a musical show, and this has been accomplished in the best of taste and with great style. Some of the critics accused the show of undue vulgarity in spots and of a tormenting cuteness. Race issues were suspected of having been dragged in by the ears. This spectator cannot agree. Nothing in the show is too coy for comfort and race peculiarities in the South are only exposed to the lightest kind of raillery, quite reticent, in view of their real fantastic nature. This is a show about which a great deal could be written and about which, fortunately, enough has been to create the stampede at the box office. Even more than Beggar's Holiday it displays Democracy in its casting. There are no star roles for the Negroes in the cast, and if one were inclined to be churlish he might say there should have been, but so completely a part of the show are the Negro performers, who compose more than one-third of the company, that it demonstrates an object lesson in race goodwill.
The show also addressed issues of social class, and poverty in the rural south, for blacks and whites alike. I still find myself humming lines from "When the Idle Poor Become the Idle Rich" and "Necessity".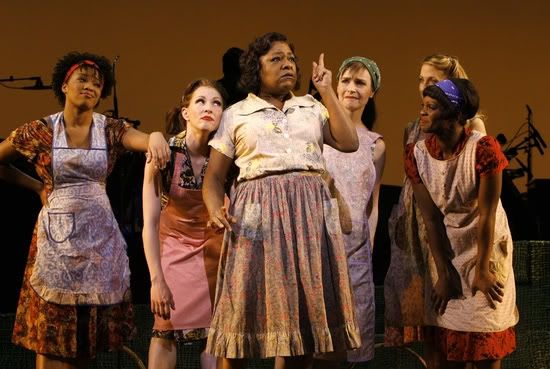 Cast member Terri White in the City Center revival
Oh, if only we had Og the leprechaun around to magically wave a wand and turn certain Republican Senators black or poor for one day!
Wishful thinking.
In the end, Finian's Rainbow is about love, and hope, and looking to the rainbow of the future.
The Director choreographer, Warren Carlyle is quoted "The play shows a community where people live together and care about each other. I want the world to be like that!" If eyes well up with tears as the show arrives at its happy ending, that might be the reason why."