This is a VERY photo-heavy diary about a very recent cat hoarder rescue. Not only does this issue have social, psycological and economic implications, it clearly has political and legal implications.
Animal hoarding, whether cats, rats, dogs, birds, horses or other living creatures is a mental condition. It NEVER turns out well.
What you will see in the photos is absolute preventable neglect in the name of "love".
I want to warn you upfront, these are VERY difficult photos to view.
But I ask you to do it anyway. Hiding from reality does little to change things and life isn't always happy.
Chances are, there is a hoarder on your list of family and friends, your church or other social group, or in your neighborhood. And they HAVE to be stopped.
In a nutshell, I was asked by a neighbor (BTW, for a second time) to intervene with a close friend who is a cat hoarder. One was in the community, the other about two hours away.
This selected description of hoarders comes from the esteemed pet-abuse.com:
While their [hoarders] intentions may indeed have been honorable in the beginning, the reality of hoarding is far from sweet, and is often quite horrific. Hoarders often have hundreds of animals in their home, living in filth and without veterinary care. It is not uncommon to discover several hundred animals in various states of neglect at one location. It is also very common to find vast collections of other junk and garbage on the premises, as well as many layers of feces throughout the home.

In the majority of hoarding cases, the hoarder firmly believes not only that they have done nothing wrong, but that the animals cannot survive without their "care". In many instances, hoarders will even be reluctant to relinquish the decomposing corpses of animals that died. Dead animals are frequently found in the freezer or refrigerator, or even laying around the house, embedded in the carpeting, etc. At times, dead animals have been left in the home so long that they have become mummified. [my insert]
The First Eight Kittens
These kittens, when they arrived on September 23 and driven directly to my veterinarian, were dismal beyond belief. Besides being filthy, sick, ear mite infested (I worked through 1000 cotton swabs in 48 hours) and extremely lethargic, their eyes were ravaged by feline herpes left untreated resulting in massive infection, perforated eyes, corneal edema, corneal ulcers and even resultant glaucoma (in a kitten!). And, these were the BEST of those to come. The second eight were MUCH worse.
Note: you can click on each photo for more information (I hope).
Note: Dates on the photos are incorrect, operator error. All photos were taken at my veterinarian with the help of her staff (except those noted otherwise) between September 23 and October 14, 2009.
Here we go. Brace yourself.
Swiss on entry

Garganzola on entry

Mazarella on entry (photo taken at rescue, vet photo did not turn out)

Baby Bell on entry (photo taken at vet did not turn out. Kitten died 5 days after arrival under veterinary care).

The Second Eight Kittens
Note: These kittens arrived late afternoon on Saturday, September 26. We cleaned them up, and started eye and oral medications that night. These photos were all taken at the veterinarin on September 30.
Mercury (pupil detached and piercing the cornea)

Venus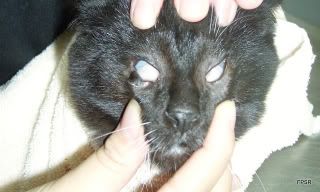 Mars (if an eye, micropthalmic)

Jupiter (glaucoma w/ a loud IV/VI heart murmur)

Saturn

Galaxy (note we cannot find the introductory photos, but we could not see one eye at all... not even sure it was there. This kitten, we think, may NOW retain both eyes after treatment. Her left eye is still 'jury out' though.)

Black Hole (aka BH)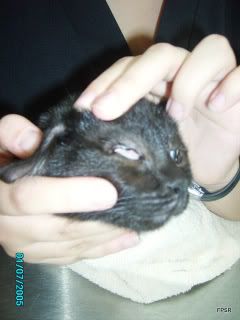 Comet

*******
Now, just for some relief, this is a cat, taken from a shelter and misdiagnosed as having URI-related eye problems, that HAD feline herpes. His eye was completely unviewable. His compounded eye meds were $104.00 for the tiniest bottle you can imagine. This cat was in a collar for almost 10 weeks and given eye treatments up the wazoo. And just LOOK at this cat... gorgeous. This is Smokey and this is what good treatment/care does. I normally foster medical cats for other rescues, and Smokey was one of these. Smokey is now in a wonderful home and doing just great, given L-Lysine daily for feline herpes.

The Hoarder Upshot
Five of the above, Mercury, Comet, Black Hole, Mars and Swiss are each having their one damaged eye removed (enucleation). These eyes came in unsavable, this is the only option. But the good part is that they will still have monocular vision and will be just fine as special needs kittens. Expensive, but necessary.
Two of the above, Venus and Mazarrela, MAY have to have both eyes removed. We are raising money now to have them both see an opthomologist. Our veterinarian believes they both may see something with whatever they have (the recent photos are a bit different). As their caretaker, I can vouch for that. Venus also has right-eye entropian (lashes or fur growing into the eye v. out) and, as if she needed more problems, it may be that her left eye lid is adhered to her cornea.
Galaxy is a bit of a surprise. The veterinarian couldn't even suss whether she had a right eye or not. What the photo says is... she surely does and the question is, can we save it? We sure think so! This kitten was though to be at least a potential blind or one-eye'd kitten. Looking WAY better in terms of hopes for sight now.
Jupiter is a sad case. This poor little girl has to have her right eye removed, but with the severe heart murmur, we are waiting to raise the money for her ultrasound and rather extreme veterinary care.
Conclusion
I'm both furious and grateful.
I've been at rescue a long time and I have seen a lot. But this one made me weep many times. This just didn't have to happen. Early treatment could have stopped all of this.
But, you see, the hoarder had WAY to many cats and kittens and while giving them shelter in a probable sweltering garage all summer in a very hot area, she also gave many death (she admitted to 'losing a lot of kittens').
As an experienced rescuer, I can tell you taking care of these kittens (and the five healthy-eyed kittens that came with them) and the seven unspayed/unneutered adults that also came with them, I am swamped, extremely tired, and furious with the hoarder.
It IS a full time job--actually far beyond that--to take proper care of these cats/kittens in addition to the healthy cats we have up for adoption. For many days, we lived on two hours of sleep. But the results (next post) are worth it. We are madly writing grants to cover the costs. It is like being in a row boat against the QE. The medication and food costs alone are sinking us.
Please, if you know anyone that is hoarding animals of ANY kind, contact a good local species-specific rescue and if you do not see immediate results, the local shelter.
Finally, I ask for your good thoughts and/or prayers. This has been very, very difficult for us, a small rescue, physically, emotionally and economically. When the day comes that we have to pursue charges, that will be even more difficult. But it has to be done and it has to be done right.
Thanks so much for reading. And would you do me a favor?
If you have a cat, dog, bird, horse, rat, snake, gerbil whatever--and this includes your own children--PLEASE go right now and tell them how much you love them, hug them and vow to always do better.
If you are their caretaker/companion, remember always that term. YOU are their lifeline.
Be the lifeline. BE the name of love.
And just as a reminder about what love can do (out of sinc, but GREAT sound, and aren't we all a bit out of sinc?). This is, in fact, the energy I work from or I couldn't do this work, topical or not. Those of you here that know me know exactly how I feel on these matters, political and not. I try to be kind but rarely mince words.
So...