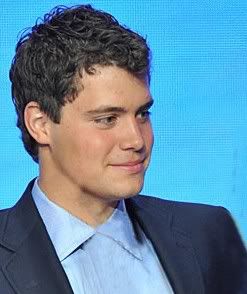 Levi Johnston is beefing up getting in tone for his debut onto the flesh market which we ourselves are delighted and can claim credit for. Levi is purportedly a heartthrob in the gay community as well as within the heterosexual community. But as with any flesh market occurrence there's always, always a back story and we'd like to share this one for obvious reasons. If you read 'People' magazine last week the young father started a vigorous workout routine at the gym in preparation for his photo session with Greg Weiner in New York next month -- but there's more.
How does one receive mainstream media or the gay communities attention - dangle sensationalistic objects before them, red meat and in this case Alaskan beefcake.
A compelling human interest narrative just isn't enough sometimes. It doesn't matter how noble the endeavors the media and public are absorbed in seeking titillation. I thought that I'd accomplished two goals achieving both. Read on.
The best way to tell any story is always from the beginning - Levi's and my connection is one that hasn't been discussed in the media because someone else hijacked the credit - but in no disrespect for that individual I am putting the correct information out there. Thus we being from the purpose of my involövement.
It takes individuals with a special brand of courage and confidence to selflessly lead while all others hover in the background. Sometimes I often wished as a child that I had the courage of the American pioneers who left everything that they knew for the unknown in a new world to forge a destiny based upon equality and freedom. Three years ago I meet such an individual in Poland who was on the front lines for human and LGBT rights from the beginning in 1989. Throughout his struggles he did not back down nor retreat even whilst facing oppression of his government and extreme elements of hate among his country. In 2005 he was sick and mentally exhausted that is when some of the very same people within his tribe whom he had helped gain recognition for their plight betrayed him. That individual wanted to reach out and share his amazing traverse with the west although he was anesthetic in the belief that perhaps the west did not care - he invited me a former American journalist and TV producer to travel to Poland and share my voice - in fact I had very little else to share. His name was Mr. Symon Niemiec founder of ILGCN Polska that nation's first cultural and social activities nonprofit.
After investigating Szymon's story I was outraged by the little assistance that he had received from the west to combat what in my opinion was not warring camps moreover his lack thereof of a dynamic persona and funding to push back against opportunist within the alliance of human and LGBT rights.
This past spring I said goodbye to Poland. it was not something that I wanted to do and not particularly under the circumstances of being rushed nonetheless it was urgent that I return to my home in Switzerland after a three year absence to regather my momentum, thoughts and the safety of familiarity. The years spent in Warsaw were spent engaging an unknown culture and mentality (Poles love the west but they also mistrust the west just as much as some of us mistrust them) but also realizing that of which my friend had warned me about prior to inviting me to Poland and experience the real Poland and its human rights and LGBT rights movement. Arrogantly and as a very proud Westerner (American) that I am I did not or could not understand immediately their society. I knew nothing about Poland prior to relocation but I knew my new friend was of a good spirit and made a request only of my voice and eyes to bear witness. While in Poland I spent time investigating my friends claims of irregularities both illegal and immoral among the LGBT associations, especially KPH (Campaign Against Homophobia) and its founder Robert Biedron. The more personal interaction, scanning over archived documents and listening to the community banter my verified discoveries made me furious with anger. More about that here. You may also read the archived diaries which are posted underneath this diary.
After that initial year I unilaterally decided that my host and friend Szymon Niemiec to share his story so we independently borrowed money and published his autobiography. In my naivete we reached out to the local media both heterosexual and homosexual and to a great surprise for me they were ambivalent to the disclosures of Szymon in his writing. Szymon Niemiec had Poland's and international laws on his side supported by documents however that appear not to be relevant.
A great fraud has been allegedly perpetuated with supporting legal evidence and no one within the LGBT community or outside (west) offered aide in disclosing it. Some of the leaders within the LGBT community have without impunity roughshod over the masses and other LGBT human rights peers. These individuals have also grown stronger with endorsements by prominent Western alliances thereby filling their coffers however not doing anything positive for the LGBT community itself. The research I had completed discovered fraud and even though our discoveries were supported by archived court and official papers -- exposing the blatant lies and deceit was almost impossible within Poland's systems. Those that we sought to exposed relied upon two things to remain in power and control, the apathy of the media and the silence of the opposition. I cannot recall how many westerner blogs and news journals I contacted with the details about Poland's LGBT bilking westerners illegally for funds and support at the expense of others within their own tribes.
Poland was different and they play by rules firmly in place since the Communist regime. In my opinion this will not change until another generation passes or unless we the west helps young talented leaders providing them with guidance and resources enabling them to shape their destinies absent the cronyism and corruption and brute mentality of the old. If we do not we have failed in gaining any foothold on equality in this former Soviet republics and we collectively embolden thieves and liars.
All that I could think of and feel was great disparage of not achieving the desired publicity for the cause as I saw the struggle with boots on the ground. There isn't much in the west as far as investigative reports of Poland's human and LGBT rights movement. There ought to be.
This past spring after returning to my home in Switzerland I concentrated on avenues to bring attention to the Polish issue and help raise funds for that nations first community outreach center - a long time dream of my friend Szymon Niemiec - and also to supplement a legal defense fund to challenge in civil court Equality Foundation and its officers. From the beginning Szymon and others shared their belief that the west did not care about their problems, I refused to believe that then and now. Unlike in Poland I am free to contact people and get the message appeal to as many people as possible and also engage in public relations whereas indirectly information can be disbursed.
This is where Levi Johnson and Playgirl comes into the story. This summer I heard that Levi was considering posing nude for a porn magazine. That is what peeked my attention to send out feelers to my many mainstream contacts in the industry to see if there was a sincere interest. Immediately I telephoned Lev's attorney Rex Butler and had a lengthy telephone chat and asked if he would be interested in my mainstream proposal instead of the porn magazine (Which I thought was a bad idea.) I also shared my personal optimism in working to get him additional South American and European exposure one of my contacts could pay up to $250, 000 dollars for a completely nude photo session and I also contact Versace Fashion House in Milan about Levi. As I express to Rex Butler I only wanted publicity for my human and LGBT right project in Poland and that I would seek 'broker's fees' from any contacts who wanted to work with his client.
Last week I read an article in People magazine's column and noted the back story was not correct. To reiterate the photo session was not the idea of anyone associated with Playgirl. The introduction of the two parties (Levi and Playgirl) and brokering of the photo session was achieved by me. It's rather easy to make mistakes and give credit to others to be truthful but in the flesh market it's cut throat and egos.
As an artist and international humanitarian for nearly 10 years I've independently produced art projects in a selfless effort aiming to bring awareness to projects which include human rights and social efforts. Read about that here. Not all of the attempts have hit their mark however I've always remained focused and committed. I never quit or stop when set on achieving anything, it's not my nature. This particular incident is disheartening because it shows once again a little guy getting hammered by the established status quo and nobody blinks and eye.
Playgirl has neither contacted me since gaining Levi's contract nor volunteered to donate the customary 10 to 15% finders fee for brokers to my designated chairty.
Here are several excerpts from e-mails between myself and the parties. Please help me exploit this story and complete the mission for Poland's LGBT and because it is the correct thing to do. Thank you.
Playgirl Magzine's chief photographer and my contact Greg Weiner:
On Tue, Aug 25, 2009 at 2:35 PM, gregweiner <greg@gregweiner.com> wrote: Hey Lee, just wanted to check in with you about Levi, Playgirl really wants to do something with him, so if you have any info or if they should contact anyone please let me know. I told them just in case anyone got in touch with them so they would have the heads up on that and now they keep calling me wanting to know how to move on this. So please let me know if you have heard anything. They will pay you a fee if you can put this together for them which could be good for you. Let me know. Thanks, and also thanks for the nice blog, it really is nice and I appreciate that. Best, Greg
2009/8/26 gregweiner: Hey Lee, thanks for getting in touch. I sent him an email, he had sent one to me as well. I will try to call him tomorrow as well. Playgirl is very excited about doing this so it will be huge if it works out. Do you know what kind of money Unzipped offered him? PG can pay, I just don't know how much, I know that they use to pay pretty big, but nothing like Playboy does. But they will promote this all over. They said they would be willing to pay a fee to you, so I will keep you posted on that as well for putting this together. I will keep you posted. Thanks, Greg
Attorney Rex Butler:
Rex Butler (Levi's attorney and manager) writes Lee:

2009/8/29 rex butler :
Lee: This business situation with Playgirl sounds like something we would be interested in.....I cannot commit Levi to a nude shoot at this time...so that may preclude some European and South American markets...I suspect that if the price were right we might seriously consider it, in the meantime with the right underwear, he would be available to do a shoot for Playgirl....we would want some time two to four week for him to shape up and define for the shoot....We are interested, that is stage one, let me know what stage two consist of so we can move forward......Rex
Playgirl Magzine's chief photographer and my contact Greg Weiner:
Greg and I have know each other for over 10 years when I worked at KTVK 3TV (CNN) in Phoenix I assisted him with publicity and ocating models for a 'Men of Arizona' photo session. More abou that on my blog.
2009/9/3 gregweiner: Hey Lee, so Playgirl is getting mentioned a lot now, it was on the Today show and CNN as well. I don't know if they have ever heard anything from Levi's people yet though, but at least it is out there now and I hope they will strike while it is hot. Later, Greg
2009/9/3 gregweiner: Hey, I got a call today that they are still trying to figure out the details, so it isn't a done deal yet. PG still wants him to show at least his ass, but I think they will take anything at the moment. I will keep you posted. The only thing that makes me mad is that they are giving credit to Daniel Nardicio credit for putting this together, when you were the one who brought it to light in the first place. I should of had you broker the deal so you got some PR out of it. Later, Greg
Next post coming here and on my blog. I have a meeting with my attorney in France to decide the next course of action. Sometimes force must be used to make people do the correct things and keep them honest.
I still believe in the goodness of people to do the right thing and now reachout to other voices.
--
Warmest regards,
Cordialement,
Lee