This community has kindly commissioned some quilts. This is an update diary to let you all know where each of them stands.
The quilt for Michelle Caudle is done. I've been in contact with the reporter who broke the story about her and will send the quilt to him to deliver.
Here is the quilt, "Flowers for Michelle":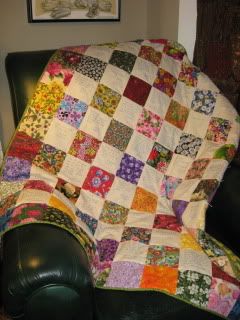 BFSkinner's quilt has been quilted and is only awaiting its binding and buttons. Here it is:
It has plenty of pooties, as promised. And it has a yummy backing fabric, lotus leaves by Kaffe Fassett:
That yummy backing fabric was used in a series of log cabin blocks for Kitsap River's quilt. Here is her quilt in draft (notice that there are blanks – we still need 13 messages!):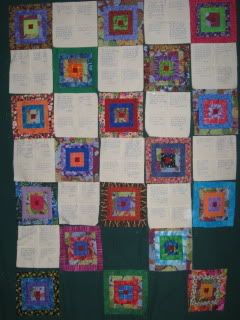 Here is a close up of one block:
….and another:
I am still collecting messages for Frederick Clarkson's quilt. We need thirteen more for him, as well.
If you have a message for Kitsap River or Frederick Clarkson, would you please leave it in the comments?
Many thanks!