Civilian employment data has long been recognized as the lagging indicator of economic recovery from a recession - and for good reason. Businesses operating without the means to maintain or augment their workforce numbers and/or compensation are hesitant to invest in such draining factors affecting their business.
That being said, there is a disturbing disconnect between some economic indicators that suggest conditions are ripe for business investment in labor and negative employment data recently released by the Department of Labor. As you already know, unemployment has been creeping up to its present 10.2% mark since it began rising in the spring of 2008. Below is a chart detailing unemployment activity during the past several quarters: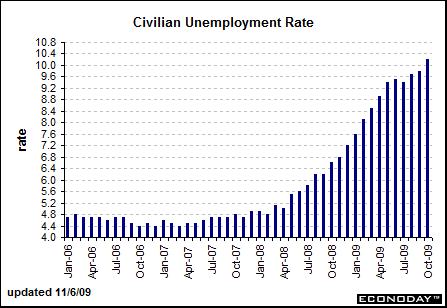 *Source: Haver Analytics
The $64,000 question is: When will unemployment begin to recede? According to recent data related to nonfarm productivity, labor, Business Fixed Investment (BFI), and Net Cash Flow, perhaps the answer rests with private-sector businesses decision-makers. Please follow me below the fold for a look.
If there is a lesson to be learned from the economic expansion of the late 1990's, it is the need for Business Fixed Investments to be as balanced as possible with Cash Flow to maximize profits and grow both labor and wage outlays. Below is a chart displaying the historical comparisons of these two economic indicators: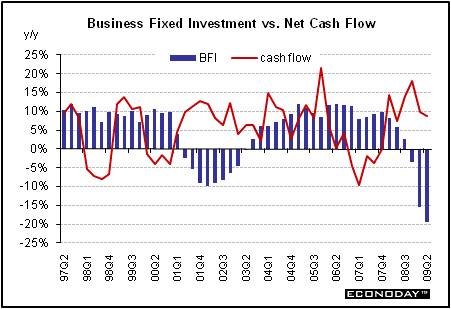 *Source: Haver Analytics
As you can see, during the peak of the economic boom from late 1998 to the first quarter of 2000, Business Fixed Investment and Net Cash Flow were near or above 10% y/y. This means that businesses were not only pulling in tremendous amounts of revenue and profits, but they were investing in their businesses. Not coincidentally, the unemployment rate dropped dramatically during this time as indicated in the graph below: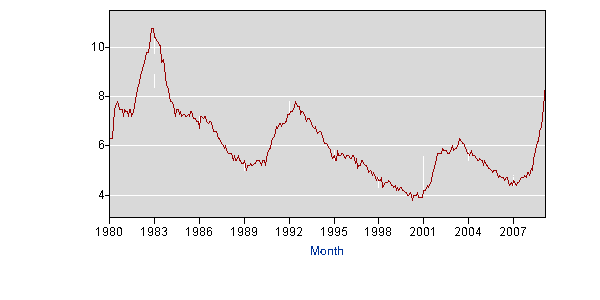 *Source: bls.gov
Fast forward to October of 2009 and take a good look at the 09Q2 data for BFI and Net Cash Flow. Year over year, cash flow has actually increased by nearly 10%. However, BFI has decreased by nearly 20%.
In addition, take a look at the most recent nonfarm productivity and labor data released by the BLS: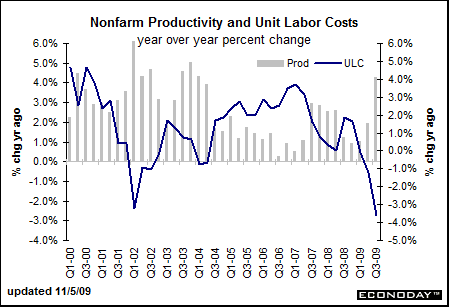 *Source: Haver Analytics
Worker productivity increased by 9.5% annualized, while unit labor costs have decreased by 5.2%.
This data begs the question: Where is all the money going?
I know many economists are giving businesses a pass on employment numbers, but the numbers suggest that we should be giving them a closer look. The conditions are ripe for a jobs recovery thanks to the hard work and productivity of the American worker. Factory orders and construction spending are up. Worker productivity is at its highest level since 2003. Existing labor costs are at a minimum. There is no reason for businesses to be holding back cash that could be putting people back to work and making an investment in both their own microeconomic recovery and the macroeconomic recovery of the nation.
For all the conservative bleating about government holding back the success of the private sector, all signs point to the fact that sufficient resources exist for businesses to pull themselves back to prosperity and hire more workers and/or compensate existing workers in a more equitable fashion befitting their productive contributions. Perhaps it's time to point the finger in a different direction to identify who is really keeping this recession recovery jobless.
References
Bureau of Labor Statistics. (2009). Retrieved from: http://bls.gov
Econoday. (2009). Retrieved from: http://econoday.com