(Note: This expose will be cross-posted at Gas2.org)
How did a woman who the SEC says aided and abetted one of the largest accounting frauds in US history end up as Chief Financial Officer of Aptera Motors?
It's just one of many questions swirling around what appears to be a meltdown in progress at the beleagured manufacturer of safe, hyper-efficient electric vehicles. When a business is running smoothly, there are strong incentives for everyone to be a team player and hide any signs of internal strife. As the rate of layoffs and "vacations" increases, however, so does the potential for leaks. And sometimes a simple name can take you places you never thought you'd go.
Laura Marion is Aptera's CFO. By their 'Team' webpage, you'd think that her career in finance began at Specialty Vehicle Acquisition Corp. Yet she only started work there in 2007. Where was her "15 years of finance" spent? From her resume, it appears that since 2006, she hasn't held a single job more than a year.
The reason is that in 2006, Laura Marion was cited by the SEC for her role in one of the largest accounting frauds in US history at Delphi.
Delphi is one of the world's largest automotive parts manufacturers. According to the SEC complaint, in Q4 2000, employees wrote Marion a handwritten note stating that they had been instructed by a member of senior management to "maximize the financial engineering relating to [precious metals], cores, and batteries." Over the next several years, Marion edited, reviewed, and drafted documents to present inventory exchanges as sales, grossly overstating the company's profits. In order to save Delphi's creditors the cost of litigation and in recognition of Delphi's cooperation, the SEC settled out of court with those charged. Marion paid a $40,000 fine for her role.
How on Earth did such a person end up as Aptera's CFO? Two words: Paul Wilbur.
---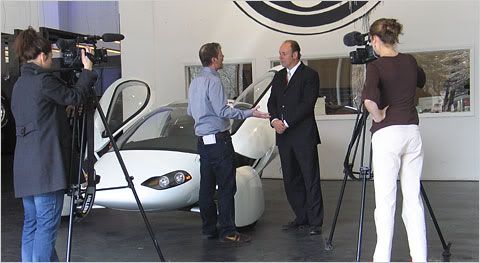 Paul Wilbur is Aptera's CEO. A high-price executive selected by talent search agency Heidrick & Struggles and hired in September of 2008 (shortly before Aptera's first scheduled deliveries), Paul was pure Detroit. This stood in sharp contrast to the more tech-industry style of the existing company. His background includes running ASC for five years until it went bankrupt, and then running Saleen for one year and leaving shortly before it went bankrupt.
For whatever things he is good at, raising money is not among them. When Paul took over Aptera, it had raised approximately $30 million and was rapidly expanding. In the year and a quarter he has been Aptera's CEO, he hasn't raised a dime for the company. The way he presents it at any point in time, he's always just about to close a deal. But they never seem to come.
If you ask him why the company hasn't raised money, you'll hear something to the effect of, "It's a tough market." It is quite true that for most industries, it is a tough market right now. But for electric vehicle companies, not so much. Coda Automotive, spawned from a manufacturer of poorly-rated neighborhood electric vehicles and several Chinese manufacturers, raised $24m in August. ZAP, an electric vehicle company that a Wired expose all but called a scam, raised $25m in August. Tesla Motors, with only one low-volume EV on the road got a $50m investment from Daimler that valued the startup at a staggering estimated $550m -- then in September, they raised $82m more. Bankrupt Th!nk raised $47m. Fisker raised $85m. The list goes on and on. Talk of 25% of the world's vehicle market being electric in a decade draws out the investors in even the toughest economy.
How could their fundraising possibly be this bad? One VC and Aptera reservation holder recounts the following:
"Our firm raised capital for a green and clean tech fund and I tried to get Aptera interested by contacting Laura directly. Months later their placement agent contacted us, after we had fully committed the fund. There is a ton of money out there seeking clean tech investments."
---
Shortly after Paul came in, my sources are clear on two things. One, he stacked the executive team with his people, and two, step by step, everything about the vehicle had to change before a single one could roll out the door.
For over a year, every delay in the vehicle's ship date -- and there have been many -- have been credited to one thing: "the windows don't roll down". But all of my sources tell me that the company already had a solution as early as February 2008: a split window. Indeed, the tape outline of a split window can be seen in the background in one picture from the company, while a press rendering of the 2e intended for 2008 production with a split window currently adorns the title bar of the Aptera Forum.
The split window offered major advantages -- not only that it fit into the existing door, but that it also dramatically increased the vehicle's resistance to side impact crash damage. Rather than a hollow space for the entire pane to slide into, the door could be filled with the same structural reinforcing foam as the rest of the vehicle, giving it over four times the side impact crush resistance the federal government requires for cars.
Wilbur would have none of it. He found it ugly and was concerned that the "fast food" crowd would be inconvenienced. He even vetoed the idea of releasing with a split window for those who want it and having a later model update for full-rolldown windows for those who don't.
Contrary to the concerns, an Aptera engineer took a prototype to an In-N-Out Burger and ordered a double-double combo with drink. He simply opened his door and took the food. Unlike a normal car door, the Aptera's doors open upwards, largely within the wheelbase, and hence are easier to use in tight spaces.
All in all, sources say Paul had 60-80% of the vehicle redesigned, micromanaging the process down to the component level as though he were an engineer.
More concerning, though, is that there seems to be little overlap between the target market for the Aptera 2e and your average fast food eater. A leading target for ridicule on the Aptera forum is Detroit's obsession with lesser factors of the vehicle ownership, such as cupholders or the stats of the vehicle's consumer electronics hardware. Yet the Aptera's communications often seemed to focus on just these aspects. Who is running their marketing operation?
His name is Marques McCammon.
---
Like Laura and Paul, Marques too arrived from the ruins of Saleen. He replaced Tony Kirton, who once stated, "We understand deeply that our customers will make this brand. They will own it. And we will do our utmost to respect that at all times." The marketing operation didn't always run smoothly under Tony, but that could be in part because part of his work for the company was as a volunteer.
But if things occasionally didn't run smoothly under Tony, they fell apart under Marques. Two "monthly" newsletters have been released in the past year. Three "Daily Charge" blog entries that weren't from the July newsletter were posted in the past six months. The comments section on the website has been broken for months, despite repeated bug reports. In fact, the only recent time updates to the website were noticed was a ham-fisted attempt to hide bad news from the site's RSS feed by hard-coding a link to their press release as the only story and removing the code to rotate stories. Apparently news reports of dwindling cash reserves, boardroom fights, the ouster of the founders, of a staff that has dwindled from around a hundred to closer to twenty are what it takes.
In a recent poll of what Aptera Forum members thought of Marques' communications operation, the results were running 59 to 2 against it. And of those two, at least one was cast because the person agreed a bad job had been done but they didn't expect a good job.
It's hard to understand why the communication was so bad. But if the company felt that those with pre-orders weren't worth the time of even a newsletter and that they needed to only focus on investors, they shot themselves in the foot. At least half a dozen pre-orders, and probably many more, are held by people at VC firms. Who knows how many could have been potential angel investors. Like the Tesla Roadster, the vehicle seems to have caught the eye of many in the Silicon Valley tech crowd. But who would put their money in a company that can't handle a monthly newsletter?
---
When the ax fell the last time around, something was different. An anonymous employee began liveblogging the blow-by-blow:
"Paul Wilbur has just sacrificed the company to line his own pockets. Crap, I'm crying."
"This is exactly what he did to Saleen. Why did they hire him with a history like that? I'll never understand."
"He's marching around the place like a peacock and firing everyone. The design still needs work to make production numbers. What is he doing?"
"Seems to think suspending operations til govt$$ come in will make him a rich man. So sad for Steve Fambro, he's a great guy being ruined." (Steve Fambro is the company's founder, having reportedly sunk over $100,000 of his own money into the company).
"I'm panicked someone like the Chinese could make an offer and Wilbur would take it just to get rich and move onto destroy the next innovation"
"Management directors in a meeting now. Still waiting for the hatchet to finish falling."
"They've just taken the 1st guy into the office. Mood is certainly somber."
"It looks like they just let Tim Dine go. Wow." (Tim Dine was the Senior Fabrication Engineer and Fabrication Supervisor, someone so dedicated to the cause that he volunteered at Aptera in it's early years)
"Chris Anthony got let go. He'll go back to Epic Wake Boats." (Chris is the company's cofounder)
"Yep, They let go Steve, Anthony and Trisha Fambro. Please make sure everyone knows. & keep an eye on Steve. He'll be back."
In a seldom-seen occasion, Aptera's PR machine swung into overdrive. Marques wrote, "We needed to reduce our burn rate on anything not associated with getting a production vehicle out the door." The release included a quote from Steve, stating "Some folks were let go, and since they hadn't seen me around -- they put two and two together and made a fairly large and incorrect assumption". The article asserts that Chris voluntarily went on to pursue other business interests and Steve is taking vacation to spend more time with his family.
If they were hoping to silence the issue, the release didn't achieve its goal. Many commenters on the news articles were skeptical. Andrew wrote, "Marques said the same exact thing last year to the Saleen employees. Top Notch Management Crew over there...". Bacon117 wrote, "Don't worry Popular Mechanics, my dad has been on vacation since I was 4. It will be ok." Everywhere the press release was posted, some commenters took the release at its word, but most seemed to consider it a transparent attempt at damage control.
Indeed, PR experts often discount press release quotes from individuals as worthless. But where does the truth lie? Without prompting, a source from the Detroit team was quick to dispel rumors of a sellout to the Chinese, pointing out that the company is proud to be American owned and run, and that only the batteries are sourced from China. But the same source is yet to weigh in on the reports of a close boardroom ouster.
---
The deeper you dig into what has transpired at Aptera in the past year while the company put on its best happy face, the uglier it gets. Over the coming months, even worse details will continue to leak out.
Will the world ever see an Aptera vehicle hit the streets? The future looks increasingly hazy. If Tesla is any guide, their DOE loan application could be half a year away -- if granted at all. Customers are bailing from their reservations much faster than new reservations are being landed, a fact that the current management is loathe to admit. The company no longer has its Carlsbad office. Only time will tell what fate has in store for what's left of Aptera.
Image credits: Aptera Motors, New York Times, Coldwell-Banker