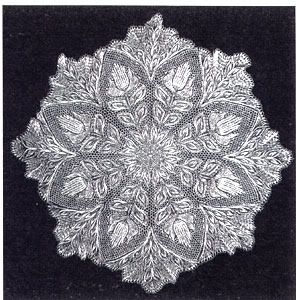 On my user page, the "bio" section reads: she of many interests and little time.
True, dat. I'm interested in lots and lots of things; one reason I never went back to school to get a law degree is that I decided that I didn't want so much of my time taken up by a "career".
Because I am interested in so many things, my pursuit of those interests tends to rotate. I'll spend months or years totally immersed in one type of activity or another, only to put it aside for months or years as other of my interests occupy my time, then have my interest piqued again by some new input into an old pursuit, and return.
So it goes. And such has happened.
I saw a magazine on ebay, and discovered the artistry of Herbert Niebling.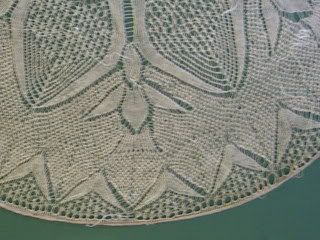 I learned how to knit when I was 10 or so. I had already been exposed to sewing, embroidery, crochet and quilting — I knew how to do them, but none of those handcrafts really grabbed me, to where I knew I wanted to devote hours and hours to total mastery.
Knitting was different. My mother was teaching herself to knit, and I picked up one of her books, figured out how to cast on, and I was off and running. Until I graduated from high school, I was rarely without a knitting project on my needles — usually baby sweaters or booties for the nieces and nephews that had started arriving about the same time I learned to knit.
I stopped knitting for several years, having started to devote myself to drinking. I picked it up again when I sobered up in my mid-20s. It was like coming home to an old friend — but soon, I became bored with just knitting sweaters and afghans and the like.
Borrriiiiiing. But, by the early 1990s, hand spinning had a resurgence in the United States; I bought my first spinning wheel, a used Louet, for $100 (a lot of money for me in those days!) at a fiber fair. I struggled to learn the coordination between treadling and drawing during the Clarence Thomas hearings, never quite sure if I wanted to throw the bobbin at the teevee because of my frustration at the hearings, or my frustration at my inability to produce a useable yarn.
Learning to spin was like learning to ride a bike or drive a stick shift: eventually something "clicked", and I could treadle and draw and had the control to produce whatever type of yarn I wanted to. It's been many, many years since I've done any spinning — it takes a lot of space and goodly blocks of un-interrupted time, such that life with children and cats makes spinning difficult. I do, however, have a trunk full of unspun fibers, and four wheels awaiting my eventual attention.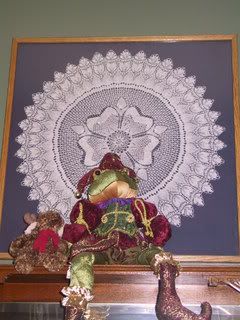 When I was pregnant with Elder Son, I started knitting again — back to baby sweaters and booties! One day, when I was at the yarn store, I happened upon The Second Book of Modern Lace Knitting by Marianne Kinzel.
Oooooh. I just had to know how to do that! I've knit many of the patterns in both the First and Second Books of Modern Lace Knitting — along with collecting every publication I've come across over the years. In 1996 I completed the "Tudor Rose" pattern on size OOO (3/0) needles, using cotton sewing thread (that's size 50 thread). It's framed and hanging over the mantel in the living room. I've also done the "Daffodil" pattern on size 000000 (6/0) needles, using size 100 thread (see above).
I haven't done any lace knitting for 5 years or so — until I saw some German knitting magazines on ebay, touting the lace patterns of Herbert Niebling.
OMFG WTF! The designs are outrageous — and promise to be outrageously difficult. I told the Mister I'd be dropping some big bucks to buy several of the magazines; the designs are highly prized by lace knitters, and few are available outside of the German publications. There is one book in English of his patterns, and the biography portion reads:
[Niebling] said about himself, "As the composer writes down he notes that he hears, in the same way I write down the stitches that I see." Herbert Niebling was born in 1905 in Holstein and was already knitting his own socks as a six year old. Knitting and knitting patterns cast their spell over his entire life. When he died in 1966 in Frieburg he had created thousands of designs for knitted lace over the course of his forty year career and had knitted many tablecloths himself.
I haven't received my German magazines yet (I bought four for about $150... yikes!). But I did find that one of Niebling's most admired and prized patterns, Lyra, was available at Lacis. And that pattern has arrived.
Now, I am not, over all, an extremely anal person: my filing system is "piles of paper until I get around to putting them away"; housework... bleh. My "style" of garden design is "oooh, what an interesting plant, now where can I possibly stuff it".
But I do have my areas of analness. Like time: I am totally anal about timeliness (as proof, check the posting times of Saturday Morning Garden Blogging). And at work, I'm absolutely adamant about the need to properly format documents (I'm a legal secretary).
And knitting lace. Knitting lace is an exercise in absolute anality. To have it work, one must count, count, and count again — the correct number of stitches, in the absolute correct order, must be maintained. Is it any surprise that the most beautiful and complex lace patterns come from Germany (I can say that; I'm a quarter German, and a quarter Swiss).
Lyra is known to be a notoriously fiendishly difficult pattern, so I've spent the last few days... planning. For one thing, I'm waiting for the size 100 cotton lace thread and new Addi-turbo Lace Knitting Needles I've ordered to arrive.
Meanwhile, I've gone through the knitting chart for Lyra multiple times: first, to count the number of stitches in each row, and to make sure that it matches the number of stitches needed to knit the next row.
I've translated the pattern from charts to written form (I prefer working from written form). I've proof-read the written form against the chart once, and I'm in the midst of doing a second proof read, just to make sure I have it all correct.
By the weekend, my tools will have arrived, and I can get started.
Any anal knitters out there who want to join me?