Boy, it's been a busy week pursuing the two most American activities of them all .. eating: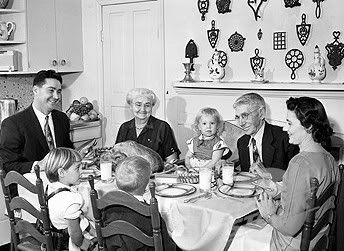 and shopping:
Now it's Saturday and we're all sugar-crashed mega-dealed out. Fortunately, it's the weekend! The perfect time to re-heat some leftovers for breakfast and treat yourself to some still-tasty ITEMS!
ITEM! Obama's off to Copenhagen to attend the Climate Talks there! Maybe while he's there, he can sign the treaty to ban land mines that Bush refused to sign. Or maybe not.
Obama isn't losing me, but just as Bush occasionally did things that I really liked, this President occasionally pisses me off by repeating the old mistakes.
ITEM! The GOP is already spinning the Democrats' sagging poll numbers.
ITEM! How's this for scary: right-wing groups are going after liberal professors that question the neoconservative agenda -- by going to the university's rich donors and telling them that their money is being used to fund dangerous radicals. Yes, it's the McCarthyist blacklisting tactics all over again. Whatever happened to academic freedom? Someone call Rachel Maddow and...oh wait, it's happening in Israel? Well, never mind then.
ITEM! Is the Army under-reporting suicides? More here. This might point us to the reason why an Army Major went postal a few weeks ago.....
ITEM! So...Kos had an ad from "Mayors Against Illegal Guns" this last week, trying to recruit Kossacks into their campaign to lobby Congress for a bill:
Ft. Hood shooter Maj. Nidal Malik Hasan had been under investigation for his potential ties to terrorists in advance of the shooting – but because of the Terror Gap, nothing could stop him from buying a gun.

Congress must act to end this flawed and dangerous policy.

Law enforcement agencies should be allowed to do everything in their power to keep Americans safe and prevent further tragic events. That includes giving them the power to stop firearm sales to terror suspects and allowing them access to evidence that could be crucial to terrorism investigations.
Well, who the hell would be against that?
For one, me. Why? Because if this last decade has proven anything, it's that any damn person can become a "terror suspect" just for having the du jour undesirable opinion, political or otherwise, whether it be environmentalism, Islam, opposition to war and a police state, or even being conservative at the wrong time. The fact is that anyone can be a terror suspect with or without cause.
For that matter, in the last decade, people have been treated like second-class citizens just for having the same name as a terror suspect.
Moreover, even if this law were passed, it wouldn't have stopped Hasan. Sure, he was investigated as a terror suspect .. but he was cleared of suspicion and would have been able to purchase those two handguns anyway. (Oh, the nice folks at Mayors Against Illegal Guns didn't mention that bit, did they?)
In sum, this is a piece of classically intrusive legislation from the smothering, government-as-your-mom wing of the Democratic Party that I despise. I'm willing to bet money that I'm in the majority in this, too. I really wish Kos would have thought about that before taking MAIG's money.
ITEM! What does the continuing worldwide Dubai panic (more here) tell us about the strength of the dollar? Good things, as it turns out. More here.
ITEM! How badly could Barack Obama screw up and still beat Sarah Palin? Nate Silver explores this here.
MICE!
Not mine, sadly. But when I get two in my hand and facing in the same direction, they do sometimes twist their tails together like that. It's a very endearing effect. :)
ITEM! Still in the mood for shopping? Live in the Portland, Oregon area? The Oregon College of Art and Craft (OCAC) is holding their Student & Alumni Sale this weekend.
8245 SW Barnes Road, Portland OR 97225
Saturday, November 28, 10:00am-5:00pm
Sunday, November 29, 10:00am-4:00pm
My wife is not only an alumna, but she's one of the artists whose work is available. (And if you can't make the sale, there's always Etsy!)
ITEM! What moral lessons can we learn from the Twilight series? Read the unfortunate list here.
ITEM! Dollhouse got cancelled. :(
ITEM! The morning announcer for Jefferson Public Radio wants to sing you a song!
ITEM! Some things are just not smart to say to people who have just been laid off. Here's ten of them.
ITEM! I keep plugging Ubuntu here, because it's a free (both in terms of price and in terms of rights) operating system that happens to be as user friendly as Linux gets. For Joe and Jane Doe, the real question is, "how does it compare to Windows 7?" For more on that, go read this handy, dandy comparison.
The only alternative that kicks more ass than Ubuntu? OpenSuSE with KDE.
And now, a word from our sponsor.