Unlike some people I really am somebody who will tell you - I Told YOU So.
In this case I argued two months ago that the Senate would ultimate choose a course that involved a Triggered Public Option - a prediction that upset and even angered quite a few or my fellow Kossacks.
Some in very stark terms.
Why would you want a trigger?

How many more people do you want to die between now and then? How many more foreclosures? How many more bankruptcies? How much more un-necessary pain?
Well because something the threat of something can be more effect than the reality just a new report that shows the threat of a triggered option might cuts costs even more than the actual public option would.
The question comes down to whether or not private business have the capacity to bring down costs to a reasonable level or not. Those that have lost all faith in private industry (and that includes a lot of us) feel that they are a complete lost cause, that they never bring down costs and voluntarily impact their own bottom-line and stock value unless they're Forced to do so.
I have argued that we don't have to have faith that they can, history has shown that they can because they did it before - during the original Clinton Health Care debate.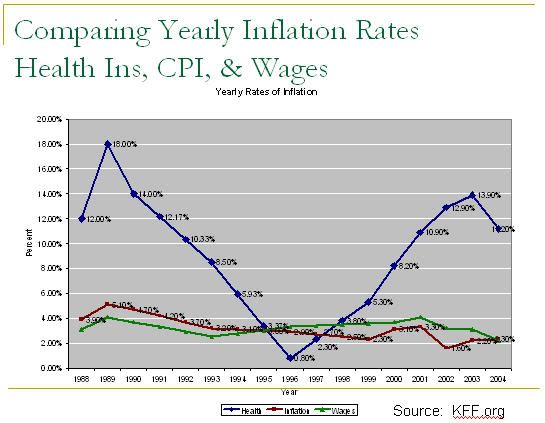 This chart shows the relative rates of inflation for medical costs contrasted with the cost of living and wages. The huge DIP in the middle of the chart is unmistakeable, and it's also unmistakable that it reached it's peak right in the middle of the most heated portion of the 1993-1994 Hillary.
(The Rate of Cost Increases) DID come down.
And it happened Without a public option, actually without ANY option since what we're so vigorously arguing about now wasn't even proposed back then.
But equally important is the fact not long after Hillarycare crashed and burned - costs began to rise again even far beyond previous levels.
(Top UN Ranked Countries by Human Development Index with Per Capital Health Care Expenses 2004)

| | |
| --- | --- |
| 1 Iceland | 3,294 |
| 2 Norway | $4,080 |
| 3 Australia | $3,123 |
| 4 Canada | $3,173 |
| 5 Ireland | $2,618 |
| 6 Sweden | $2,828 |
| 7 Switzerland | $4,011 |
| 8 Japan | $2,293 |
| 9 Netherlands | $3,092 |
| 10 France | $3,040 |
| 11 Finland | $2,203 |
| 12 United States | $6,096 |
LOOK AT THAT, on a per capita basis we spend literally twice as much as France - and according to the World Health Organization France has the best quality health care in the world - while we are number 37. THIRTY SEVEN!
The report states:
In the absence of enough political support to pass a strong public option at this time, a "trigger" for a strong public option should be considered for inclusion in health reform legislation whether or not a weak public option is included as a political compromise. Even the threat of such a plan being triggered offers the potential to affect market dynamics between insurers and providers.
Thinkprogress goes on to elaborate on this...
The report says that the Senate and House's public option provisions (which require the public plan to independently negotiate rates with providers) hold little hope of lowering costs in areas of the country with high provider concentration. In areas where hospitals have "too strong a market presence to be excluded from insurer networks," hospitals could dictate prices, stripping the public plan of its ability to negotiate cheaper rates, the report warns. According to a 2006 study, 86% "of large metropolitan areas were considered to have highly concentrated hospital markets."

Policymakers can overcome the political challenges of enacting a strong public option — one which compels Medicare providers to participate and establishes Medicare-like reimbursement rates — by placing the plan behind a trigger mechanism which "would allow private insurers the opportunity to show that they can provide affordable coverage under the new health reform rules."
The latest CBO analysis of the Senate's version of the PO with the Opt-Out provision indicates that it would actually cost more than most private health plans do now...
As TPM reported:
And just as in the House bill, the public option would cover more medical services, and attract a sicker risk pool, leading it to charge slightly more on average for premiums than private insurers. "CBO's assessment is that a public plan paying negotiated rates would attract a broad network of providers but would typically have premiums that were somewhat higher than the average premiums for the private plans in the exchanges."
Under the current Senate the Public Option would become like a high-risk insurance pool and consquently have high demands on it resulting in higher costs. The one argument in favor of it with that realization on the table is the fact that would could reasonably expect the inflation rate on the public option to remain relatively stable, while the inflation rate on private insurance could very well continue right through roof particularly in those states and markets which do implement the Opt-out option.
If our goals is to have better quality care, better accessibility to care and lower cost for that care - why exactly can't we take "YES" for an answer, particularly when in the end this might wind up being the only way past the 60-vote Senate threshold (appealing to a "Yes" vote from Snowe in exchange for all but guaranteed "No" from Lieberman)?
The debate begins this Monday and If this is how the Senate End-game ultimately plays out - we just might walk away "crying" but only in up our sleeve when all is said and done.
Vyan