Today is the LAST day to get the Early Bird Rate for the Progressive Summit!
Join us in Harrisburg this January for the largest and most exciting gathering of progressives in Pennsylvania. The netroots and grassroots, activists and leaders will join together in our effort to create a permanent progressive majority in Pennsylvania.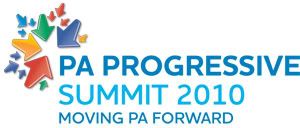 The Pennsylvania Progressive Summit will be held on January 29-30 at the Sheraton Harrisburg Hershey.
Here's a sampling of the incredible workshops and roundtables we'll have:
* The Front Lines of the Energy and Climate War
* A Dialogue on Common Values Between Progressives and the Working Class
* PA's Climate Change Advisory Committee: What You Need to Know About the State's Proposal to Tackle Global Warming
* Getting Free Media Around Your Issues
* Mobilizing Through New Media: Building a New Media Program From the Ground Up
* Why Growing a Green Manufacturing Economy is Critical to Progressives
* Petitioning 101: How to Keep Your Candidate on the Ballot
* Using Government's Power of the Purse to Create Good Jobs
* Medical Marijuana: Mainstream Policies for the 2010's
We'll also have:
Great opportunities for networking with progressives from across PA and elsewhere, including netroots and grassroots activists, stakeholders, decision makers, policy makers, and providers;
A gubernatorial debate featuring Chris Doherty, Joe Hoeffel, Tom Knox, Dan Onorato and Jack Wagner;
Inspirational speakers, including Leo Gerard (International President of the United Steelworkers) and Wendell Potter (former health insurance exec turned whistleblower);
...and more to be announced in the coming weeks.
Register today. The Early Bird registration (Before November 30) is only $75 for all workshops, both debates, keynote speeches, meals, snacks and beverages. Click here to register: http://www.paprogressivesummit.org The regular registration fee is $100, and space is limited, so sign up soon.
If you're not ready to sign-up, you can follow our progress on Facebook and Twitter
This will be THE event of the season. Don't miss it!
We are also still accepting proposals for workshops and panels...for more information about that you can contact me directly at program at paprogressivesummit dot org. I am on the organizing committee- Beth the Blogger :)
Hope to see you all there!