How like a winter hath my absence been
From thee, the pleasure of the fleeting year!
What freezings have I felt, what dark days seen!
What old December's bareness everywhere!

~ William Shakespeare, Sonnet XCVII
We'll Meet Again (Dame Vera Lynn)
In war, there are many uncertainties. One thing that is not uncertain is deployment.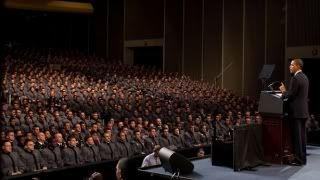 As cadets, you volunteered for service during this time of danger. Some of you fought in Afghanistan. Some of you will deploy there.

Most of all, I know that this decision asks even more of you -- a military that, along with your families, has already borne the heaviest of all burdens. As President, I have signed a letter of condolence to the family of each American who gives their life in these wars. I have read the letters from the parents and spouses of those who deployed.

~ President Barack Obama, December 1, 2009
For each family with a loved one called upon to serve, the hour of deployment is heartbreaking.
Where we love is home,
Home that our feet may leave, but not our hearts.

~ Oliver Wendell Holmes, Sr., Homesick in Heaven
Half of my heart is deployed.

~ Author Unknown
Parting is all we know of heaven and all we need to know of hell.

~ Emily Dickinson, Parting
Sometimes, when one person is missing, the whole world seems depopulated.

~ Lamartine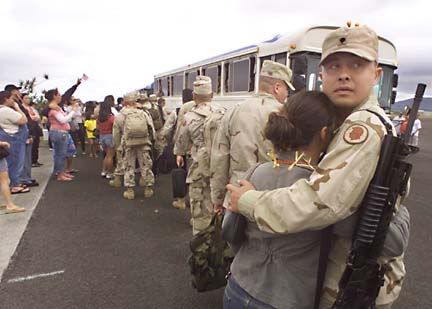 What shall I do with all the days and hours
That must be counted ere I see thy face?
How shall I charm the interval that lowers
Between this time and that sweet time of grace?

~ Frances Anne Kemble
Where you used to be, there is a hole in the world, which I find myself constantly walking around in the daytime, and falling in at night. I miss you like hell.

~ Edna St Vincent Millay
If I had a single flower for every time I think about you, I could walk forever in my garden.

~ Attributed to Claudia Ghandi
You can make the deployments of our soldiers, sailors, Marines, Airmen and National Guard a little less lonely. You can remind their families that they are not alone. You can do this by making a donation tonight to Netroots for the Troops.
Nothing makes the earth seem so spacious as to have friends at a distance; they make the latitudes and longitudes.

~ Henry David Thoreau
_______________________________________________________________________
Our goal for Netroots For The Troops 2010 is $100,000.00 (cash or in-kind donations).
Our primary goal with NFTT is assembling Care Packages at Netroots Nation. However, occasionally there arises a need beyond those deployed. Maybe a veteran and his family caught between a need and red tape. llbear et al has shown us several times this year. So as we rises funds this year keep in mind that your donation may very well be helping a veteran in need here at home or help those deployed feel they're remembered here at home.
We realize that you would like to donate something tangible to go inside the packages that will be mailed to the troops. Unfortunately, accepting in-kind donations from individuals is not practical in terms of storage and handling of the items. We will only be accepting corporate donations or cash from YOU to purchase items for the care packages this year.
Here's how YOU can help:

Please contact TexDem if you know someone who might be helpful in securing the corporate in-kind donations. To help you think of companies who could donate products, see below* for a list of potential items. Put your thinking caps on and let us hear from you. It takes time to get through the corporate processes so we need to hear from you ASAP!

We are accepting cash from individuals and beg ask that you DONATE HERE to contribute to this worthy cause. Your donation will enable us to purchase the things that we are unable to obtain through corporate donations, and will help to pay the costs of shipping them to our troops. This year your donations will be tax deductible, thanks to Netroots Nation and their partner Netroots Arts and Education Initiative, a California 501(c)3 corporation.

Sign up for a diary! Don't worry---we've made it easy for you. We've got a template set up, and all you need to do is add a small introduction telling us why you are donating, sharing a story of someone you know who has served or is serving, or any other thing you want to share that might help motivate others to donate.

Do you know a service member who would like to receive a care package? Email a request to: NFTT.request@gmail.com before June 30 2010.

Please include all of the following information. Unfortunately we will not be able to process any incomplete requests:
Rank:
Last name:
First name:
APO Address Line 1:
APO Address Line 2:
APO Address Zip:

Help us assemble the packages in Las Vegas. It's fun! More information will be forthcoming for those of you who are going to be in Las Vegas and would like to help there.

Please consider joining the NFTT FaceBook Group. Invite your FaceBook and non-FaceBook friends.

_____________________

The goal for 2010 is 600 Care Packages assembled in Las Vegas, that equates to approximately $100,000.00. Again this was decided upon after seeing we could assemble 300 in 45 minutes in Pittsburgh. The items we'll be sending will be comparable to what was sent last year. However, that list is subject to modification based on suggestions, request and needs. Last year's boxes had a retail value of about $210.00. Btw, check out the NFTT website.

*The following list contains some of the things we have included in packages. Please let us know if you know someone who might be helpful in securing these corporate in-kind donations. (Please DO NOT send these items yourself! We have no way to accept them. Instead, your cash donation is the very best way to help make this happen on the ground in Las Vegas.)

Baby wipes
Mechanix gloves
LED flashlights
Gel shoe insoles
Goop Cleaning Gel
Powdered energy drinks
Gel energy food packets
DVDs and CDs
Letters to the soldiers
More suggestions coming soon
Important Note about Successful Online Donations

When you make your online donation, the screen indicates that you are donating to Netroots Nation. This is the right screen! Rest assured all donations WILL go to NFTT. If you wish, feel free to use the comment area provided to note that your donation is intended for Netroots For The Troops. It isn't necessary to do this however, as this is the only fundraising activity being conducted for Netroots Nation at this time. For further information about online donations, please read TexDem's diary on the subject.
The NFTT diaries are a way for the Daily Kos community to support the troops in Afghanistan and Iraq by sending them packages of items they might not otherwise receive through the normal military process but that they find useful.

This is a non-political diary. While we understand there are differing views on the wars and the warriors, the site gives plenty of opportunity to express those views elsewhere. Furthermore, we would hope that users do not engage with those that attempt to hijack or otherwise disrupt these diaries.

We appreciate your understanding and support. Thanks!
Special thanks to marketgeek for matching the pledge in the tip jar!!!
Special thanks to jnhobbs for matching the pledge in the tip jar!!!