Hey, everyone! CJB here with the weekly offering. SMHRB is where we gather to discuss our homes, their challanges, our conundrums, various successes and occasional hammering-throwing fits of frustration. Feel free to chime in with questions, advice or sympathy when needed.
Today, we're talking spalling. Spalling is the deterioration of masonry – brick, stone, cement, whathaveyou - due to various forces, both external and internal. Spalling can be caused by recurring freeze/thaw cycles, excessive heat, moisture, rusting rebar, etc. After exploring the many factors that can cause your walls to spall, I'm rather amazed that anything remains standing for very long. I have a specific type of spalling in mind because it's happening in our basement. C'mon - I'll show you.
We have an old Sears kit house that was built here in Portland in 1916. As in many places back then, the gravel part of the mix for the foundation was scooped out of the river and dumped into the mix without being washed. The resulting mix was full of organic matter from the river. This now causes all sorts of trouble. Here's a pic typical of what happens at the outset: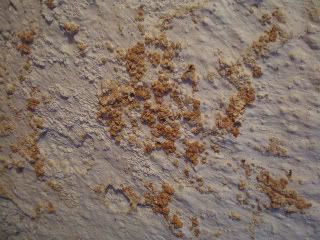 Each little brown bump is hollow or filled with disintegrated cement. (They're actually kind of fun to push on.:-)) If you brush your hand across them, they crumble to dust. These are caused by water from the outside of the foundation finding it's way through the wall by following little, sometimes microscopic, trails of that organic matter we were talking about. We haven't really wanted to think about the problem in any depth, because in order to really fix it, you have to stop the water from penetrating the wall. My fear is that some sort of waterproof barrier should be applied to the outside of the wall before any corrections will "take" on the inside.
Here's another picture closer to the floor on the stair wall:
Anyway, at some point in all of it, we will brush the walls and get rid of the crumbling parts, apply a bonding agent and reapply a layer of cement. I've also read that you can do a treatment that mimics stuccoing with the metal lath and several coats of cement. It is apparent that the previous owner tried to patch things, but he never met a project to which he couldn't apply a nice, shiny layer of stupid. Below is one of the places where he put a patch which promptly fell off: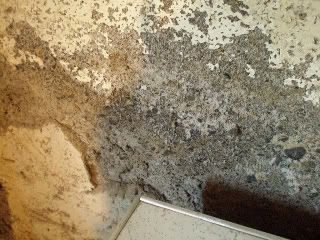 Not a great pic. You can't tell that some of that is an inch+ deep.
So, if anyone has any advice regarding spalling and the repair thereof, let me hear it, would you?
And do tell, what's happening at your house?