For the last six years this intrepid little robotic explorer has been transversing the surface of Mars in search of evidence of the Red Planet's watery past. On a mission that was originally planned for only 90 days, Spirit has exceeded NASA/JPL's wildest expectations by remaining operational for over 2100 days and exploring along almost 5 miles of Martian terrain.
Unfortunately, Spirit's days of glory may be waning since becoming stuck in some soft soil last May 1, ironically May Day, while exploring a new region near the Columbia Hills called Home Plate. Since then a team of researchers and engineers at the Jet Propulsion Laboratory has been working non-stop to come up with ways to free Spirit. Below is a video from JPL detailing their efforts.

.
.
.
Spirit is one of two Mars Exploration Rovers, the other is Opportunity, launched from Earth
Some of the highlights of Spirit's odyssey
Spirit's journey began on June 10, 2003, when a Delta II Heavy lifted of from Kennedy Space Center in Florida.

.
.
Mars Exploration Rover A (MER-A Spirit) landed in Gusev Crater on January 4, 2004 after a 6 month, 64 million-mile journey. Below is the first color photograph taken by Spirit's wide-field camera looking out from Gusev. It was the highest resolution photograph ever taken on the surface of another planet. The next picture is the panoramic view of Apollo Hills as seen from Gusev Crater.

.
.


.
.
Spirit looks back at its lander and home base which it successfully rolled off just moments before.

.
.
On Sol 34 (sol = 1 Earth day), Spirit ground the first Martian rock, named Adirondack, with its Rock Abrasion Tool(RAT).

.
.
On Sol 40, Spirit investigated an unsual flaky rock called Mimi. Then on Sol 60 the robotic explorer got closeup to "Humphrey", a volcanic rock with evidence of being shaped by some fluid.

.
.
On Sol 65, Spirit reached Bonneville crater and takes a look back at its tracks.

.
.
Spirit finds the "Pot of Gold", a rock that appears to be a hematite which is made up of mainly iron oxide that typically precipitate out of water, presenting strong evidence that water did exist on the surface of Mars at one time.

.
.
On Sol 582, Spirit reached the summit of Husband Hill.

.
.
Eventually Spirit reached Home Plate plateau where it has spent the last several years exploring various formations. The Mars Exploration Rover team had planned on sending Spirit to McCool Hill until the combination of a disabled wheel and soft terrain ruled out any further attempts to reach the site. Then, on May 1, 2009, Spirit's wheel became embedded in soil rich in iron sulfate which has poor cohesion and consequently makes gaining traction very difficult. Below is a short animate image of Spirit's wheel stuck in the Martian soil.

.
.
Below is a map of the journey of Spirit from its landing site to Home Plate.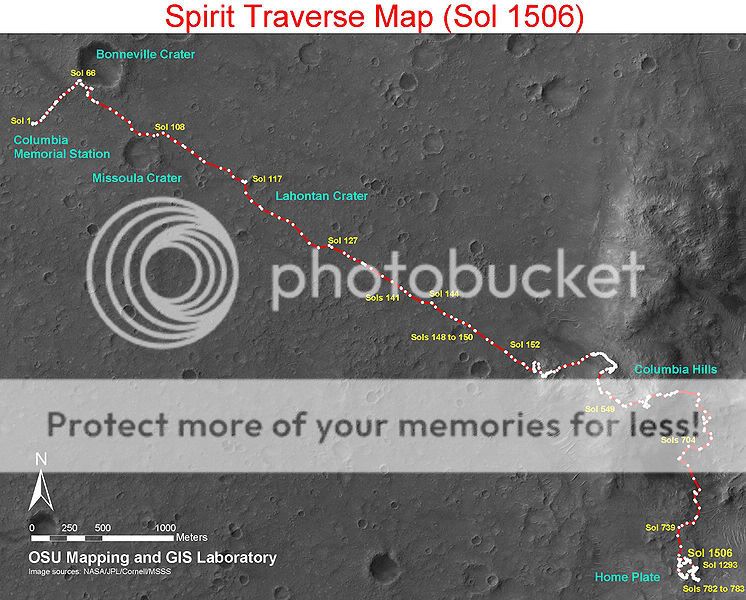 .
.
Several attempts toward the end of November were made to extricate Spirit from its dusty prison. While the 2nd attempt made some progress, the 3rd attempt apparently failed. Here is a NASA link to read more about the effort which also includes photos of the similation lab set up at JPL with a mockup and rover prototype, Latest Spirit News. The Mars Exploration Rover program has received 5 extensions since the rovers landed on Mars. The current extension is set to expire early next year.